Developments in Fish Vaccinology - By Intervet - Vaccination is becoming an increasingly important part of aquaculture. Several bacterial and viral vaccines have been successfully developed and commercialised, and have proven their cost-effectiveness.
Introduction
Successful vaccination, however, not only depends on the development of protective vaccines but also on their correct use, i.e., an appropriate vaccination strategy influenced by a variety of intrinsic and extrinsic factors.
Immune Mechanisms, Species and Size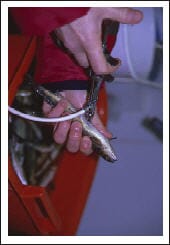 Injection vaccination: for larger fish (> 20 g); effective; long duration of protection; accuracy of dosing; cost effective.
Fish possess a well functioning adaptive immune system involving immunoglobulins, lymphocyte subpopulations, T-cell receptors, cytokines and MHC molecules. However, there are distinct functional differences with the mammalian immune system.

Fish immunocompetence is species specific and determined by the functioning of lymphocytes produced in the primary (thymus) and secondary (kidney, spleen, GALT) lymphoid organs. In fact, at the time of hatching, the fry lymphoid system is still developing.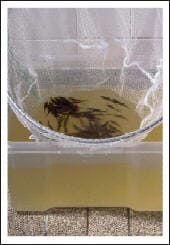 Immersion vaccination: for small fish (< 20 g); no anaesthesia needed; cost-effective.
The developmental status of the lymphoid organs appears to be a function of growth and correlates more with the weight than with the age of the fish.
Route of Administration
The administration methods adopted depend on the species of fish, the size of the fish, the husbandry, the disease against which protection is sought and the duration of protection.
Vaccination Strategies
Over the last few years, vaccines and vaccination strategies have been successfully developed and marketed against quite a few bacterial and viral diseases of salmon, trout, sea bream, Asian seabass, Japanese yellowtail, Channel catfish and other common aquatic species.


Source:
Intervet International B.V
- June 2006