Aquaculture is more profitable than rice-growing
Dong My commune in Hnaoi, Thanh Tri district is a large aquaculture area, it has a water surface area of 111 hectares. Annually, the commune provides Hanoi city with around 700 tonnes of assorted fish and shrimps.

Chairman of the communal People's Committee, Le Tuan Minh said that with the determination of the communal Party committee, authorities and locals, the commune had concentrated on 'land consolidation', turning the ineffective low-lying rice fields into areas of aquaculture. The city has provided VND 13 billion (US$725,000) to allow the commune to build infrastructure (electricity, roads, canal system etc) to access aquacultural areas.

From the concentrated aquatic products area, the commune continues to deploy the construction of the project to develop a high quality aquaculture area coupled with ecotourism and general farms, whilst building up the Dong My aquatic products brand name.

On average, each hectare of aquaculture in the commune brings about VND 102 million (US$ 5000) of revenue (with the average productivity of seven tonnes a year for every hectare) whereas revenue from rice-growing in the pre-change period only reached VND 15 – 25 milllion (US$1400).
Lack of sustainability
According to the municipal Aquatic Products Subdepartment, after the expansion of Hanoi's administrative borders, the city has over 30,000 hectares of water surface which is capable of developing aquaculture, including 6,700 hectares of ponds and small lakes and 19,800 hectares of low-lying fields. Caged fish breeding can be developed in the Da, Hong, Tich, Bui and Day rivers.

However, the current area of aquaculture is only 17,800 hectares with a low average productivity of three – five tonnes a year per hectare. Small ponds and lakes all are near the residential areas and polluted, and at the same time, the area with ponds and lakes is limited, which means the breeding methods are based mainly on extensive aquaculture and as a result, the large-scale concentrated aquaculture areas are yet to be formed.

The local aquaculturists' investment capital is limited as it is difficult for them to access loan capital, as a result, farmers are faced with difficulties in securing investment to expand their production.

Although the Hanoi's aquatic products industry has an advantage in terms of market, farmers are faced with crop pressure and low prices (because supply exceeds demand).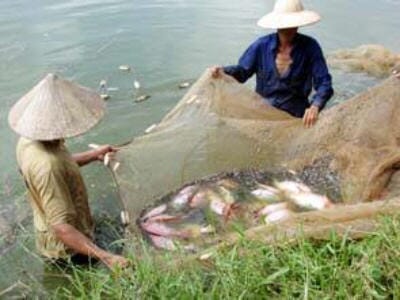 Harvesting red tilapia in Dong My commune.
Source: Nhan Dan
Development of the intensive cultivation and concentrated aquaculture areas
To pay the way for developing Hanoi's commodity production-oriented aquatic products industry in a sustainable manner, in July 2009, the municipal People's Committee approved the Programme on Aquaculture Development in the 2009 – 2015 period with an orientation to 2020, with a total cost of over VND 1.9 trillion (US$1 million).

Accordingly, a focus has been made on turning the low-lying rice fields into aquaculture areas. Investments have been made in some districts of Ba Vi, Ung Hoa, Thanh Oai and My Duc .

These are the areas where sources of clean water are available. In addition, the city will invest in upgrading infrastructure for the aquatic varieties raising establishments and improving the public management ability in the field of aquaculture with the aim of supplying high-quality disease-free aquatic varieties, as well as providing technical training and building up models of intensive aquacultures for special aquatic products.

The objective of the programme is that the total area of aquaculture in the whole city will have reached 23,000 hectares by 2015 and 24,000 hectares by 2020, with a total output of aquatic products being around 115,000 tonnes in 2015 and 132,000 tonnes in 2020. The average productivity of aquaculture will be raised to over five tonnes a hectare and the area of intensive aquaculture will increase to 10 per cent while the area of extensive aquaculture will reduce to 18 per cent.

Deputy Head of the municipal Department of Agriculture and Rural Development, Nguyen Huy Dang said: "At present, the city has approved and is giving guidance to deploying four more projects on the concentrated aquaculture areas including 430 hectares in Ba Vi district, 250 hectare in Ung Hoa district, 100 hectares in Thanh Oai district and 150 hectares in My Duc district."

The city will invest in building infrastructure in these areas, while the district and communal authorities will build roads. The locals only need to invest in embanking ponds (each lot is 0.5 hectares in area), purchasing varieties of fish and feed and looking after their farms.

To take initiative in consuming the products, the Hanoi Centre for Agricultural Encouragement has set up an aquatic products co-operative in Dong My commune and provide interest-free loans sourced from the Fund for Agricultural Encouragement for the aquaculturists to invest in intensive aquaculture with the aim of raising productivity to 12 – 15 tonnes of fish from seven tonnes of fish for each hectare.

The aquaculture industry in Hanoi also has many advantages in the consumption market because at present, the aquatic products output has only met around 25 – 30 per cent of consumption demand of the city.

To make the programme really effective, however, it is necessary for the authorities at all levels and relevant branches in the city to give close guidance and work in close co-ordination in disseminating information about and speeding up the change of the purpose of use of fields in the areas where there are aquaculture projects. It is essential to expand the land lease duration to at least 20 – 30 years and create conditions for the local farmers to borrow low-interest capital for their production development.

It is also necessary to take stable 'output' into account through planning and building 'liaison' markets with the aim of reducing consumption pressure, and issue policies on encouraging and calling for enterprises to invest in aquatic products processing establishments.