A campaign with Birchal Equity Crowdfunding raised $372,402 from 272 investors, while additional capital of $283,000 came from strategic investors.
As a sign that the software is of value to farmers, investors have included exisiting SmartOysters* customers such as Moana, New Zealand's largest Maori-owned fisheries company, which has been using the software for three years.
"SmartOysters has provided us with a common platform for managing our oyster farms, that has yielded significant improvements in efficiency, profitability and employee satisfaction. With rapidly expanding sustainable aquaculture markets around the world, we feel SmartOysters can make a big contribution to a large number of farmers across mussels, oysters and other aquaculture for a long time to come," said Fiona Wikaira, general manager aquaculture of Moana New Zealand, in a press release.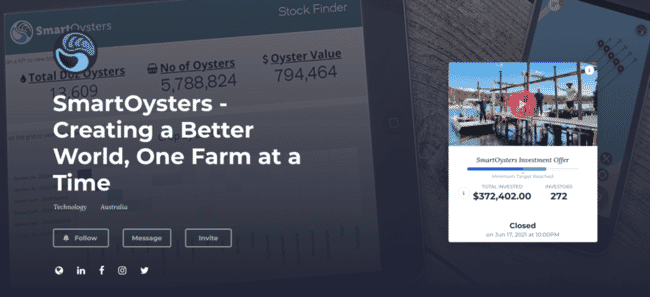 The capital investment will enable SmartOysters to build the company's direct sales, customer engagement, and tech teams. It will also deliver better functionality to Australian farmers, while scaling up the business as it expands into one of the world's largest aquaculture markets, the United States.

The startup has hailed it as "a massive coup". What started as an app that Ewan McAsh developed to manage his oyster farm is now used around the world by other oyster farmers, and he plans to expand it to the broader aquaculture industry, including mussels, finfish and seaweed farmers.
SmartOysters will use the funds raised in a three-pronged approach to growing the business:
The first aim is to build the current client list from 50 to 350 over the next two years by moving from a direct sales approach to an industry partnership model.
The second is to develop the software, which was designed for oyster farmers, to include mussels, finfish and seaweed. This will take the current market size of $10 million to potentially $200 million.
The third driver is systems cost reduction, using new software functionality to give farmers more options to personalise the app to their farm.
"It's almost like Google Maps for your oyster farm," Ewan says.
"The most compelling aspect of SmartOysters is that we are a lot more than just a database system, and most importantly, we speak the language of farmers. We use GPS maps because that's how farmers, including myself, visualise their farms. We focus on operations because that is what farmers think about every day. Most importantly - this technology will help all farmers get much better sleep at night!"
*SmartOysters is part of Hatch's investment portfolio, but The Fish Site retains editorial independence.