Speaking at yesterday's GOAL conference, Gorjan Nikolik, senior seafood analyst at Rabobank, forecast that the growth of the aquaculture sector in the island nation was likely to be one of the major drivers of global salmon growth.
"I expect Iceland [which harvested 34,000 tonnes in 2020] to become a major producer, maybe even in the next five or six years it will maybe even get to the same level as the Faroe Islands [c.80,000 tonnes in 2020] or maybe even the UK [192,000 tonnes in 2020]," he speculated.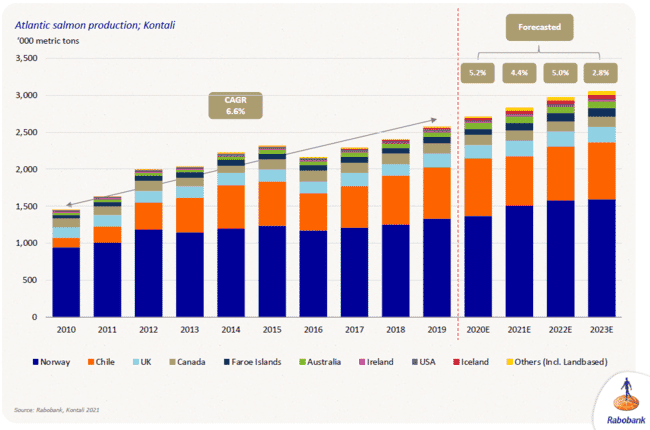 Meanwhile he noted that this year's growth in Norwegian production was likely to reach "an incredible" 10.2 percent. "This was actually quite a surprise for a lot of people and is based on, to a large extant, very good biology, some large smolt utilisation, but also as they moved a part of their production from 2020 to 2021."

As for the Chilean sector, Nikolik said that the well documented drop in production meant that total production was likely to total 14.1 percent below 2020's levels. This was largely due to reductions in the numbers of smolt being stocked during the year. However, he forecasts that it will bounce back by 8.8 percent in 2022, by which time it would be back to pre-pandemic levels.