Yesterday a new memorandum of understanding was signed by the ministers responsible for aquaculture in the Atlantic provinces to continue collaborating on the responsible development and growth of the sector, extending a previous memorandum signed in 2008.
"New Brunswick is proud to continue its collaborative relationship with our Atlantic counterparts as we encourage the growth of the aquaculture sectors in our provinces," said Agriculture, Aquaculture and Fisheries Minister, Margaret Johnson, in a press release. "This partnership solidifies our collective commitment to align regulations, policies and standards between our provinces as well as to enhance the legislative landscape. This work will provide industry with a clear, predictable and consistent framework in which to operate. It also provides an enabling environment for growth with strong environmental, aquatic animal health and habitat protections in place."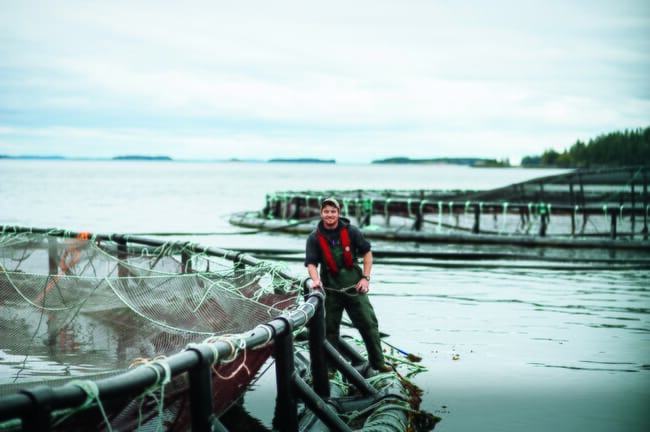 Co-operation between the provinces and the aquaculture industry has led to improvements in pest management, more environmentally sustainable aquaculture practices, improved aquatic animal health, and enhanced policies to support the use of marine and freshwater resources. The enhanced co-operation also allows for further alignment in regulations and policies between the provinces, which will provide clarity to the industry and the general public on what is required.

"In a time when food security is especially important, it is good to see our aquaculture industry has grown steadily and is poised for continued growth in 2021, based on environmentally responsible, science-based policies and practices," said Nova Scotia's Fisheries and Aquaculture Minister Keith Colwell. "Our Atlantic partnership continues to help the industry grow sustainably."
The provinces update their legislation and regulations regularly. New Brunswick received Royal Assent for a new Aquaculture Act in 2019 and is currently working on the supporting regulations, Nova Scotia revamped its regulatory framework in 2015, Newfoundland and Labrador completely revised its aquaculture policy in 2019, and Prince Edward Island has recently announced its intent to draft a new Aquaculture Act.
To support the legislative and regulatory frameworks, the ministers agreed on the importance of using science-based evidence to make management decisions in the aquaculture sector, thereby increasing public and investor confidence in the Atlantic Canadian aquaculture industry.
"Our aquaculture industry on PEI is very valuable to our economy, and we are excited to see the continued growth that can be achieved through this Memorandum of Understanding," said PEI's Fisheries and Communities Minister Jamie Fox. "We are grateful for the successful collaboration that we have had with our Atlantic counterparts over the years, and we look forward to renewing our partnership for the benefit of our aquaculturists on PEI."
The ministers stated that they signed the memorandum with the intent of helping to ensure the long-term sustainability and growth of the aquaculture sector in Atlantic Canada and of the many rural, coastal and Indigenous communities the industry supports.
Woe for Cermaq
The MoU was signed in the same week that Cermaq Canada was denied permission to transfer juvenile salmon into sites it operates in the Discovery Islands in British Columbia. In April the company had applied for permission to transfer almost 1.5 million smolts from its Cecil Island site to two other farms in the Discovery Islands, Venture Point and Brent Island, for grow-out to harvest size, as well as an extension of its current Discovery Islands licences to February 2023.
In December, Canadian fisheries minister Bernadette Jordan decided to close 19 sites in the islands by June 30 2022. And the requests, which would have resulted in Atlantic salmon remaining in the Discovery Islands sites beyond the deadline, were refused by Jordan's department.