Cleansing Waste Water With Algae - By Sintef - Land-based aquaculture systems release water with high values of nutrients. Marine algae use most of these to produce biomass. This principle can be used to clean the water using chosen arts of algae and macro-algea in the effluent.



Figure 1: The green algae Ulva cultivated at reduced concentrations of nutrients in the wast water from a rearing tank for cod.
The resulting biomass can be a source of valuable chemicals for use in the food and drug industries. This cleansing technology for aquaculture effluents is being tested in a joint, INTERREG IIIC-financed project between SINTEF Fisheries and Aquaculture, and the Irish Seaweed Centre at the Martin Ryan Institute and Oyster Creeks Seafoods in Ireland.
Different arts of algae are being cultivated in freeflowing cultures in the waste water from landbased aquaculture systems. The technology has been tested with the algae Porphyra and Ulva (Fig. 1). Both algae have a high growth rate and a high N-content, and will therefore be able to function as effective cleaners.
The results so far show a clear reduction in the level of nutrients in the waste water containing the algae (Fig. 2). The same algae are shown to contain bio-active agents that inhibit the growth of fish pathogens (Fig. 3). The technology will be able to have a great potential in integrated aquaculture by adding value to fish farming.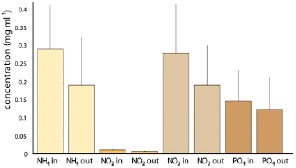 Figure 2: The concentration of nutrients N and P in the waste water before and after it has passed through bio-filters with algea.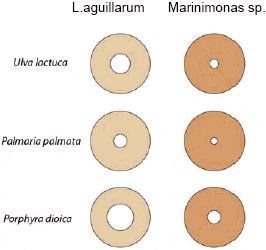 Figure 3: Anti-bacterial activity on two fish pathogenic bacteria in contact with selected algae extracts. The size of the white circles indicates the amounts of growth reduction.
Source: Sintef Fisheries and Aquaculture - March 2006