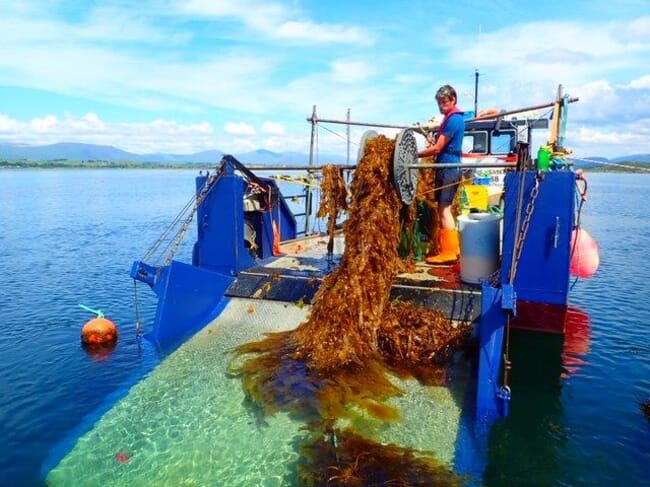 The guidelines aim to help UK seaweed businesses understand the potential environmental impacts of both seaweed aquaculture and wild seaweed harvesting, and to help them incorporate this knowledge into their planning and development. MCS and SIFT understand that an industry-led comprehensive code of practice will be developed at a later date by the Scottish Seaweed Industry Association (SSIA).


A growing demand

Seaweed aquaculture is an emerging sector in the UK. The need to protect wild seaweeds and to meet demand for seaweed products has led to an increasing interest in seaweed cultivation in UK coastal waters. In 2021 in Scotland there were 10 active sites with a further eight marine licence applications for new seaweed farms submitted in 2022 - including one farm potentially covering a site of over 3km2. There has also been an upsurge in efforts to protect wild seaweeds against
unsustainable harvesting. This manifested itself most clearly in the decision by the Scottish Parliament to largely ban the dredging of wild kelps in Scottish waters.
The UK is home to over 600 seaweed species, and some of these are already used in everyday products, such as cosmetics, packaging, and food, but its uses are becoming more diverse. As markets emerge and the seaweed industry develops, it is important that it does so with care for the marine environment, according to the two organisations. While it can be a sustainable industry, operators need to understand, prevent and plan for any adverse impacts its development and operation may have.
Dawn Purchase, aquaculture programme manager at the Marine Conservation Society, said: "As seaweed farming and harvesting develops in the UK, it is vital that it does so with an understanding of the marine environment on which it depends. The seaweed sector can potentially offer a diverse aquaculture business opportunity, these guidelines aim to inform those businesses to enable them to develop in a responsible and informed way."
Charles Millar, SIFT executive director added: "Seaweed cultivation and wild seaweed harvesting are small, but rapidly growing, parts of the coastal economy. The companies involved will benefit from having these guidelines which set out the issues - be it entanglement of sea mammals in ropes or the introduction of pests into the areas they operate - and also the best measures to manage them."