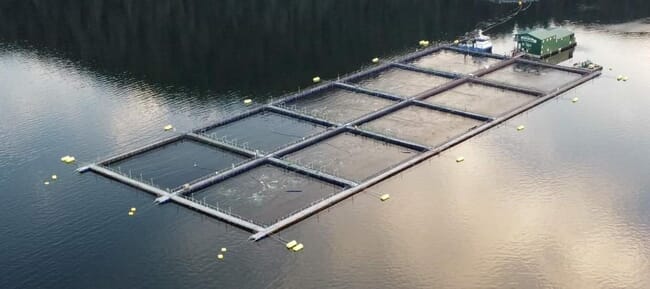 Canada's Minister of Fisheries, Oceans and the Canadian Coast Guard (DFO), Joyce Murray, has announced her commitment to the closure of all farms in the core territories of the Laich-kwil-tach and Klahoose First Nations – a region DFO calls the Discovery Islands.
And, to add insult to injury, the BC Salmon Farmers Association says that anti-salmon farming campaigners were given an early signal that a decision would be given, before impacted First Nations or industry.
"The Federal government continues to demonstrate a lack of care for rural coastal communities and continues to put the interests of activists above the people who grow Canada's food. It is unacceptable that activist groups had advance notice, before licence holders and community leaders," said Brian Kingzett, executive director of the BCSFA, in a press release.

"The decision to not issue salmon farms in the Discovery Islands area is devastating for all coastal communities who rely on the aquaculture sector. Local communities have been hurting since the decision to remove the farms was announced in 2020, and thanks to this willfully uninformed decision announced earlier today, these communities will continue to experience negative socio-economic impacts of an outcome that was based on politics rather than science," he added.

"We are very disappointed that Minister Murray has decided not to issue any salmon aquaculture licenses in the Laich-kwil-tach territory," said Diane Morrison, managing director at Mowi Canada West. "This decision, along with previous decisions, continues to raise serious questions about Canada's commitment to First Nations reconciliation, its food producers, and the health of coastal communities. Our company, along with the Wei Wai Kum and We Wai Kai First Nations, had provided the Minister a very reasonable path forward that would help Canada achieve its stated vision for sustainable aquaculture and advance its Blue Economy Strategy. She has regrettably chosen not to accept this opportunity."
The BCSFA argues that "the decision is short-sighted, as the permanent removal of these farms will have devasting impacts to rural coastal communities who rely on the industry, but also to the broader BC and Canada as salmon farming is BC's largest agricultural export. The announcement comes at a time when the country is experiencing record high grocery costs and is marching towards recession. Further loss of jobs and economic opportunity, partnered with a dramatic reduction in available farmed salmon for consumers, will have far-reaching negative financial implications."
"The irresponsible decision to deny these licences will have destructive impacts on our employees, First Nations whose territories we operate in, and the future of our sector in this province. As a sector, we saw the elimination of nearly a quarter of our farms in a single announcement. This resulted in companies laying off hundreds of employees from well-paid careers – in a region of Canada that is struggling to attract and retain its youth," added Morrison, who is also chair of the BCSFA. "The Federal Government has turned their backs on coastal communities."
On December 17, 2020, former DFO Minister Bernadette Jordan ordered all salmon farms in what DFO called the Discovery Islands to be removed by June 30, 2022, and effective December 17, no farms within that geographic region could be stocked. This decision unilaterally, and without proper consultation, shut down 24 per cent of the salmon farming sector in BC, putting 1,500 hundred jobs at risk, and resulting in the euthanasia of more than 10 million healthy salmon – the equivalent of 120 million meals.
"This decision will also significantly reduce the sector's ability to attract required investments for clean technology and innovations to evolve the sector. This means we cannot support the Federal Government's commitment to transforming the sector as we continue to experience uncertainty and reckless decision-making by Ottawa," said Kingzett.
As the demand continues to increase for responsibly raised farmed salmon, Canada will have to import and rely on food sources from other countries, rather than support food security efforts domestically, the association added.