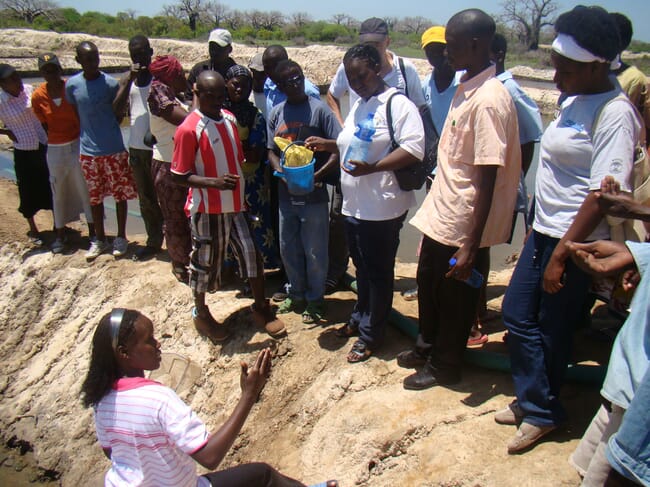 According to Larive, Tanzanian aquaculture production contributes only one percent of the country's fish consumption, despite having an ideal climate for fish farming. The demand for fish is rapidly rising due to population growth and rising incomes.

In Kenya aquaculture's contribution to total fish consumption is only 10 percent. The aquaculture sector in Kenya and Tanzania has the potential to become a significant source of affordable, high-quality protein; to reduce poverty, provide employment and contribute to gross domestic product.
Larive and IDH aim to increase the number of profitable tilapia farmers in Kenya and Tanzania, whilst making more efficient use of natural resources. Data is collected and analyzed, both at farm level and on the market side, to create farming protocols and simple decision-making tools. With practical tools and examples to follow, farmers are better equipped to farm profitably and sustainably. Best practices are proactively shared, with guidance being disseminated to a larger audience.
Cooperation in Tanzania
Larive estimates that 70 percent of Tanzania's smallholder tilapia farmers are currently making a loss. Conditions for farming fish differ per region and expertise about which farming practices suit which conditions is limited, and fish farmers rarely keep track of farming metrics. As risks are high, financial institutions lack the appetite to start investing in aquaculture. There are limited good examples to show how farming may be done successfully. Yet such good examples are crucial to boosting the sector.
Larive and IDH aim to create a replicable example of successful tilapia farming in Tanzania. At farm level, data will be collected and combined with market analysis on the Tanzanian fish market. Farmers are trained on the importance of data collection and the use of farming protocols. Implementation of best practices are expected to improve the feed conversion ratio, survival rates and ultimately, the profitability of the farmer.
Cooperation in Kenya
In Kenya, the number of active tilapia farmers has decreased significantly over the past years. Most farmers in Kenya practiced subsidised farming; they received fingerlings and feed; but have abandoned their ponds after the subsidy period ended. This project showcases different farming models: an intensive recirculation aquaculture system; a semi-intensive farm; and an extensive pond farm. Farmers are trained to collect key data on their management practices, combined with data on demand and market prices.
The data is leveraged to indicate the most suitable aquaculture practices and farming system given the local circumstances. Lessons learned will be shared in a training programme for members of the Aquaculture Association of Kenya (AAK). The results of this project will be shared with a variety of stakeholders, including financial institutions.
Wouter van Vliet, director of Larive, explains: "Working with IDH provides us the unique opportunity to leverage the lessons we have learned in developing the aquaculture sector in East Africa with our consortium FoodTechAfrica. Having realized key building blocks in Kenya and Tanzania, including the first aquafeed facility and the first certified RAS farm, our team is now zooming in on the farm-level skills that are needed to drive the sector forward. Farm management and having the data and skills to do 'the right things' are critical to turn a stab at fish farming into a successful and profitable venture".
Flavio Corsin, aquaculture program director at IDH, added: "There are successful examples of fish farming in East Africa. However, those examples cannot be simply replicated as farming and market circumstances change in different locations. By adopting a data-driven approach we can understand what the factors for success for different farmers are as to accelerate their progress towards profitability.
Both Larive and IDH are convinced that aquaculture is part of the solution to address food security in East Africa, by "leveraging the expertise of leading industry players and local examples".
Further information
Larive and its FoodTechAfrica Partners are organising an Aquaculture in East-Africa celebration event on 23-24 April in Nairobi. The goal of the event is to connect different aquaculture stakeholders, to celebrate the achievements so far, and to initiate a call to action to boost aquaculture activities in East Africa.