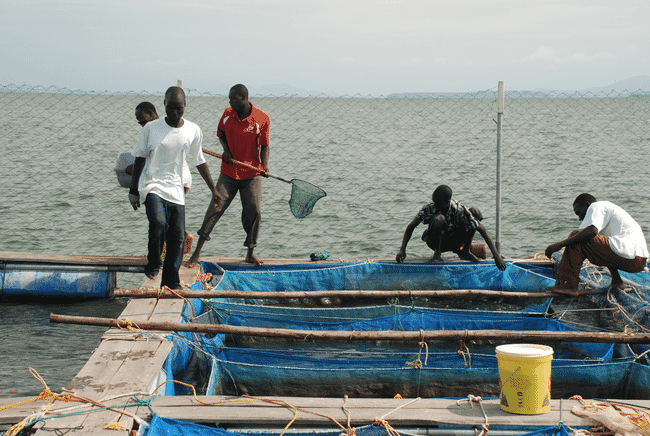 Taking a break from feeding, fixing nets and walkways, 43-year-old Gabriel Otieno Omogo surveys the cages he is responsible for as the technical maintenance supervisor of African Blue, an established commercial tilapia producer on the shores of Lake Victoria.
Locally born and raised, he is part of a growing team, working on 22 production cages, which has an ambition to produce 200 tonnes of tilapia this year – most of which is sold whole, gutted and chilled in Kisumu city, two hours away.
As Omogo, a former panel beater, reflects: "Working with African Blue is good for me as I am able to work near home, get experience in fish farming, and it helps me to afford to develop my home and own small agricultural farm. Kenyan aquaculture was not too much before, but now it is starting to grow".
African Blue was set up in 2015, when entrepreneur Albert Altena found the site he was looking for at Uyawi Beach, Siaya County. With good flow and depth, good water quality and 2 hour access to growing numbers of consumers in Kisumu, he started to set up a commercial tilapia cage farm. Initially, due to the lack of well-trained staff available, Altena hired and trained carefully selected local staff from scratch.
As was the norm at that time, sourcing of good quality feed and fingerlings was the big challenge. Initially he bought in expensive imported feed, due to poor quality and irregular supply of more local feeds. After a while he found a source for sex-reversed tilapia fingerlings, but since has had problems with getting regular supplies to continue production cycles.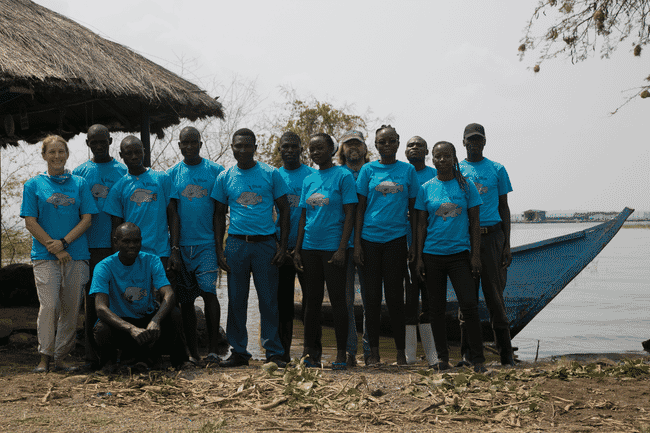 Rough weather conditions on the lake adversely affected the first locally manufactured six-metre production cages, forcing him to improve the design and change to other materials. Steadily over the next years the farm grew, and now it employs 16 local staff, as well as other part-time casual workers. The company is now trialling two 10m hexagonal grow-out cages. Annual production rose from 26 tonnes in 2016, most being sold to the main fish market and local restaurants around Kisumu, to around 200 tonnes this year, despite Covid-19 affecting sales across the region.

In December 2019 African Blue opened its first sales outlet and depot in Kisumu, employing three female and one male staff. Presently the farm is harvesting 3-4 tonnes per week, with the sales depot open 5-6 days per week. Sizes of fish sold vary from 150g to 850g, with the 350-450g and 450-550g classes being the most popular.
Stirling University alumna Jude Brown was hired as the farm's production manager in 2019. Her role involves ensuring all day-to-day tasks of running the farm go smoothly, including calculating feed usage and ensuring good feeding practises to achieve efficient FCRs. She explains that the 22 production cages are test weighed monthly for feed calculations and harvest forecasting, with new fingerlings stocked every month. Fingerlings are graded at 3 months before being stocked into the 108m3 production cages.
"It's an exciting time to be involved in aquaculture in Kenya, which has huge potential for development. I enjoy the hands-on day-to-day running of the farm and developing a staff training course to further develop their potential. African Blue is a great company, helping provide local employment and high quality fish at affordable prices to the local market. It's great to see the business growing, with new cages and increasing production, a depot/shop to promote sales in the city, and construction starting of a new hatchery to produce our own high quality fingerlings," she says.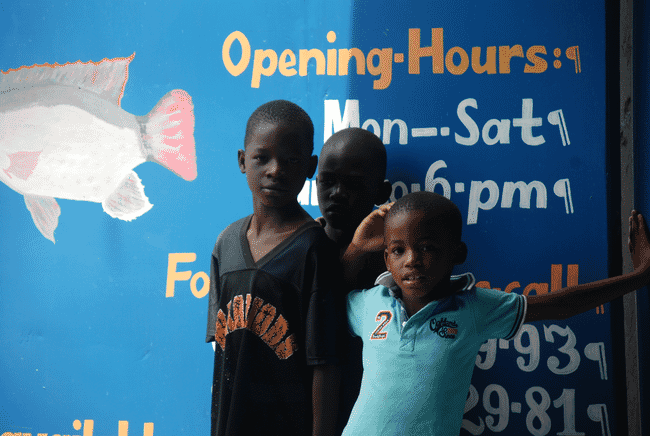 While the local staff on the farm come from various different backgrounds, they complement each other as a team. Thirty-year-old Belinda Akoth, formerly trained as a teacher, joined the company at its beginning in 2015. As a cage worker she steadily learnt all the jobs on the site, and is now the main farm supervisor.
"I enjoy learning new things all the time, and whilst it is thought to be a male job the females can shine doing it! Fish farming is a nice thing to do, it makes you happy when you see fish healthy and growing, and you can do it without having previous aquaculture training: learning on the job instead," she reflects.
The company is now building a hatchery in close proximity to the cage site, which should be operational by 2021. Altena believes it is important to have control of seed supply, especially to improve fingerling quality and assure access to a consistent supply. The cages are now stocked with 40,000-60,000 fingerlings every month.
In the last few years aquaculture feeds are now being manufactured in Kenya to significant volumes, reasonable quality and affordable cost. This allows the farm to achieve FCRs averaging around 1.6 across each production cycle.
Looking ahead
What for the future for African Blue? Altena says that he still faces challenges with market distribution and access to financing to meet the rapidly rising demand for fresh farmed tilapia in peri-urban Kisumu and beyond.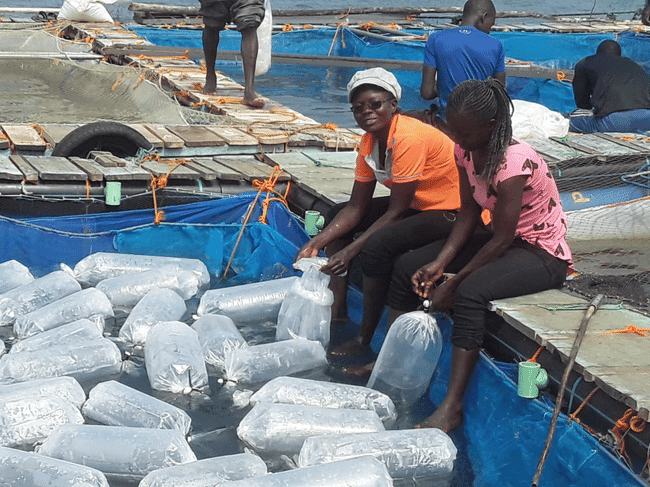 He talks positively about the future – not just for his own company but also for Kenya's wider commercial aquaculture sector. But he also reminds others in Kenya of the part they should be playing.
"Huge markets exist, there's good purchasing power, people are ready and able to buy fish at good prices if quality is good and the supply is steady. We still need enabling regulations which support the investor whilst also protecting the environment. But there's no need to worry about foreign tilapia imports if you can produce more locally, focusing on good quality and low production costs. The latter can be facilitated by Government smoothening the imports of feeds and equipment, and lowering associated import costs," he argues.
"If you are ready to meet all the challenges, then the whole of Kenya can provide an exciting opportunity for fish farming. It has been exciting to start a farm at Uyawi Beach, providing local jobs, working with the local community and providing fresh fish to both the rural villages and also the growing city of Kisumu," he adds.
African Blue/Albert Altena can be contacted at info@african-blue.org
I wish to acknowledge and thank Albert Altena and Jude Brown for their contribution to this article.