The algae is catching international attention because it is spreading. In 2006 the species was suddenly discovered in Quebec and New Brunswick, whereas previously it had rarely been seen out of Alberta. It has also been detected in New Zealand and is causing concern in other regions.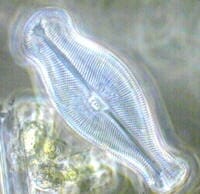 The problematic single-celled algae Didymosphenia geminata.
Ms Kirkwood and her research team first detected the organism in 2005 during studies of the South Saskatchewan River basin. It then began popping up in other areas of the northwest, and then most astonishingly, it showed up in New Zealand, where it had never been found before.
Angling for Trouble
And, it is thought that jet-setting fishermen are also inadvertently moving the microscopic organism around. It can fix and survive to the bottom of felt-soled wading boots or on other fishing gear, so anglers are being urged to improve their biosecurity too.

The single-celled algae called a diatom has sparked renewed interest because it does so well in pristine water systems and has a preference for flowing water too. Both characteristics are unusual for algae which usually prefer murky, undisturbed waters

"Usually, you think of lakes that are pea-soup green because there's so much nutrients in the water the algae grow like gangbusters. But this particular organism actually likes clear, clean low-nutrient conditions, said Kirkwood in a report in the Edmonton Journal"

She has also found that this algae appears to thrive when water flow is regulated, which is why it's often found just below dams. What's more this species blooms so well sometimes that it can completely inundate kilometres of river bottom.
This could be a problem for trout, which like clean, clear cobble-bottomed rivers, because Didymo bloom it carpets the rocks making it difficult for insect larvae to mature and survive - the food trout likes.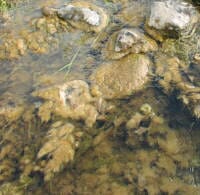 Carpeting the rocks and riverbed, Didymo may disturb the food chain
Ms Kirkwood says that there is no concrete proof that this is having an effect but her research team is hoping to secure more funding for further investigations and to find out if it is impacting on fisheries in Alberta.
Variant proliferation
The research team from Calgary, which includes Troina Shea, Leland J. Jackson, and Edward McCauley have been investigating Didymosphenia geminata (Bacillariophyceae) in two Alberta headwater rivers. Their findings have been reported in the latest edition of the Canadian Journal of Fisheries and Aquatic Sciences.

They say that a suspected new variant of D. geminata has the capacity to inundate kilometres of river bottom during a bloom because it proliferates under high water quality (low turbidity and low nutrient) conditions.

Studies of the Bow and Red Deer rivers in southern Alberta, Canada, show that mean flow regime is associated with bloom development.

While flow regulation by dams can create the stable flow environment preferred by D. geminata, results from their investigations indicate that flow regime (rather than just proximity to dam outflows) is the likely mechanism. Other environmental factors, such as water clarity, temperature, pH, conductivity, and total phosphorus also contribute.

The work in Alberta has highlighted the formidable challenges to D. geminata management, particularly along unregulated river reaches. It also recognises the unique research opportunities that this organism poses for the growing field of invasion biology.
Further Reading
| | |
| --- | --- |
| | - To view another report on these studies click here. |
| | - To find the Journal of Fisheries and Aquatic Sciences article click here. |
January 2007