Blockchain set for Bangladesh aquaculture launch
A trial to test how blockchain technology can improve the traceability in Bangladesh's aquaculture sector is scheduled to be launched this week.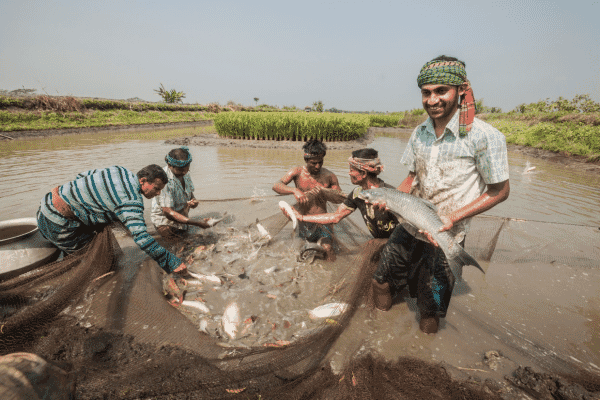 ByteAlly has partnered with the USAID initiative Feed the Future - Bangladesh Aquaculture and Nutrition Activity (BANA) for the trial, which aims to implement a blockchain-based system to trace the journey of a new high-yield carp variety from farm to plate.
The project will actively promote the food traceability system and its benefits to seafood stakeholders in Bangladesh.
"By reducing the timeframe to trace the origin of a given food to a matter of seconds, we're able to solve three of the core consumer concerns that deter them from enjoying seafood: safety, sustainability, and authenticity," explains Rajendra Rao, general manager of the IBM Food Trust.
The $24 million BANA project, which launched in 2018, has already developed a new, high-yield variety of carp that can grow to market size in about 18 months, instead of 24, leading to a substantial increase in incomes for farmers who raise the new variety. Given BANA's focus on improved nutrition and profitable agriculture to provide it, there is a high interest in moving these fish into the market more quickly. BANA wants to use a blockchain system to track and trace this carp's journey through the value chain - to establish trust, manage risk, and ensure the quality of the product.


Technology
ByteAlly will be using IBM Food Trust blockchain, combined with the following components built by themselves.
Cloud-based ERP - to replace the paper-based processes and to manage the farm operations. It will act as the data source from which data will be uploaded to the blockchain.
Android application - for the participating stakeholders to upload traceability information from their smartphones.
GS1 EPCIS API - to format the data received from multiple sources (software systems, mobile apps, IoT, etc) into interoperable data (GS1 EPCIS compliant). GS1 EPCIS is a standard developed by GS1 for interoperability within supply chains. IBM Food Trust Blockchain requires the uploaded data to be in GS1 EPCIS standard.
IoT cloud Infrastructure - to receive data from IoT sensors and transmit them to the blockchain network.
"This is the first large scale food traceability blockchain focusing on aquaculture in the region. It will demonstrate the ability to track the provenance of the fish and ensure food quality, thus yielding a higher selling price for the fish farmers," Anand Sukumaran, VP of growth at ByteAlly, explains.
Stakeholders involved
The first phase of the project will involve hatcheries, nurseries, and grow-out operations fish farms from the Jessore district of Bangladesh. The second phase will involve distributors, processors and retailers.