This year marks the tenth anniversary of the inaugural BIOMIN Asia Nutrition Forum (ANF). The 2015 edition will cater specifically to audiences spanning seven cities across Asia from 20 to 29 October: Seoul, Tokyo, Jakarta, Beijing, Changsha, Dhaka, and Coimbatore.
The theme is "Challenge | Opportunity | Success," with a focus on tackling the global mycotoxin menace, and achieving higher performance by optimizing gut health amid increasing consumer concerns regarding safe and ethical meat production.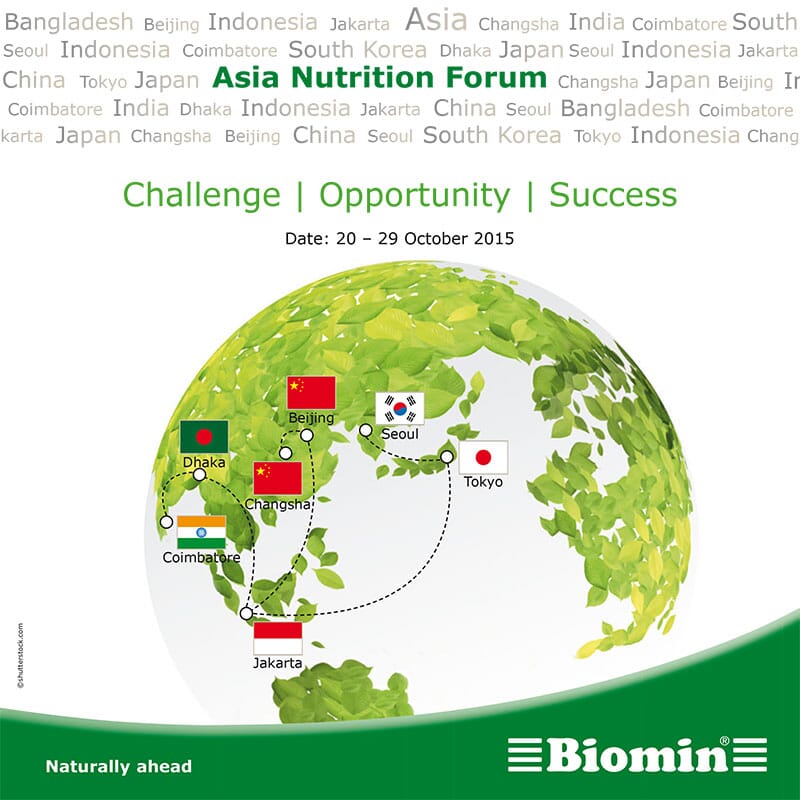 Globally, consumers want the best value when buying meat products. However, they are increasingly concerned about values too. Consumers today ask about how and where was the meat produced, by whom and whether it was done in an ethical and sustainable way. Prof. David Hughes, a leading industry expert on agri-food consumer trends, will address this topic in his keynote speech at the Asia Nutrition Forum.
At the Asia Nutrition Forum, key industry professionals from the poultry, pig, and aquaculture sectors will gather to discuss issues faced by the food and agri-industry today. The forum will showcase a high-level panel of renowned industry experts, including:
Prof. David Hughes—Emeritus Professor of Food Marketing at Imperial College London, and Visiting Professor at the University of Kent Business School and at the Royal Agricultural College, UK
Prof. Julian Wiseman—Professor of Animal Production, University of Nottingham, UK
Michael Block--Livebird Production Manager, Tegel Foods Ltd, Christchurch, New Zealand
Prof. Charles Rangga Tabbu—Professor of Veterinary Pathology, Faculty of Veterinary Medicine, Gadjah Mada University, Yogyakarta, Indonesia
Tony Edwards—Pig Nutrition and Production Consultant, ACE Livestock Consulting Pty Ltd, Australia
Dr. Jorge Cuéllar-Anjel—Project Director, Shrimp Pathology and Research, Camaronera de Coclé S.A. - CAMACO
Prof. Hansel D'souza—Professor, ACCS Mumbai, and Adjunct Professor at S P Jain Center for Management Dubai and Singapore
Representing BIOMIN at the ANF are Jan Vanbrabant, Managing Director of BIOMIN Asia-Pacific; Guan Shu, Technical Manager, Mycotoxins of BIOMIN Asia-Pacific, and Franz Waxenecker, Director of Development of BIOMIN Holding GmbH.