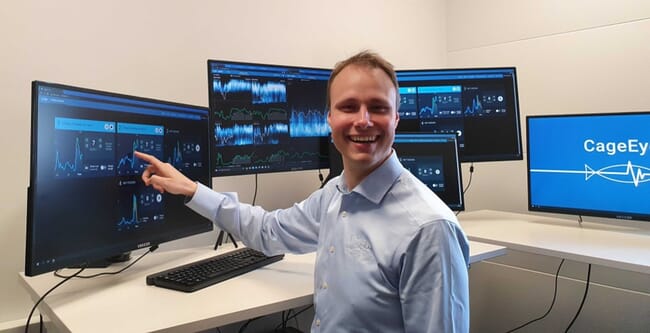 The CageEye system combines data gathered from hydroacoustic sensors with biological and environmental data. It uses intelligent algorithms and machine learning to interpret and act upon them.
According to the company the system can deliver a 10 percent improvement in feeding performance – both by reducing feed waste and improving fish growth.
"The system makes its own decisions about when and how much to feed the fish, based on data and objective analysis of fish behavior and appetite," said Bendik Søvegjarto, CEO of CageEye.
"The acoustic sensors accurately observe the behaviour of fish in cages, which means the appetite-based decision engine will know exactly when the fish are hungry and when to end the meal. This helps the autonomous feeding machine understand the fish. So, as long as they're hungry, it will respond by providing feed."
The CageEye system recognises patterns in the behaviour of the fish, and intelligent algorithms enable it to make continuous real-time decisions and adjustments during every meal to feed dynamically.
"Salmon has a huge growth potential. The goal is to meet the appetite of the fish and realize the growth potential every day, throughout every day of a production cycle, and to do this without wasting any feed. You don't want to feed pellets to the pollock swimming outside the cages, and you want to transform every kilo of pellets into as much salmon as possible," said Søvegjarto.
According to CageEye, autonomous systems are the future of feeding fish in cages. The computer does the work, and the human operator is interacting with it.
"Human feeders with underwater cameras have to process and respond to large amounts of data, as they interpret what they see on their screens. At the same time, they must make a lot of decisions about when to start, stop, or adjust the feeding. Every day, over 400 days in a row," said Søvegjarto, referring to the average length of time salmon spend in marine cages.
"Using an underwater camera is like looking through a keyhole and trying to understand what is happening on the other side. While a camera sees about 1 to 3 percent of the cage, we can observe about 70 percent of the entire cage."
"Salmon feeding is complex. It's a bit like chess; feeders have to analyze complex situations, make calculations as they make decisions and time their actions. They must read the landscape, react to countermoves, and constantly revise their strategy. One human operator feeds 10 to 12 cages at the same time, so in a sense they are playing 12 different games of chess at the same time. No human can observe millions of patterns an hour and make the right decisions every time. By contrast, the computer will never have a bad day, it will never be unfocused, and it will never take time off."
Mutual benefits
Accurate feeding reduces feed waste, which means farmers no longer have to pay for excess feed that is washed away by the sea whenever it is not eaten by the fish. This adds up to cost savings and reduced resource use.
The fish benefit too. Machine learning facilitates feeding-on-demand for the whole fish population, benefiting their health and welfare as none will ever go hungry and they'll never have to compete for feed. This encourages them all to eat to satiation, which in turn speeds up their growth.
Consumers, therefore gain access to more affordable protein, because faster fish growth leads to shorter production cycles. This in turn means that farmers can increase their number of production cycles between now and 2050, and more human meals can be produced. Also, shortening the time at sea reduces the risk of mortality and disease, so there is potential to expect greater biomass harvested over an extended period of time by virtue of better fish survival.