Sponsor message
Are you trying to break into aquaculture industry or already working in the field and looking to gain additional expertise for career development?
Attractability of Probiotic-Coated Shrimp Feed
Research by Phuthongphan Rattayaporn, Srianek Patipon, Roeland Wouters, Geert Rombaut and Olivier Decamp, INVE Aquaculture, discovered increased palatability of shrimp feed when it was coated with a specific probiotic.
The marine shrimp, having poor sight, need to recognise their environment by other senses, i.e. tactile, gustatory and olfactory. The olfactory sense is important because it will dictate whether a shrimp is attracted to an artificial feed. As a consequence, commercial feed manufacturers formulate their feed for their nutritional profile, their stability, but also for their attractability.
At the farm level, many farmers top dress the feed with probiotics in order to deliver favourable microorganisms to the gastrointestinal tract of shrimp. One of these products is Sanolife PRO-2, a mixture of selected Bacillus strains that is coated on shrimp feed. The strains were selected for their ability to inhibit pathogens, be metabolically active in shrimp gut and in shrimp pond, and improve the feed digestibility.
Typically, farmers would coat the probiotics on commercial feed, using either water or fish oil as binder. The question was raised whether the probiotic bacteria and the ingredients associated to their production, would have a negative impact on the feed attractability and palatability. Schneider et al. (2006) carried out an experiment on the attractability of bacterial slurries, compared to compound diet. They concluded that shrimp prefered the commercial diet to the aerobic slurry.
The aim of this short project was to evaluate the attractability of shrimp feed that had been coated with the commercial probiotic Sanolife PRO-2. In order to avoid interefrence with the binder, the probiotcs were coated using seawater.
Experimental details
The experiment took place at the Shrimp Culture Research and Development (SCRD) facilities, in Chonburi, Thailand. For this experiment, 175-L fibreglass tanks were used, with 4 replicates per treatment. Litopenaeus vannamei juvenile (6-8g) were stocked at 10 animals per tank, and starved for a period of 48 hours prior to the onset of the trial. Two feeds were evaluated:
Control feed which was a commercial feed of Charoen Pokphand (CP feed NO.5-9505 ) mixed with 100ml seawater per kg feed, and left to dry.
Treatment feed which was a commercial feed of Charoen Pokphand (CP feed NO.5-9505) mixed with 100ml seawater and 5g Sanolife PRO-2 (INVE Aquaculture) per kg feed, and left to dry.
Each tank contained two feeding trays: one containing the control feed, and a second one containing the treatment feed. One hour before feeding, the aeration was stopped. Immediately after the estimation of the feed preference test, the aeration was restored.
Shrimp were fed for 1 hour in the morning. Subsequently, all feeding trays were removed from the tanks and the amount of pellets remaining on each tray was counted. In the evening, small amounts of feed were given. All feed present on the trays overnight had to be consumed so that in the morning the animals would be hungry and a new palatability test could be done. The amount of pellets consumed by the animals during this 1 hour (morning) was registered daily over a period of 7 days.
Tanks were siphoned every morning, before feeding. Dead animals were removed and replaced by other animals that had been cultured in a separate tank.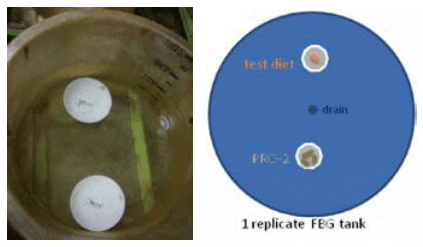 Effects on feed attractability
The number of feed pellets consumed over a period of 1 hour was recorded during 7 days and is summarised in the table below.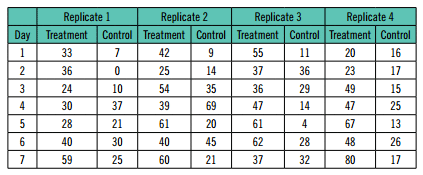 On average the number of ingested feed pellets, after 1 hour, was 1.9x, 1.5x, 2.2x and 2.6x higher when the feed were coated with the probiotic, compared to the control feed (Figure 1).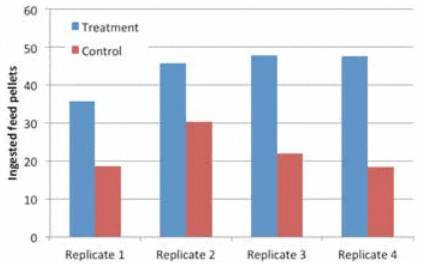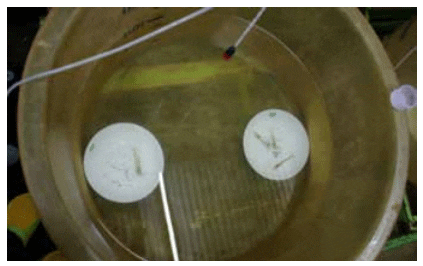 These results confirm there is no negative effect to be expected when coating with the probiotic on commercial shrimp feed. On the contrary, the results demonstrate an increased palatability of the feed when it is coated with this specific probiotic. This faster feed intake by the shrimp might suggest a reduced amount of waste accumulating at the pond bottom originating from the uneaten feed.
November 2015
Sponsor message
UMass Sustainable Aquaculture Online Courses
Aquaculture is an increasingly important source of safe, nutritious, and sustainable seafood for people worldwide. Globally, aquaculture production must double by 2030 to keep pace with demand. These increases in demand for aquaculture products, food security considerations, and job creation have generated an increased need for skilled workers.
Discover how you can be part of this rapidly expanding industry.