INVE, which became part of the Benchmark Group last year, is a world leader in larval aquaculture feeds and health products and the development in the US follows on from the Global GAP Compound Feed Manufacturing accreditation of INVE's production facilities in Thailand.
IA Inc's production plant is situated in Salt Lake City, Utah, not far from the shores of the Great Salt Lake (GSL) and the company currently handles about half the Artemia cysts harvested annually from the lake. As well as artemia IA Inc also produces a range of probiotics and semi-manufactured diets – which are mainly used in the rearing of larval fish and shrimp.
Sven de Vlieger, manager at the plant, explains the significance of the achievement, to The Fish Site.
What are the main products/projects arising from your Salt Lake City operations?
The main activity of the plant is the production of INVE's patented SEP-art GSL Artemia and the packaging of GSL Artemia cysts. We also produce and package probiotics and final-process semi-manufactured diets.
Why are Artemia so crucial for the culture of larval fish and shrimp?
Many aquatic organisms, in particular shrimp and marine fish need live feeds in the very early stages of their lives. Artemia nauplii, unlike formulated dry feeds, are ideal in terms of their nutritional profile and digestibility, promoting good performance and growth of fish and shrimp larvae.
Why did you seek GMP certification?
One of INVE's strategic goals is to work in customer partnership, while our continuous improvement culture focuses on social and environmental responsibility, food safety and traceability throughout the production chain. As a result, it is the final goal of INVE Aquaculture to have all production facilities GLOBAL GAP Compound Feed Manufacturing certified – and the first step in this process was to officially obtain the GMP certificate. Even though INVE's aquaculture portfolio is produced to the highest standards available on the market, we thought we needed to have it officially certified. Not only because of the certificate itself, but also because it meant that our processes had been reviewed by an independent source.
How did you achieve certification and what changes did you have to make?
In order to achieve the GMP certification skilled staff were hired to implement the practical side and handle the administration that comes together with the process. Training courses were given to all our staff so they had a good understanding why, when and how all this will be implemented. A special thanks must go to Greet Merchie and the team at INVE Thailand for sharing their experience and for their support during the past year-and-a-half, not to mention our own management team who helped bring the plant up to top INVE standards.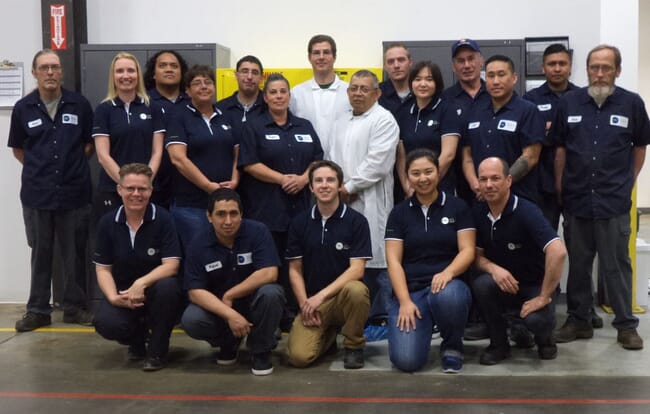 What's the significance of successfully achieving certification?
I am extremely proud that the plant and our people successfully passed their first GMP audit. By obtaining this certificate it is clear to our customers and any other party that INVE Aquaculture manufactures their products complying to the Codex Alimentarius Commission, Recommended International code of Practices, General Principles of Food Hygiene, CAC/RCP 1-1969, Rev. 4 (2003). By implementing this, it allowed us also to optimize all our processes and provide better quality and service. We also receive more and more requests out of the market for such a certification, so that we can assure our products are safe and meeting the highest quality standards.
Do you have any plans to development the facility further?
The GMP certification was only the first step in the process – our final goal is to obtain the Global GAP Compound Feed Manufacturing certificate.
How do INVE's Salt Lake City operations fit in with the rest of INVE, and the wider Benchmark Group?
The SLC facility is very important for IA Inc, as it's where almost all the GSL Artemia, as well as a number of INVE's nutritional and health products, are processed, packaged and distributed to all parts of the world. In the future IA Inc could also become a distribution hub for a range of Benchmark's products across the Americas.
What are the main markets for your products (both in terms of geography and species)?
Most of our sales takes place in regions where high production of shrimp and marine fish take place – especially Vietnam, India, Ecuador and Europe.