Living conditions in Zimbabwe's prisons are notoriously poor. Prisoners are housed in old, overcrowded cells. Due to the prevailing economic crisis, the government is struggling to clothe and feed them. Hunger is causing some inmates to suffer from malnutrition-related diseases such as pellagra, kwashiorkor and scurvy.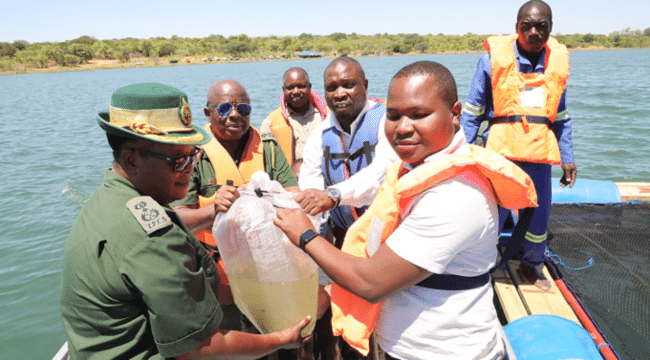 In March 2015, some 900 inmates at Chikurubi Maximum Security Prison in Harare rioted over poor food. Three of them died in the rampage. Reports at the time said the inmates were bitter and perennially hungry because they were being fed on small portions of porridge without sugar, sadza (a thick maize meal-based porridge which is the national staple) and spinach for a combined lunch and supper.

Justice, legal and parliamentary affairs minister Ziyambi Ziyambi told a workshop in February 2018 that because of malnutrition, 578 prisoners were at that time in need of urgent medical attention, 17 of them suffering from pellagra, a disease caused by Vitamin B-3 deficiency.
According to a report from The Zimbabwe Human Rights NGO Forum (a coalition of 22 human rights organisations), Rights Behind Bars: A Study of Prison Conditions In Zimbabwe 2018, the conditions in jails are inhuman and degrading. While access to adequate and nutritious food is a basic human right, the Forum said, inmates seldom enjoy that right.
"The right to adequate food is recognised by several international human rights instruments as part of the class of rights that are extended generally to 'everyone' and specifically to detainees," the report said.
"Some of the few prisons were able to supply adequate basic food items to inmates. Even then, it can hardly be said that these prisons fully complied with international and national standards on the provision of adequate food. There were severe food shortages at many of the prisons that were visited. An overwhelming majority of the prisons visited had run out of protein and cooking oil, and prisoners were allowed to source food from their relatives. Many prisons serve a basic meal of sadza, cabbage and vegetables with no protein for long periods. The situation amounts to a violation of detainees' right to sufficient food and the State should secure enough food items to comply with international and domestic standards."
An aquaculture project in Matabeleland North Province in western Zimbabwe is set to assist in reversing the severe food shortage in seven prisons in the area and specifically the protein deficiency that the Forum's report identified as prevalent among prisoners. Launched in December 2018, the project is being run by the Zimbabwe Prison and Correctional Service (ZPCS) at the 40 million cubic-metre Bubi-Lupane Dam. At launch, the ZPCS planted 10,000 tilapia fingerlings in a cage on the dam. The fish were harvested in May 2019, said a ZPCS spokesperson for Matabeleland North, Bothwell Bosha. About half of the harvest is being fed to inmates in the seven facilities while the other half has been sold to supermarkets in Matabeleland North and Bulawayo, the country's second-largest city.
"This has been a very helpful project because we had cases of malnutrition among prisoners and resulting diseases such as pellagra," Bosha told The Fish Site.
"All ZPCS provinces are encouraged to come up with income generating projects to ensure they complement disbursements from [the public purse]. In the prevailing economic challenges, government resources are not sufficient so the ZPCS is trying to innovate. In Matabeleland North, we are very strong in agriculture. We run a crop-husbandry project at Anju Farm which also produces horticulture produce which we use to feed inmates as well as for sale. This fish farming project is a newer part of that broader thrust to complement allocations from the government and to improve the nutrition of prisoners."
Bosha said that soon after the May harvest the ZPCS ordered 10,000 more fingerlings to be deposited into the Bubi-Lupane Dam cage in September.
Zimbabwe has 46 prisons with a total capacity of 17,000 inmates, but by April 2019 they held 19,382 prisoners. Matabeleland North has seven prisons – Anju, Tsholotsho, Lupane, Hwange, Victoria Falls, Binga and Nkayi – which are home to about 500 inmates. While in other countries, such as Ghana, prisoners benefit from fish farming projects through acquisition of skills and improved diets, in Zimbabwe security fears means inmates don't get anywhere near large bodies of water, and the cage at Bubi-Lupane Dam, Bosha said.
Donald Khumalo, a farmer in Matabeleland North Province and former president of the Zimbabwe Commercial Farmers' Union, said the prison authority's project can contribute to the growth of the fish farming subsector.
"This is one sector that has not grown to its full potential," he said. "But with the National Command Fisheries Initiative [launched by the government in May 2017] we are seeing a movement in that direction. When institutions like prisons get involved in addition to individual farmers who are getting on board, encouraged by the command programme, the future can only be brighter for the industry."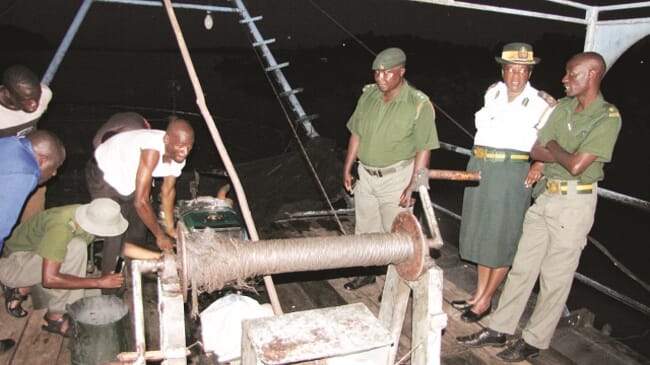 The state aimed to plant about 1.5 million tilapia fingerlings in dams across the country by the end of that year under the command project. The ZPCS announced the first harvest amid much publicity.
"These fish will help a lot in feeding inmates at seven of our prisons including Victoria Falls, Binga, Lupane, Tsholotsho, Nkayi and Anju," said the ZPCS officer commanding Matabeleland North, Senior Assistant Commissioner Modi Nkomo, at the time.
"Inmates now have a balanced diet and we are happy about that. With the economic conditions at hand, our government sometimes struggles to secure food for inmates but we cannot solely depend on treasury. Government institutions should come up with projects that can sustain them. In Matabeleland North we have a lot of water bodies and we are intensifying fishery so that the bodies don't remain idle. This is what government institutions should do."
In addition to the fish farming venture, ZPCS Matabeleland North runs a wild kapenta fishing project in the Binga area on the Zambezi River, further west along the province's border with Zambia's Southern Province. An update issued in April 2018 indicated that the rig was catching 600kg of fresh kapenta daily.
Commanders in Matabeleland North, added Bosha, have been impressed by the first phase of the fish farming project at Bubi-Lupane Dam – thus they want to expand it on that reservoir and to other dams in the province. He said a second cage with a carrying capacity of 10,000 fish was being built at Anju Prison Farm. It will be moved and installed at Bubi-Lupane Dam. Tilapia fingerlings will be deposited soon after. Six months later the province, he said, would potentially harvest more than enough fish to feed inmates in its seven prisons, as well as others in neighbouring Bulawayo Metropolitan Province.
"The building of the second cage has been completed and by the end of October it would be in the dam," said Bosha.
"We are looking at planting the fingerlings around the same time. That means that by end of October or early November we would be having two cages with 20,000 fish. In future, we plan to expand the project to Manzimahle Dam in Tsholotsho. We will assess the dam first but we hope to put two cages there [Manzimahle Dam] in addition to the two we will have in Bubi-Lupane Dam. The plan is to have four cages with a capacity to accommodate 10,000 tilapia bream each and to harvest after every three to four months. This would boost our financial position as a province and assist in improving the diet of inmates."