Aquaculture Outlook Report - March 2004 - By U.S.D.A., Economic Research Service - This article is an extract from the March 2004: Aquaculture Outlook Report, highlighting Global Aquaculture Industry data.
Domestic Aquacultural Production Higher and Imports Up
With a stronger domestic economy and higher prices for livestock and poultry products, domestic aquacultural production is expected to increase in 2004. Higher catfish production is expected to be the chief cause of the increase. Imports of foreign aquacultural products are also expected to expand, but at a slower rate than seen over the last several years. With a slightly weaker dollar, imports of some seafood products will be more expensive and may slow the almost continuous decline in prices seen over the last couple of years. Many foreign aquacultural producers will continue to target the U.S. seafood market as a growth market for their products.


Figure 1:
Catfish farm sales
Million lb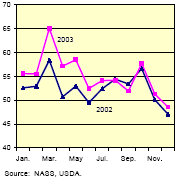 Higher grain prices will pressure production costs for aquacultural producers that utilize grains in their feed formulations. Feed production for farm-raised seafood species takes in a wide variety of products. A number of mollusk species, such as mussels, clams, and oysters, rely on the naturally occurring foods in the bodies of water where they are grown. Some other species need live food in their diet for at least part of their lives. However, for many of the largest aquaculture species like catfish, tilapia, and shrimp a large portion of their diet comes from grain products.
While a number of different grain products are used in aquacultural feeds, the primary ones are corn and soybean meal. In 2003 the average prices for these products rose considerably, especially in the second half of the year. The forecast for corn and soybean meal in 2004 is for higher prices through the first three quarters, but then falling somewhat in the fourth quarter. These higher prices will raise production costs for many aquacultural producers, but this will also mean higher production costs for competing livestock producers.
The outlook for domestic aquacultural production and trade in aquaculture products in 2004 is based on a number of factors. First, U.S. economic growth in 2004 is expected to be relatively strong, boosting restaurant sales. Second, domestic grain prices are expected to increase in 2004, adding to feed costs. Third, the dollar is expected to be relatively soft against a number of currencies, making U.S. exports less expensive and imports less competitive.
U.S. production of pork is expected to be up 1 percent in 2004, and beef production is expected to decline 4 percent. At the retail level, pork prices are expected to be about even with the previous year and beef prices slightly lower. Broiler production is expected to increase by 3 to 4 percent after being relatively flat in 2003. Broiler prices strengthened in the second half of 2003 and have moved even higher through the first 2 months of 2004. Higher broiler prices are expected to provide some additional demand for seafood products.
Catfish Production, Sales, and Prices Higher in 2004
Catfish sales by farmers to processors are expected to increase in 2004, reaching between 675 million and 685 million pounds, up 2 to 3 percent from 2003. Based on grower estimates of inventories at the beginning of January 2004, grower sales are expected to show slight increases during first-half 2004 compared with a year earlier, with stronger growth in the second half of the year. Although the quantity of grower sales is expected to increase only a small amount, grower prices in the first quarter are expected to be considerably higher than the depressed prices of first-quarter 2003.


Figure 2:
Farm prices for catfish
Cents per lb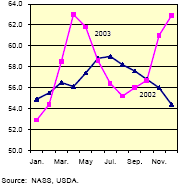 Grower sales of catfish in 2003 were up 5 percent, and prices were slightly higher (up 2 percent). Prices started 2003 below the previous year, but strengthened as the year progressed, especially in the fourth quarter. Grower sales totaled 661.5 million pounds in 2003, up about 31 million pounds from 2002. These sales lagged somewhat behind, increasing by less than 1 percent to 319.3 million pounds. Sales by processors were strongest during the first third of 2003. After that, sales by processors were about even with sales in the same period the previous year. Processor-held inventories of finished products at the end of January 2004 were 12.7 million pounds, about 1 million pounds higher than the previous year.
Although there were gains in both grower and processor sales, gains in sales at the processor level were somewhat offset by a decline in average price. Farm prices began 2003 below those of 2002 for the same period. However, farm prices gained strength through most of the year, finishing 2003 at 62.9 cents per pound, up 16 percent from a year earlier. This price strength has carried over to January 2004, when farm prices were 66.8 cents per pound, almost 14 cents a pound higher than a year earlier and the highest they had been since June 2001. The average farm price for 2003 was 58.1 cents a pound, up 2 percent from a year earlier. Processor prices were depressed throughout most of 2003, but also began to strengthen in the fourth quarter. The weighted average price for all processed catfish products in 2003 was $2.05 a pound, down 2 cents from 2002 and 20 cents lower than 2001.
Grower sales in the first half of 2004 are expected to be influenced by grower inventory levels, the overall domestic economic performance, and prices for competing red meat and poultry products. Supplies of red meat and poultry are expected to be mixed in 2004, with beef supplies lower, pork supplies about even with the previous year, and poultry supplies higher. Prices for beef and pork are not expected to change significantly from a year earlier, but poultry prices at the beginning of 2004 are much higher than a year earlier. The higher broiler prices are expected to help catfish prices move upward. Farm prices for catfish are expected to remain above their year-earlier level through most of 2004. If meat and poultry prices start to weaken towards the end of the year, catfish prices are likely to move closer to their year-earlier levels.
Average grower prices for 2004 are expected to be up from their 2002 and 2003 levels and may approach the 64.5-cent-per-pound average of 2001. Between 2000 and 2002, prices for both corn and soybeans remained relatively stable at fairly low levels. However, prices in 2003 showed an 18- percent increase in the price of soybean meal, and corn prices rose by 7 percent. Prices for soybean meal and corn are expected to increase again in 2004, and higher feed costs are likely to pressure grower margins.
Links
For more information view the full
Aquaculture Outlook Report - March 2004
(pdf)
Source: U.S. Department of Agriculture,
Economic Research Service
- March 2004