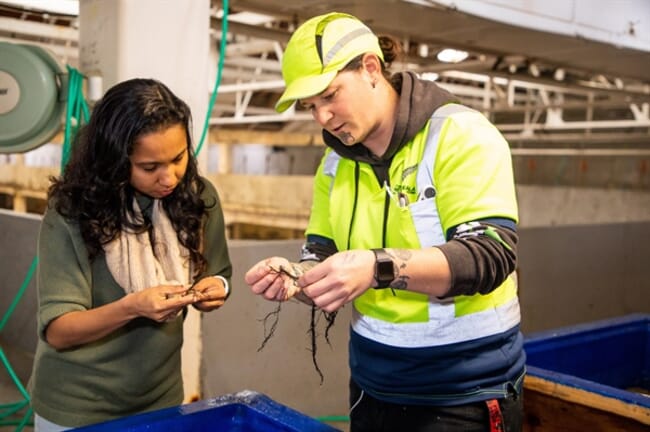 Developed by NMIT Te Pūkenga, the new course – New Zealand Certificate in Aquaculture (Level 3) – has been chosen by Southern Institute of Technology's (SIT) School of Environmental Management to help meet the needs of the local aquaculture industry in New Zealand's Southland.
Programme manager, Rani Fernandez, said in a press release: "We selected this programme because it is a rapidly growing industry in Southland, with a high demand for skilled professionals."
Fernandez stated that SIT went to local industry to examine the needs they had for their workforce, concluding that gaining a recognised qualification helped quantify knowledge and allowed workers to progress with more ease in the industry.
Phil Lockett, environmental management programme operations manager at SIT, announced that the aquaculture programme presented an exciting new opportunity for industry workers wanting to increase their knowledge, or those looking for a change who wanted to take the first steps to a new career. He said: "Students will learn about sustainable aquaculture systems, hatchery management, husbandry techniques and fish farming, also gaining industry experience."
Fernandez confirmed the programme was structured to be sufficiently flexible to allow industry workers to fit studies in around work commitments. Upskilling the workforce through providing training and qualifications meant SIT were aligned with the region's long-term aquaculture goals, and supporting the regional plan, Beyond Southland 2025. Southland's suitability for aquaculture development had already been established, with necessary attributes in water quality, ocean currents and water temperature.
There was growing demand nationally and internationally for quality, sustainable seafood produced by aquaculture, and the National Aquaculture Strategy released by MPI (Ministry for Primary Industries) aims to build a NZ$3 billion (€1.6 billion) per year industry by 2035. "Training workers supplies competence and skills to keep pace with the industry's growth; everything points towards the need for skilled workers," stated Fernandez.
SIT is partnering with Ocean Beach, Southland's only land-based aquaculture site, incorporating The New Zealand Abalone Company's (TNZAC) Pāua farm operation, Manāki Whitebait, the CH4 Global seaweed farm, and Kelp Blue's seaweed hatchery.
SIT's aquaculture programme will be a combination of classroom sessions, field trips, and industry exposure. Graduates will be equipped for diverse roles in aquaculture farms, research organisations, and marine vessels. The 16-week, full-time blended learning programme gives students flexibility, where they can choose to learn the theory online or on campus.