Aquaculture has been part of the skills training programme at the James Camp Prison, one of Ghana's 45 correctional facilities, for a decade. But in recent days it has been given a major boost, as part of a project that will soon be extended to other prisons.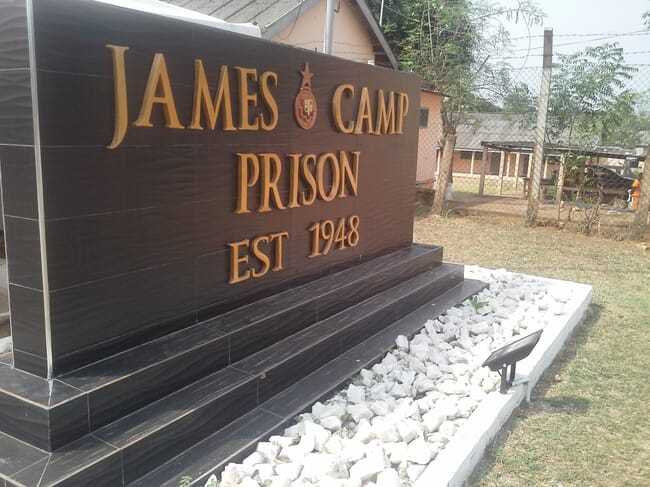 Apart from helping discharged prisoners to acquire marketable skills which will help keep them away from crime, the programme aims to enrich the diets of inmates, and provide the perennially underfunded Ghana Prisons Service with some badly needed cash.
Rehabilitation is a key function of every prison. But at James Camp, this is top priority, because unlike the country's other facilities, it does not take in convicted offenders directly from the courts. The 350 male inmates have already served terms in other prisons – mostly Nsawam, Akuse, Awutu, Koforidua and Ho – and are transferred to James Camp to fast-track their rehabilitation. As well as aquaculture, skills like dressmaking, weaving, horticulture and laundry services are taught by qualified prison officers.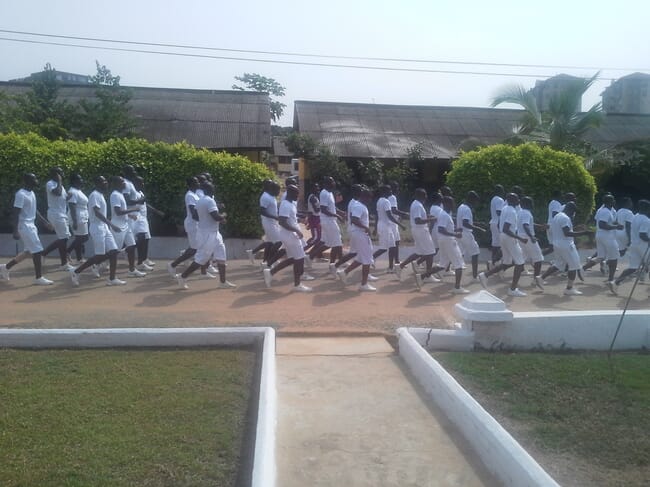 Fish farming has been taught at James Camp for 10 years, using two tilapia ponds with 1,600 fingerlings each, under the guidance of James Melord. He has attended courses run by the Aquaculture Research and Development Centre and the Fisheries Commission, and has therefore been able to impart some new ideas.
"Fish farming is now very attractive: it's rewarding to be teaching such skills to inmates knowing that they will earn decent incomes, either as employees or as owners of fish farms. Hopefully, with more resources, we will be able to teach better skills to more inmates," he says.
Fortunately, resources are now in the post, as under the Aquaculture for Food and Jobs programme, Ghana's Ministry of Fisheries and Aquaculture is seeking to promote aquaculture in senior high schools, prisons and other youth groups. The prisons programme is being piloted at James Camp. The main objective is to help plug the nation's 60 percent gap in fish supply, and the resulting $200 million annual fish import bill, which is the result of a decline of wild fish landings. Aquaculture is seen as a sector with the potential to help improve domestic fish output. Early signs are quite encouraging and the country met government targets to double production to reach 100,000 tonnes in 2018, despite a recent tilapia disease outbreak which resulted in significant mortalities on Lake Volta.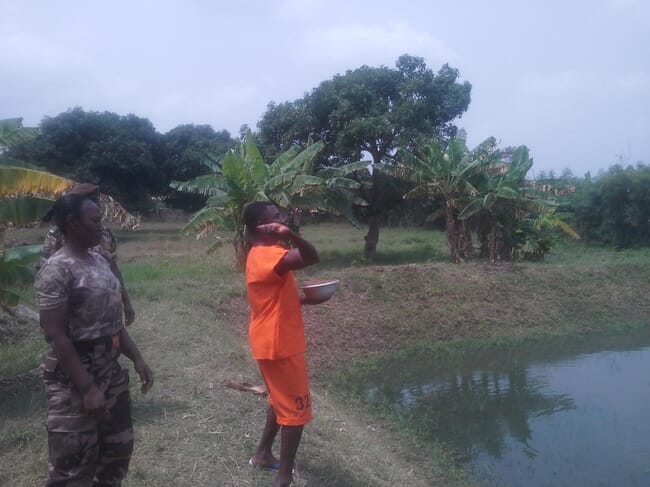 The Ministry is assisting James Camp in installing three more ponds and a fish-smoking facility. Patience Baffoe-Bonnie, deputy director of prisons, who is the officer in charge, believes that before the end of this year, James Camp will be "an efficient aquaculture farm and training centre, and a model for other prison fish farms", and she has considerable aquaculture ambition.
Ghana's prisons have been consistently under-funded – which has always been evident in the feeding regime for prisoners. With a budget of less than $0.50 per prisoner per day, prison authorities have had to be more extremely innovative. Individuals and social groups, mostly churches, make a significant contribution to the feeding of inmates, but not in a manner that could be effectively used in planning. Patience believes that aquaculture could be used to change this situation. And she has already started taking steps.
"The Prisons Service owns some land assets and farms. I believe that we can take advantage of the Aquaculture for Food and Jobs Programme, by establishing fish farms with maximum output, and maximum quality. We could set aside a percentage of our production for feeding inmates, and the balance to generate badly needed revenue. Naturally, there will be challenges with capital and technical knowhow. So I'm proposing to invite high-performing fish farmers to come in as partners. Some of them are using innovative schemes. We are ready to work with them. So far, the initial contacts have been encouraging," she explains.
And, since feed costs account for at least 70 percent of aquaculture production, she believes the prisons could use their own farms to produce raw materials for fish feed.
"We have sizeable maize farms, and maize is the main ingredient in fish production. We also have oil palm farms, so we have palm kernel cake, a valuable feed source in fish diets. And we have a reliable source of labour. Any investor seeking to do good business in aquaculture and fish feed is welcome," she says.
For now, there is optimism around the fish farm at James Camp.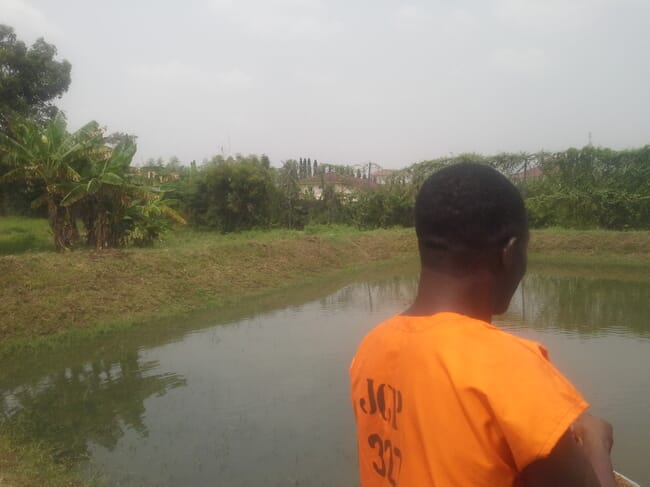 Joshua, a 30-year-old inmate, is hopeful about his chances of success after discharge. Hailing from Enyan Denkyira, in the Central Region, he intends to put part of his family's large holding of land to use. A number of fish farms in the area are linked to the Cluster Farm Company, a Dutch firm.
Meanwhile 29-year-old George hopes to start his own fish farm on the Afram Plains, a major farming area in southern Ghana. Gloria and Stella, assistants at the James Camp farm, hope to learn as much as they can, in order to start ventures of their own.
With the high demand for tilapia and catfish in Ghana and other African countries, prison authorities can count on decent rewards for their aquaculture ventures. Reaching $4 per kilo at the farmgate and $5 per kilo at the market, tilapia farmers find the price competitive and are in no hurry to rush to the export market. Local catfish prices are about the same, but quite a number of farmers are eyeing the US market, where prices fetch over $6 per kilo. Patience Baffoe-Bonnie believes that, in the near future, Ghana's prisons will be telling a great fish story.