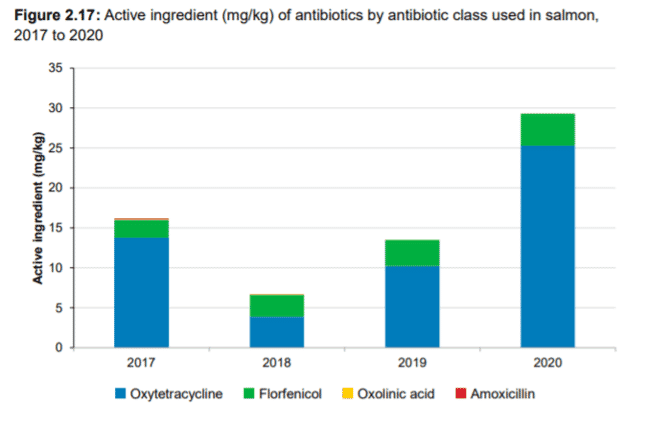 The latest UK Veterinary Antibiotic Resistance and Sales Surveillance Report, which was published by the directive last month, shows that the salmon farming sector used 5.6 tonnes of active antibiotic active ingredient, representing 29.3 mg per kilo of salmon produced, which is 15.8 mg/kg higher than the use reported in 2019.
Oxytetracycline remains the most used antibiotic class (accounting for 86 percent of total use in 2020) and usage has increased by 15.1 mg/kg since 2019. Florfenicol was the second most commonly used antibiotic class, and this has increased by 0.7 mg/kg since 2019. In 2020, oxolinic acid usage decreased by 0.012 mg/kg compared to 2019.
"The 2020 data records an increase in antibiotic use between 2019 and 2020. This relates to an increase in use during the marine phase of production, with a decrease recorded in freshwater. Antibiotic use and stewardship are routinely discussed within a dedicated Prescribing Vets forum. It is important to state that antibiotic treatments are still relatively infrequent in the salmon farming sector, with only 6.9 percent of freshwater farms and 4.4 percent of marine farms reporting any antibiotic use in 2020," said the Scottish Salmon Producers' Organisation (now Salmon Scotland) in a statement.
The increase means that, during 2020, of the livestock featured in the report antibiotic use was only higher in the pig sector (105mg/kg) – with salmon comparing unfavourably to turkeys (25.7 mg/kg), broilers (16.3 mg/kg), ducks (2.6mg/kg), and trout (13.9 mg/kg).
The sector's representative body did not elaborate on the cause of the increase in antibiotic use, although the advent of Pasteurella skyensis has been linked to dramatic increases in use at a relatively small number of farms in recent years.
The SSPO reinforced its ambition to tackle the issue.
"Antibiotics are only ever used in response to the clinical presentation of bacterial infection: there is no prophylactic use of antibiotics and any use is supported by appropriate sensitivity testing. Despite the overall increase, use of the HP-C I A oxolinic acid has continued to decrease and now represents only 0.04 percent of total use. In 2020, the salmon sector published further targets surrounding antibiotic stewardship, which continue to focus on a holistic and preventative approach to health management, including vaccination, antibiotic stewardship, biosecurity and health and welfare planning. It should also be noted that the overall production cycle for salmon is 3 years, so single year mg/kg figures can be difficult to interpret. The sector remains committed to responsible use of antibiotics, balancing a drive to reduce use against the need to safeguard fish health and welfare," added the trade body.
In the trout sector a total of 0.16 tonnes of antibiotic active ingredient was used, representing 13.9 mg/kg, an increase of 4.2 mg/kg (44 percent) since 2019, but remains below the industry target of 20 mg/kg.
"The data from 2020 shows that the trout sector remains below the target of using less than 20 mg/kg. The increases seen in oxolinic acid and oxytetracycline reflect an increase in disease challenge for Yersinia ruckeri (enteric redmouth) and Aeromonas salmonicida (furunculosis) respectively in 2020. However, there is no preventative use in the trout sector, and antibiotics are only used when they are required for clinically diagnosed disease, balancing the desire to reduce overall use against the need to protect fish health and welfare. In 2020, the sector published a new set of antibiotic targets and key commitments include: a focus on vaccination, ensuring that all trout farms are compliant with Quality Trout UK standards, the setting up of a new 'bug bank' for monitoring resistance levels (and supporting the development of autogenous vaccines, that the HPC I Aoxolinic acid will only be used when clinically necessary (and no effective alternatives are available) and that overall use will continue to remain below 20 mg/kg," said The British Trout Association in a press release.