Per tonne, Asia-Pacific grew the most with an additional 1.5 million tonnes. The primary contributors were China, Vietnam and Bangladesh. Production in Europe, however, decreased, according to Alltech, largely due to decreased feed production in Russia, which imported more feed.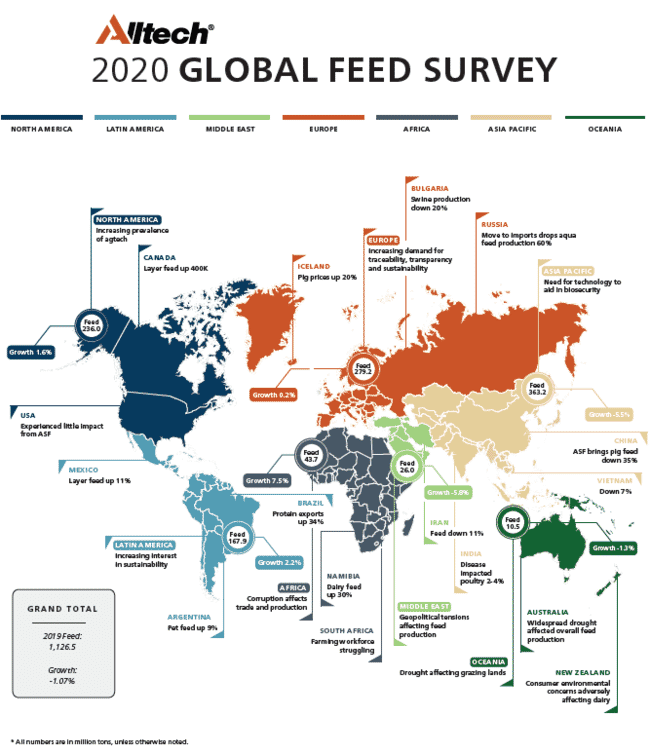 Overall 2020 Alltech Global Feed Survey estimates that international feed production tonnage decreased by 1.07 percent to 1.126 billion tonnes last year – the first global decrease for nine years. This is largely to African swine fever (ASF), which has led to a severe decline in demand for pig feed in the Asia-Pacific region, including a 35 percent reduction in demand in China.

The top nine feed-producing countries are the US, China, Brazil, Russia, India, Mexico, Spain, Japan and Germany. Together, these countries produce 58 percent of the world's feed production and contain 57 percent of the world's feed mills, and they can be viewed as an indicator of overall trends in agriculture.

"2019 presented extreme challenges to the feed industry, with one of the most significant being African swine fever. The regional and global implications are reflected by the Alltech Global Feed Survey and the decline in global feed production," said Dr Mark Lyons, president and CEO of Alltech.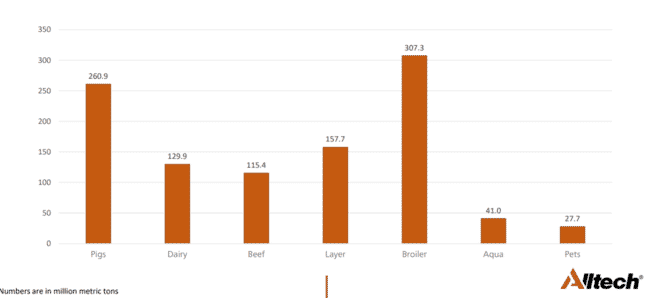 "While pig feed production is down in affected countries, we are noting increased production both in other species as producers work to supplement the protein demand, and in non-affected countries as exports ramp up. The damage caused by ASF will have long-term implications, and we expect that the top protein sources will continue to shift as our industry adapts to the shortage."
The global data, collected from 145 countries and nearly 30,000 feed mills, indicates feed production by species as: broilers 28%; pigs 24%; layers 14%; dairy 12%; beef 10%; other species 6%; aquaculture 4%; and pets 2%. Predominant growth came from the layer, broiler, aqua and pet feed sectors.