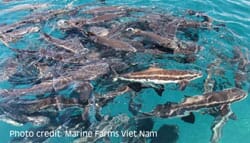 Taiwan Province of China has been the pioneer in cobia (Rachycentron canadum) farming, and is still a major producer, although its production has been dwarfed by that in China, which produced 23,473 tonnes of almost 25 000 tonnes of total farmed production in 2008 recorded by FAO.
However, according to a senior figure in the cobia farming industry, production peaked in 2006-7 at around 20,000 to 30,000 tonnes.
In addition to about 20,000 tonnes from China, this included another 4-5,000 tonnes from Taiwan PC and perhaps 2-3,000 tonnes from Viet Nam, plus other small projects around the region. (Cobia has been produced successfully on a trial basis in Singapore, for example.)
However, cobia production has slumped during recent years and in 2012 was thought to have been less than 5,000 tonnes worldwide, perhaps even half that figure, so a near 90 per cent reduction from its peak.
Marine Farms ASA, a Norwegian multi-species aquaculture specialist, invested more than US$10 million in developing a cobia farming operation in Viet Nam. The farm is situated in Van Phong Bay, 50km north of Nha Trang on the coast of central Viet Nam, and the company started to harvest cobia there in 2006-7.
Marine Farms Viet Nam has ten sites located 300 metres from Hon Lon Island in the bay. Five of these sites were used to grow on cobia and five remained fallow until the following year. Each site could hold 24 cages. As Marine Farms Viet Nam was setting up in business just as many firms were ceasing production, so senior management could claim that it was the world's largest cobia farm at that time.
Marine Farms Viet Nam began to expand its cobia production. It produced 500 tonnes in 2009 and had been predicted to produce 1 500 tonnes in 2010 and 4 000 tonnes in 2014. However, annual production peaked at 1 200 tonnes in 2010 then steadily declined as the company began farming pompano and barramundi. The actual cobia harvest last year (2012) was just 335 tonnes.
The original intention had been to produce fish for the European and USA markets, and frozen farmed cobia fillet portions and loins from Marine Farms Viet Nam were introduced at the European Seafood Exposition (ESE) in Brussels in 2010 – the fish were marketed by Sea Products Scotland, both companies being owned by Marine Farms ASA.
In September 2010, Marine Farms ASA was purchased by Morpol, which claims to be the world's leading salmon processor. As a result the marketing of species produced by Marine Farms, which included salmon, was taken over by Laschinger of Germany, a Morpol subsidiary.
Cobia is a white-fleshed fish with high oil content – it is actually a pelagic species – and therefore is suitable for serving as sushi or sashimi, but can also be cooked in many different ways, and hot or cold smoked. It has been referred to as tropical salmon such is its versatility.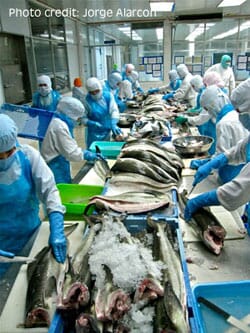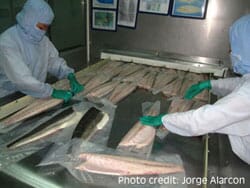 Initial reaction at the exhibition was favourable from both buyers and distributors, according to Bjørn Myrseth, Marine Farms' managing director, and product was stocked by distributors in different European countries including France, Germany (Laschinger) and the UK.
Frozen cobia fillets and loins were also distributed in the USAthrough Nordic Seafood of Boston. (Marine Farms had been supplying fresh cobia produced by a sister operation based in Belize to the USA, however Marine Farms Belize ceased production after Hurricane Richard hit the operation in October 2010.)
In addition to producing frozen cobia for Western markets, Marine Farms Viet Nam was also supplying the fish to Asian markets such as Taiwan PC and Japan, and also to the local domestic market.
Sales of cobia in Europe did not fulfil the early expectations, probably because of the price at which it had to be sold to make the operation in Viet Nam commercially viable. Unofficial reports indicated that the food conversion rate was too high to bring the price down to an acceptable level. In an effort to boost sales in Europe, value-added products were developed by Morpol in Poland from IQF cobia loins imported from Viet Nam, but it seems as though these were not successful.
In 2012, the bulk of the cobia produced by Marine Farms Viet Nam was sold fresh ex-farm to the local market, with a small amount of fresh fish exported to Australia, and some frozen products sent to Taiwan PC, Japan, and the Repuplic of Korea. A tiny amount of fresh cobia was sent to Europe.
The current managing director of the company, Jorge Alarcon, who is also in charge of the cobia company in Belize where the hatchery is still operational, has 'refocused sales efforts to local and regional markets where we can get a better return by selling fresh, and also because the fish are known and people are willing to pay a better price for a quality fish they know'.
It should be pointed out that although Morpol was reported to be selling the cobia operation it acquired when it took over Marine Farms, it was still part of the company when the Morpol board backed a takeover approach by Marine Harvest earlier this year (2013). There is an agreement that when the sale is approved, which is expected to be later this year, the Marine Farms' cobia operation will be purchased by Jerzy Malek the founder of Morpol.
Not surprisingly, Marine Harvest Viet Nam's stocking plans for 2013 have been reduced until the new ownership structure is in place, although the company is building a small hatchery to test out the leased site and production protocols from the Belize operation.
It is not just in Viet Nam where cobia has failed to live up to its expected potential. Most of the farmers producing cobia in the 2000s gave up at the end of that decade, usually stating that it was not profitable. It is possible that the then oversupply of cobia depressed the selling price too far to make it commercially viable to produce. Cobia is an expensive fish to farm and the large sizes reared at that time were said to be not economically viable.
The average harvest size for Marine Farms Viet Nam is now around 4kg. This carries a lower production cost but with the same quality of meat, Alarcon says. Fish weighing 3-4kg can be produced in less than 12 months from fry weighing 2g each.
After the scaling down of cobia production at Marine Farms Viet Nam, the biggest cobia farm is probably Open Blue Seafarms in Panama, which is scheduled to harvest 1 300 tonnes of cobia this year and is reported to be aggressively expanding production. The company has been flying fresh HGT (headed, gutted, tail off) fish to the USA, but it remains to be seen whether this market will be able to absorb the quantity of fish planned to be produced.
Pompano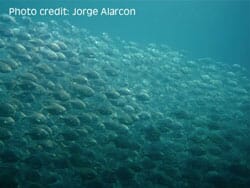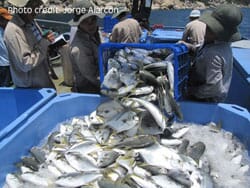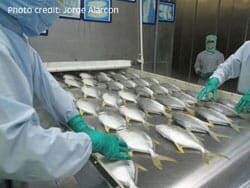 A lot of the companies farming cobia switched their production to pompano (Trachinotus blochii), with China farming an estimated 100-200 000 tonnes in 2012. On average, these operations produce up to 3 000 tonnes annually with the largest player producing around 10 000 tonnes.
Sizeable pompano production at Marine Farms Viet Nam started in 2011 after an initial trial in 2010 proved successful. About one million fish were due to be produced that year according to former Marine Farms Viet Nam CEO, Carlos Massad.
The fish were being presented whole, gilled and gutted, ready forgrilling. 'There are very few pinbones so the meat comes out very easily when grilled,' Massad said. 'We produced 20 tonnes last year (2010), of which 16 tonnes were sent to Morpol for testing the market in Europe.'
Samples were also sent to USA and the rest were sold locally.
Pompano is a deep-bodied silver-coloured fish found in tropical shallow waters all over the world. It is well liked by Asian consumers. 'China is a big local market, where they produce exactly the same fish that we do,' said Massad, 'and they produce a lot of it in Taiwan PC, the Philippines and Malaysia.'
The average size of the fish harvested at the Marine Farms' site in Viet Nam for the 2011 and 2012 generations (almost 900 tonnes combined harvest) was 520g and it takes 4-5 months for them to reach that size. 'This is a plate-sized fish,' says Alarcon. 'Some markets are demanding larger sizes, up to 1kg, but I would say the bulk of the industry is 600g or so.'
Initially the pompano were reared from fingerlings imported from Taiwan PC, but all the stockings from 2012-13 have been locally produced juveniles.
Marine Farms Viet Nam was said to be producing 800 tonnes of pompano in 2010-11, but its 2012 production totalled 692 tonnes harvest weight. The bulk of the pompano was sent frozen to the parent company, Morpol, in Poland, with some sold ex-farm fresh to the local Vietnamese market, and some frozen product sales to the Middle East and Japan.
While the initial reaction in Europe to both cobia and pompano may have been favourable, neither species has sold well, Alarcon says. 'They are both unknown species in Europe competing in a diverse market with plenty of cheaper fish available, especially in a frozen format.'
Morpol has now written down all its frozen cobia and pompano inventory, and it remains to be seen what Malek will do with the Viet Nam and Belize operations once he takes them over. In the meantime, Alarcon is concentrating sales in local and domestic markets. 'We can get a better return by selling fresh in these markets. Also because the fish are known, people are willing to pay a better price for a quality fish they know.
'However, the surge in pompano production has meant stiff competition, and very low prices during peak harvest months, so my guess is that many people will switch species again; a kind of a boom-and-bust cycle with tropical marine species.'
Boarfish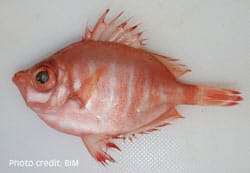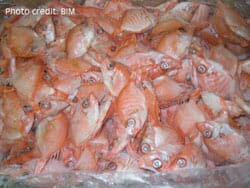 Although it seems as though we will soon be eating more fish that are farmed than caught in the wild, there are still some 'new' and unexploited species in the sea. One of these is boarfish (Capros aper), a small pelagic shoaling species widely distributed along the northeast Atlantic continental shelf.
It is found from Norway to Senegal, the Mediterranean Sea and the offshore islands of the Azores, Madeira and Canaries, often in large, high density shoals, at depths ranging from 0 to 600m. In recent years, this species has experienced a dramatic boom in abundance in the Bay of Biscay and Celtic Sea.
Boarfish is caught off the west coast of Ireland, the EU's largest quota holder at 56 666 tonnes. The resource is currently exploited as an industrial fishery, but Bord Iascaigh Mhara (BIM), the Irish Sea Fisheries Board, is working with the Irish fisheries industry to develop products for direct human consumption.
'We have tried a range of options,' says Michael Gallagher, regional business development officer. 'However, it is small (12-14cm in length and weighing 40-50g) and spiny, and therefore traditional machines cannot be used.' Nevertheless, he adds, the flesh is firm and tastes good.
Since the fillets are very small and removing the spines and skin, which has strong scales, is labour intensive, an option would be to head and gut (H&G) the fish, and Gallagher thinks that machines could be developed to do this. Mince could then be produced from the H&G fish and used in products such as fish cakes and fish fingers.
Various mincing processes are currently being trialed for boarfishat BIM's Seafood Development Centre, and its use as an ingredient is being assessed. BIM is also receiving technical support from the Letterkenny Institute of Technology (LYIT).
The suitability of using boarfish for surimi manufacture is also being assessed.
Samples of boarfish have been sent to China where small fish can be processed by hand. However the processing costs for handling boarfish, compared with Alaska pollock, for example, mean it would be too expensive to re-process there for selling back to Europe.
Some interest in canning boarfish was expressed in China, but trials in Ireland have shown that the process does not break down the spines and scales sufficiently to make this an attractive product. On the positive side the fish has an oil content that can exceed 9 per cent and the flesh is suitable for canning.
Boarfish has an orange skin, which the Chinese find attractive and as they do not mind cooking and eating off the bone, the domestic Chinese market is expressing interest in the fish in its whole form.
BIM has also sent containers to Africa for the whole market and is waiting for specific feedback on these.
In the work that BIM has done so far it seems as though there is potential for whole fish in China, possible potential for whole fish in Africa and, as the technology evolves, the capability for producing H&G fish with the possibility of selling minced fish.
However, it must be borne in mind that the demand for raw material from fishmeal and fish oil producers will continue to grow so the price of boarfish used for products for direct human consumption will have to reflect this.
July 2013