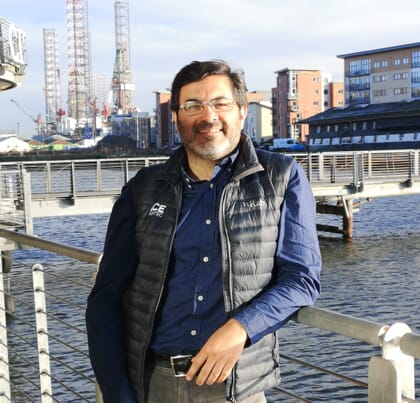 The Scottish company has developed a range of aquaculture technologies including acoustic and non-acoustic predator deterrents that are safe for marine mammals to electric in-water stunning that improves animal welfare at slaughter, and biomass measurement that uses real 3D data to improve accuracy.
They have contracts with all the major UK salmon producers and already have a number of international installations, including with Chilean processing partners Abick. Having recently won the Queen's Award for Enterprise Innovation and the Global Aquaculture Alliance Innovation Award for the positive effects their products have on animal welfare and sustainability; the company now expands its international operations to South America.
Based in Puerto Montt, the Chilean office is led by regional manager José Luis Charpentier, who has an extensive background in aquaculture, especially in the salmon industry. He has held farming roles varying from marine biologist to production and commercial management, and before joining the Ace Aquatec team he introduced LED photoperiod lighting systems to many Chilean farms as part of Bioled Chile.
"At Ace Aquatec we are constantly working together with our clients, observing their processes and defining improvement points where we apply solutions focused on animal welfare and efficiency from the point of view of operation and costs," says Charpentier. "We are confident that we will be relevant actors in the Chilean salmon industry. The concepts behind each of our designs, equipment, and our technology bring leading-edge results.
"The decision to expand into South America and open an office in Chile was a logical step in our business growth strategy", said Nathan Pyne-Carter, managing director of Ace Aquatec. "Innovation is at the heart of everything we do, and we are looking forward to working collaboratively with new partners and clients to develop products for this exciting new region."
Ace Aquatec will be present at Aqua Sur, the largest international aquaculture exhibition in the southern hemisphere, which will take place in Puerto Montt on 3-5 March 2021.