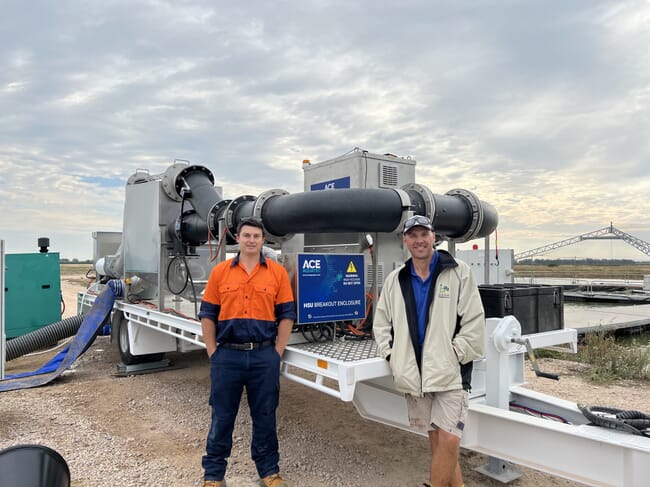 Aquna, which farms the rare cod species in ponds, is one of the few suppliers of the species. Situated in remote and challenging landscape, Aquna were looking for a solution that enabled them to harvest these fish in a more efficient and ethical manner and opted for Ace Aquatec's in-water stunning technology.

Mat Ryan, managing director of Aquna Sustainable Murray Cod, said in a press release: "Our sites are spread across 200 km so the tailored solution offered by Ace Aquatec* has allowed us to integrate with a mobile trailer to harvest on site at a time that works for us which has made a huge difference to us in terms of welfare and fish quality, not to mention the vast reduction in on road transport and consequent environmental impact. Aquna Sustainable Murray Cod has big growth plans, but only if this is done in a high-welfare, high-quality way, which the installation of the stunner allows us to do in so many respects. We want to lead the way in fish welfare in a commercial setting and this has helped us be at the forefront of high-welfare production of this iconic Australian fish."

The humane stunner replaces a percussion stunning system which can be stressful for fish and the staff who handle them. The bespoke solution also means that live fish are no longer transported over long distances, which was stressful to fish and required the use of large vehicles. The trailer-mounted stunner is integrated into Aquna's pumping system, allowing a seamless transition from water to ice, resulting in safer and more humane processing of fish, safer staff, and greater efficiency across the harvest.
The growing popularity of Murray cod among the high-end restaurant market, along with interest from domestic and international markets including the USA, Spain and Japan, means that efficiency was also a key consideration in developing the stunner system. Aquna, which has produced nearly 500 tonnes this year, aims to produce 10,000 tonnes per year by 2030.

*Ace Aquatec is, like Hatch, part of Aqua-Spark's investment portfolio, but The Fish Site retains editorial independence.