As Prelude's COO, Tommy Jackson, explains to The Fish Site, the Texas-based company believes that their VISION software is well placed for a number of uses – from tracking fish weights and feed usage, to fish health, to employee activity and even genetic information – both on-farm and in trials facilities. In the process, he says, aquaculturalists will save time, increase efficiencies and have access to better quality data.

How does VISION work?
VISION is an electronic data capture (EDC) software, basically a sort of flexible database, that can be used for data capture, tracking and management. It allows users to create their own custom forms to collect and track data and organise them into groups, based on their workflow.
In aquaculture it can be used for tracking fish weights, feed usage, fish health and even genetic information – both on-farm and in research facilities. It's accessed via a web browser so users entering can access VISION from any device. Moreover, a sort of spell checker is built-in, which reduces data entry errors and results in better quality data. To further ensure good quality data, VISION also abides by the principles of ALCOA and is compliant with many regulations. It also includes seamless reporting capabilities to create customised statistics tailored to each organisation.
What inspired you to diversify into the aquaculture sector?
Prelude Dynamics was approached by an aquaculture company at an industry conference. The company was interested in the production tracking and automation capabilities of the system and intrigued by the way it could be used to demonstrate compliance with regulations. This company conducted clinical and non-clinical trials but also needed an overall registry and production database for tracking growth and breeding programmes as well as monitoring efficiency. The company was also interested in using VISION to implement traceability and increase transparency regarding the fish they were tracking.
We soon realised the possibilities offered by the world's fastest growing food-producing sector and are excited by the novel challenges and new data to track in the sector. VISION is flexible so it can be used to help tackle these new challenges with any of the species farmed – including shrimp, tilapia, salmon, trout, and catfish – and can grow with the needs of the industry. VISION has been successful in helping make clinical research more efficient and data collection easier – it can do the same for the aquaculture sector as it continues to grow.
What sort of feedback have you had from industry users?
Customers in the livestock and animal health fields have found VISION particularly helpful and it has become the gold standard in animal health. The primary benefits include increased efficiency through automated workflows, increased awareness and control, and cost savings through reduced labour hours.
Another key benefit is the ability to automate data entry by bulk uploading excel files directly into VISION. Clients can now transfer data from old systems without the hassle of manually entering data from one place to another.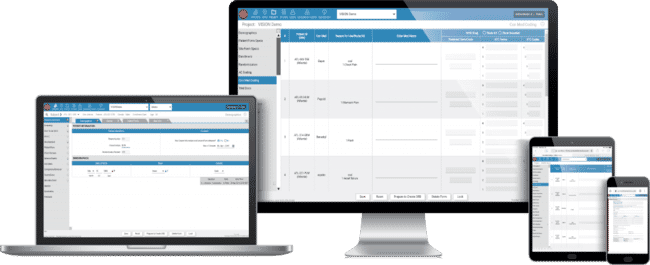 What makes your system stand out?
There is no other product quite like VISION in aquaculture because it is so flexible. There are many different types of aquaculture, from RAS to open-ocean systems, and VISION can be used by all of them because it enables users to create custom forms to meet the specific requirements of their unique production system and work flow, rather than having users adapt to it.
For example, if staff typically fill out paper forms on a clipboard in a specific order, they can use VISION on a tablet or computer to enter data directly into electronic forms that replicate the appearance of the paper forms. This allows teams to collaborate and access data from anywhere with an internet connection using familiar forms.
These features and its flexibility facilitate better monitoring and can help fish farms to link fish production and factory efficiency by tracking data on things such as diets, weights and employee activities over time and as they move across different locations.
We also provide the ability to manage user permissions. For instance, a technician can be limited in which forms they can view, a QA person can be prohibited from changing any data fields, and management's access is focused on corrective action forms and other pertinent managerial data within the system.
How is the system evolving?
VISION has already evolved in the clinical trials field, from working with data at a patient-level to handling data at a site or pen/tank level. It has also been adapted for animal registries, such as the Great Ape Project, and for production systems.
VISION can similarly grow with the aquaculture industry - as aquaculture systems and the technology they utilise develop, the data they need to track will likely change. VISION can evolve with the industry by adding capabilities to make data collection and management easier and less-time consuming based on the needs of the industry. As the data collected changes with technology, sites can create new forms if needed or modify existing ones to collect additional data.
Over our 15+ years of experience and steady growth, Prelude has recognised patterns and similarities of study classes, leading to the creation of templates for re-use and libraries of entire study types. We hope to expand these in the next 5-10 years to create template registries and production databases based on the needs of our clients in the aquaculture and other livestock sectors.
Do your clients benefit financially?
Labour hours and data entry errors can be reduced greatly by using VISION. Rather than transcribing data on paper and later entering data into an Excel spreadsheet, which can lead to data entry errors and can be time-consuming, the paper data entry step can be skipped. Additionally, the presence of built-in time stamps, and the limits on the type or range of data entered into a field, prevent data entry errors. These features save time, increase efficiency, and can result in better quality data, which can improve cost estimates and increase profits.
Typically, a monthly fee is charged based on the amount of data storage required rather than on a per licence basis. This is because a large number of users from a variety of departments provide unique contributions to our database. We also provide technical support for clients who need more hands-on support during their initial form building stage.