The Fish Site caught up with Proteon's Matthew Tebeau and Aneta Bronowska at last week's Aquaculture Innovation Europe conference to find out more.
How do bacteriophages work?
They kill bacteria through a process called lysing in which they attach to the bacteria, inject their DNA and force the bacteria to reproduce their DNA until it explodes the cell wall of the bacteria. Although they are comparable to an antibiotic, in that they directly kill bacteria, an antibiotic is like a nuclear bomb and kills everything, meaning the microbiome has to repopulate itself and there's collateral damage to commensal bacteria, while a bacteriophage kills a specific species of pathogenic bacteria.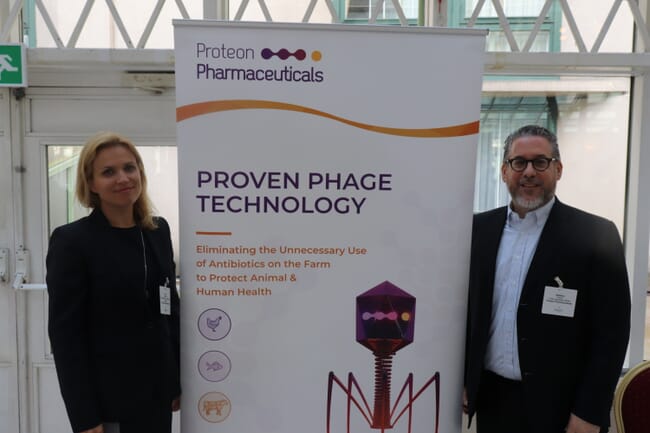 Phages are a natural part of the microbiome, but a concentrated cocktail of specifically selected bacteriophages can be used to kill specific diseases or bacteria. The bacteria we've targeted can cause high mortalities in aquaculture but phages can treat this swiftly. Our product can also be used prophylactically by forward-thinking farmers looking to prevent mortalities.
Is it possible to target specific pathogens?
We can either use a particular phage or cocktail to target particular bacteria, such as a Salmonella or Pseudomonas, or we can develop a cocktail to target a whole range of bacteria.
Which bacteria are you targeting at the moment in aquaculture?
We're currently targeting Pseudomonas and Aeromonas – which are responsible for a large proportion of pond aquaculture disease outbreaks in India, for example – but we also have a product for vibrio in the pipeline for the shrimp sector and we also have a series of developments focusing on other bacterial targets like Renibacterium.
Which aquaculture sectors will these phages be most useful for?
Our first product, Bafador, kills Pseudomonas and Aeromonas and is aimed at sectors including salmon, rainbow trout, carp, eel and catfish. It was only launched this spring and the response from producers has been even better than we expected, with early adopters including Arctic char and rainbow trout farmers.
How are your phages delivered?
Mainly in the feeds, but also via immersive bath treatments.
Can they be used in different production systems?
Yes, indeed, Bafador has been designed to be used in a variety of production systems – in both fresh and salt water.
Are there any regulatory constraints?
The regulatory environment for phages really varies from market to market, so it's a bit of a challenge, but it's registered as a feed additive in Asia at the moment, and you can also use it as part of an autogenous vaccine.
What's the level of efficacy?
The field results have confirmed our trials that it reduces mortalities by over 80 percent – it basically stops a disease event in its tracks and, typically, there is no reoccurrence.
What are your current ambitions?
We're looking for investors to support our commercialisation, whether private equity or industrially connected; we are also looking to partner with veterinary groups, feed producers and leading producers who have products or technologies that can fit with what we're doing. These could be partnerships in terms of delivery methods, formulation methodologies, in terms of diagnostics, or in terms of complementary products: if we can deliver one part of a solution that's great.