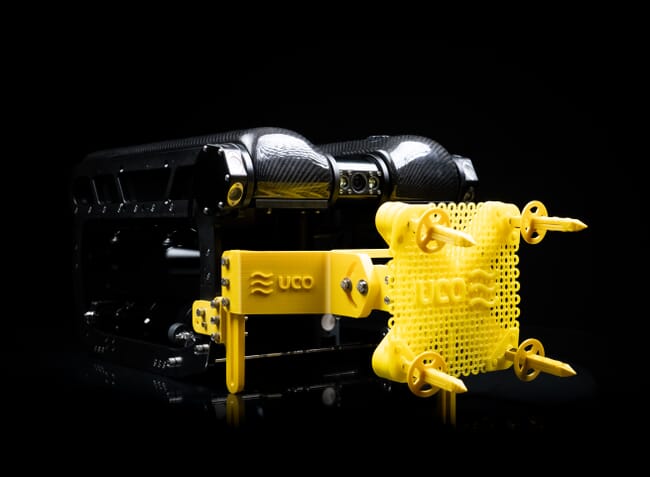 The UCO NetFix repair system places plastic patches over holes in cage netting, until they can be permanently repaired by a dive team or when the nets are lifted to the surface.

Small holes, which can be made by predators or if equipment becomes snagged during operations, are identified during routine containment checks by ROV or during net washing. Until now, these would require calling out a dive team at short notice to carry out repairs, a time consuming and expensive process. NetFix uses the onsite ROV to carry out an immediate repair, ensuring containment of all stock.
Deployed using a frame attached to the inspection class ROV, UCO says that the semi-permanent repair is compatible with on-going net washing activity, as the patch sits flush with the inside of the net.
The deployment frame can be made to fit any regular inspection ROV. Patch size is 200mm x 200mm with peg size dependent on netting size.
"UCO specialises in pioneering innovative solutions which support the ongoing growth of the sector which is a significant contributor to our economy," said Mick Bower, managing director of the Aberdeen-headquartered firm.
"Breaches of containment damage the reputation and the farmer and can be very costly. NetFix now provides the solution to reduce the risk of lost stock by immediate repair of small holes.
"We are fully supportive of the Scottish Government's aspirations for the future of the sector to 2045 and beyond. One of the ways of demonstrating sustainable aquaculture in the context of environment and biodiversity is to aim for 100 per cent containment."
Formed in 2017, UCO is part of Ocean Marine Group and is exhibiting at the Aqua Nor trade exhibition in Trondheim from August 22-24 as part of the Scottish Pavilion.