In West Africa, women appear to be driving – and reaping the benefits from – the rise of aquaculture production. When it comes to fish, African women have traditionally been confined to processing and retailing – artisanal fishing, which used to supply almost all Africa's fish, has been an all-male affair. But a number of new initiatives suggest that this is increasingly no longer the case.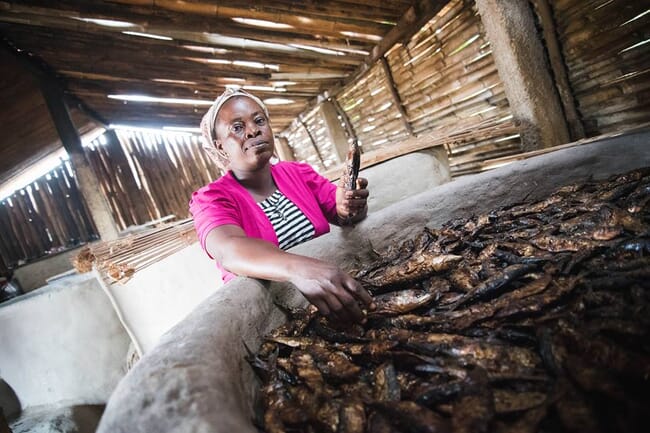 With the drastic decline of fish catches over the last two decades, the livelihoods of many women in fish retailing and processing has been affected. At many landing beaches, it is common to see women hanging around in the hope of buying some fish for sale. Not a very realistic hope, considering the many canoes parked in the background, whose personnel have not bothered to go out to sea.
Some programmes, like the West African Fisheries Renewable Programme, are seeking to restore Africa's depleted fish stocks, but the fruits of these efforts will only be realised over the long term. Hope for a quicker alternative comes in the shape of aquaculture development strategies, which have been implemented by almost all African countries in order to plug the huge gaps in fish supply, and the high fish import bills. Some modest achievements have been recorded. Aquaculture could reduce the fish imports of several countries by a third by 2020. An interesting development in Ghana is that women are playing a significant role in the expansion of domestic aquaculture as entrepreneurs and investors.
When the Western Region Coastal Foundation (WRCF) started its pilot aquaculture programme in 2016, it recruited 264 fish farmers and enthusiasts. A quarter of the trainees were women. One of the WCRF's objectives was to provide alternative incomes for communities in six districts affected by offshore mining activities. Fish farming was a popular activity in the region, although most farmers were discouraged by the poor returns. As a result of the training programme, which ran from 2016 to early 2018, the trainees are now running profitable farms. The training comprised "climate-smart" techniques, so the farmers are also earning extra income from vegetables cultivated by the use of waste water from the farms. Amina Adam, a group leader, says that her husband abandoned the family's farm because it was not profitable. She participated in the training programme to learn skills to help her turn it around.
"I realised that we were doing quite a few things wrong – from feeding practices, to water management to biosecurity. I have now got things right, and the farm is doing well. I have engaged four new hands," she says.
The increased output of the former trainees has also improved working conditions for women involved in fish processing.
Similar developments are underway in the Upper West and Upper East Regions of Ghana, where the Association of Church-Based Development NGOs (ACDEP) has established cage tilapia farms in five districts, with seven more in preparation. Ten fish farm groups have been formed, with 50 people in each group. Women comprise 60 percent of the farmers, who are trained intensively.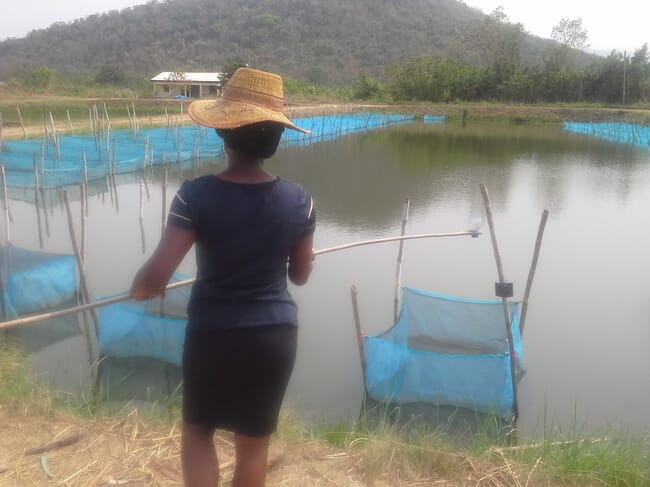 Peter Akpaglo, aquaculture consultant at ACDEP, says: "Apart from training them to run the farms efficiently, we also gave them training in fish processing, because we expected that the fish harvests would be higher than the purchasing capacity of the communities. I can tell you that the farms are doing very well. The significant number of women in the programme is a good omen for the future of aquaculture. And, of course, a number of women are doing well buying fish from us to sell at the markets."
Women are also playing a major role in the operations of SkyFox, a Ghanaian aquaculture company that is establishing 200 pond fish farm projects in 10 sites across Ghana as well as projects in Liberia, Sierra Leone and Burkina Faso. People in the local communities are invited to buy shares, from 100 cedis (US$20) to 25,000 cedis ($5,112).
"Sixty percent of our local community investors are women," says Patrick Apoya, CEO of SkyFox. "I'm really pleased with this, because the farms are doing well, and we reward our investors for putting money in our projects; we are promoting women's empowerment. I am looking forward to seeing this trend in our other West African projects."
Close to half of fish catches in Africa become dried, smoked or salted products, a factor of great importance to fish farmers. Most of the processing has conventionally been done on a micro level by women using traditional methods. Apart from the drudgery involved, the traditional stoves use a substantial amount of wood, with obvious health risks. In recent times, more efficient methods have been introduced, including the FAO-sponsored FFT-Thiaroye Oven and the USAID sponsored Ahotor Oven. Training courses for women processors are becoming more common, and the status of women in fish processing has improved substantially.
Bertha Amoah, a fish dealer, says that things are looking up. "I process more fish with the new ovens. The quality is much better, and sales are good. I now have a direct supply arrangement with a couple of fish farms. I will soon buy a couple more ovens," she says.
With fish, women were in background characters in times past, but the script is being rewritten. As Ghana increases aquaculture production to plug the supply gap, women are now very likely to play prominent roles – as farmers, entrepreneurs and investors.