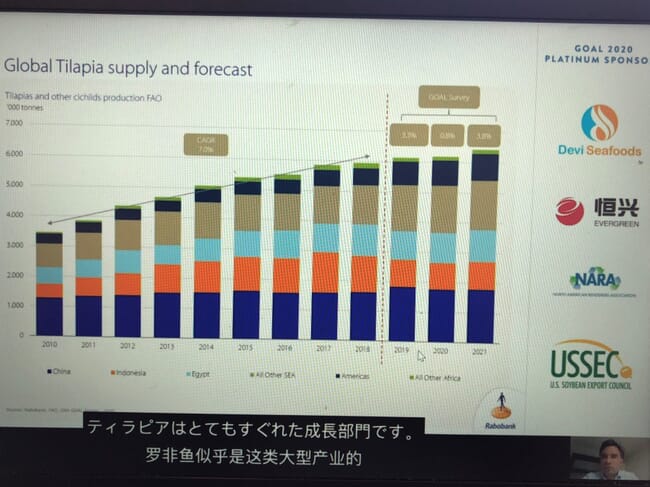 The new data, based on the GAA's latest survey of tilapia producers from around the world, were presented by Rabobank's Gorjan Nikolik at the GOAL 2020 conference, which is taking place virtually this week. They included a breakdown of the key tilapia producing countries, providing provisional figures for 2019-2021, as a means to supplement the FAO statistics, which only run up to 2018.
"It seems that tilapia is a very good growth sector – it grew from around 3 million tonnes to over 6 million [since 2010] at a growth rate of just above 7 percent. Expectation is for lower growth, but still positive in 2020 and some more growth returning in 2021," Nikolik noted.
"There are some question marks about the data but it seems that overvaluations for some countries have been roughly balanced by undervaluations for others, so the errors seem to negate each other," he observed.
China and Indonesia
According to estimates based on the survey, China crossed the 1.8 million tonne mark in 2019 and had a small decline in 2020, but growth is expected in 2021.
Indonesia – the world's second largest tilapia producer – saw a drop to around 900,000 tonnes in 2019, down from over 1.2 million the previous year.
"I'm not sure if the FAO data is a little too high – we've seen in the past, in shrimp too, that Indonesia has too high data [as reported to the FAO]," Nikolik reflected. "The survey results show that production total is a couple of hundred tonnes lower and that it declined in 2020, but is estimated to increase slightly in 2021 – but no overall growth in these three years [2019 to 2021]."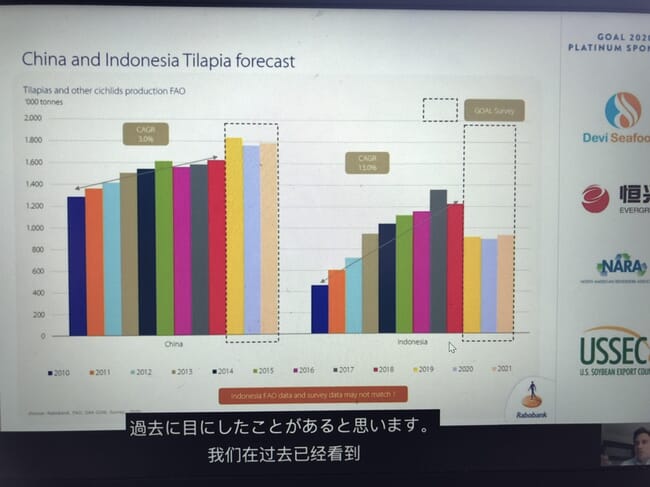 Other Asian producers
"The great success of Bangladesh – where the producers came from a very low base in a short period of time, especially the early part of the decade and grew strongly. Even when the sector was grown from a larger base it continues to grow. 38.9 percent growth rate – the highest growth rate we've had from any species so far – and continued optimism for this species in Bangladesh," noted Nikolik
"For the rest it's a bit of a mixed bag, the Philippines and Thailand are relatively flat, slightly positive. Again I have doubts about how the survey data matches the FAO data. It seems that there's a consistent jump in 2019 which could be an indication that the data of FAO might be too low in this case. The only thing we can say for certain is that the survey suggests there will be growth toward the end of the period in 2021," he explained.
Africa
"Tilapia has been a runaway success in Egypt for quite some years now, continuing its growth rate at 8 percent, which is very strong. It seems the growth has levelled off somewhat, although the survey results all show optimism and further growth it seems there was some decline in 2019, but it's certainly a sector that's firmly above 1 million tonnes," said Nikolik.
"The interesting thing in Africa is that there's a lot of tilapia grown in other countries, although these are dwarfed by Egypt. But I believe this group of others is a group that we should be looking at into the future with a strong growth rate of almost 16 percent – although it seems to be a bit flattish in the last couple of years," he added.
Brazil
Growth of Brazil's tilapia sector meanwhile has, Nikolik notes, mirrored the recent success of its shrimp sector.
"We already knew that Brazil had a good tilapia sector, growing from 150,000 to over 300,000 tonnes in the last decade, but now in the last few years it has grown to almost 500,000 and the expectation is that it will surpass 500,000 tonnes [by 2021]. This is something to watch for: Brazil is now consuming this all internally but it can potentially become an exporter," he predicted.
The rest of the Americas
"There's good growth in a number of other region in South America – Columbia is doing well, almost 6 percent growth and continuing; Mexico also doing very well, 26 percent growth, and our survey data suggests that the FAO data might be too low and it's close to being a 100,000 tonne sector soon. It's a very good performance of tilapia in a select group of Latin American countries I would say," he added.