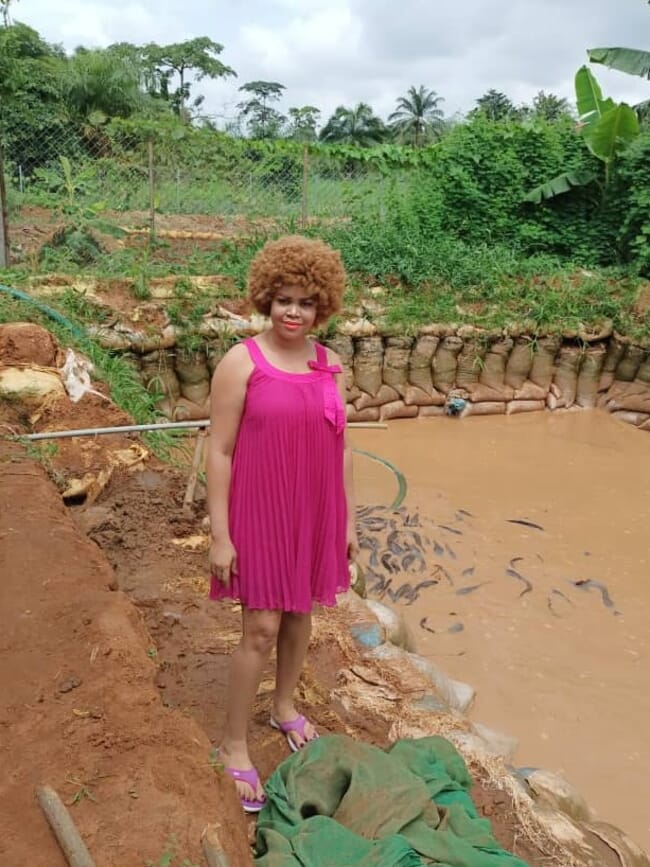 Can you briefly describe your aquaculture career?
I founded Ndulue Farms and Fisheries in Nibo, Anambra State, after my first degree in marketing from the University of Nigeria. We started on two plots of land with 10 earthen ponds of about 15ft by 30ft each, and a production capacity of 8,000 catfish in each production cycle.
By 2015, we relocated the farm to a bigger space, with 30 earthen ponds of 25ft by 40ft each, and a production capacity of over 100,000 catfish in each cycle. Unfortunately, a few years after the expansion, in 2018, Anambra state was ravaged by floods and I lost over 70,000 fully-grown fish. It was devastating. But today, through perseverance, the farm has been reconstructed, and we currently produce about 50,000 catfish in each production cycle.
What drew you to aquaculture in the first place?

The first is passion. I love fish farming. I have always believed in its potential. The passion was planted in my heart when I was an underage domestic worker for a family who owned a fish farm. The farm, even though I laboured tirelessly, was the only place I found real peace. Tending to the fish was my way of relaxing. When it was time to choose a career, the research I read revealed that fish in the oceans were depleting drastically, so I knew it was fish farming or nothing else.
What work-related achievement are you most proud of?
After the flood I thought it was the end of the road for me, but looking at where I am now, to say that I am proud of how I managed to rebuild the farm from scratch, again without help from anyone, would be an understatement. Rebuilding the farm was an arduous task, but I'm glad I did.
What does a typical day in your current role consist of?
A typical day involves taking charge of fish health and nutrition, ensuring that water is adequate and oxygenation is top-notch, adhering to environmental standards, paying close attention to avoid water turbidity. Some days are for sorting and stock-taking while some seasons are for harvest. I love what I do, regardless of how physically demanding it may seem, every day for me is a good day.
Have you encountered any gender-related challenges in the sector?

There have been so many disheartening encounters. It is not incongruous though, considering that Nigeria is a male-dominated society. I've had male staff who are on my payroll disrespect me because of my gender. I've had people who stated unequivocally that I had no right to school them on anything, regardless of how knowledgeable I might be, simply because I am a woman.
Securing the land for my farm site took more money and more time because the landlord was reluctant to give out his land to a woman. But, these challenges are surmountable and have had no deleterious effect on my career and outlook.
Are there any individuals or organisations in aquaculture that you've found particularly inspirational?
None, up until a few days ago when I discovered The Fish Site's focus on mentoring and encouraging women in aquaculture. Going through the profiles of other women who are making an impact in aquaculture was heartwarming. The thought that I am not alone will be a major driving force for me.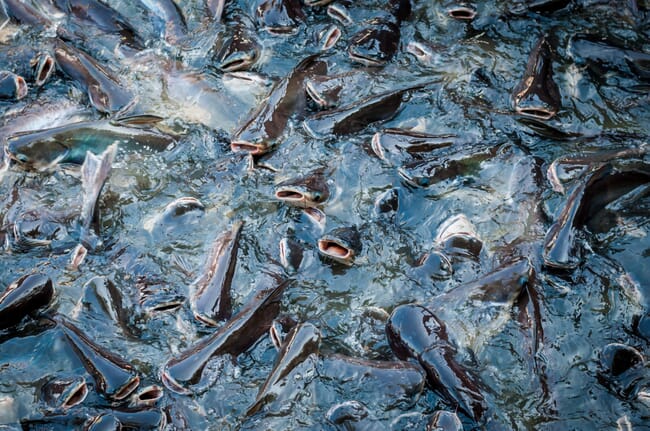 What advice would you give to women who are considering joining the aquaculture sector?
The market is huge in Nigeria. The gap between demand and supply needs to be filled. Women can do it because there is already an existing market for the product, women will thrive. Besides, entrepreneurship is the lifeblood of every economy.
The world's economy desperately needs to thrive now more than ever before. Women are not just home builders, but nation builders. Every sphere of the world's economy needs a woman's touch because a woman's touch is the Midas touch. Women have what it takes to push the limits of excellence in the everyday routine of life, and aquaculture is no different.
What are the most memorable experiences you've had in aquaculture?
The loss of my fish due to the flood and not being able to access the government's assistance is an experience that I've stored up in a place in my heart where I seldom go. Experiences refine, so I've learnt to lower my expectations of things I have no control of. I try not to dwell in the past or wallow in self-pity. Rather, I look to the future with optimism.
I have the biggest fish farm in Awka. When people hear about our exploits, our breeding culture, the size the fish attain and come to the farm only to discover it's owned and run by a woman, the look of shock on their faces can be very amusing. That has always encouraged me to do more.
If you could solve one issue in aquaculture what would it be?
It will be providing unhindered access to single-digit interest loans with six months moratorium to women in aquaculture, especially in Africa. That would encourage women fish farmers to do more. The ripple effect it would have on fish/food production, and its positive effects on our oceans and ecosystem at large, would be unbelievable.
What would you like to be doing in 10 years' time?
I'd like to increase my capacity to over a million catfish in each cycle and employ over 100 staff. This will help me curb the unemployment that is predominant in this part of the world. In 10 years' time, I hope to have made an impact on the world of aquaculture, and on many rural women who follow my trend.