Kenya has seen significant aquaculture growth and development over the years, but one of the constraints faced by Kenyan farmers is a low survival rate among fry, due to the low-quality, or lack, of live feeds. This has led to an increasing demand for valuable sources such as Artemia (brine shrimp) biomass and cysts (the shrimps' dormant eggs). Artemia are particularly convenient as their cysts can be stored in airtight cans for many years and hatched 24 hours prior to feeding.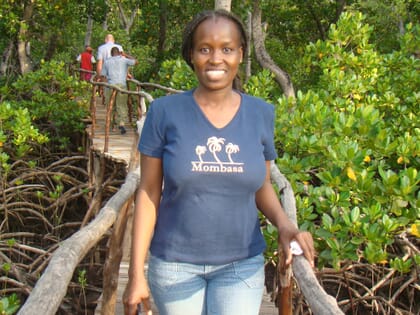 Studies in the 1980s found that Artemia can survive – and be cultivated – in the Kenyan environment. In 2010, living standards and food security in many rural communities began to improve thanks to Artemia production in salt ponds (this genus of shrimp is known for its ability to survive in high levels of salinity). For Kenya's large-scale salt-mining industry, the production of Artemia is often seen as an unimportant sideline – but as more hatcheries for marine species start to be established in Kenya, the production of Artemia biomass and cysts is expected to be crucial in optimising the local development of the larviculture of a number of shrimp, crab and fish species.
Despite this, fish farmers and hatchery owners continue to import Artemia cysts at a high cost, due to a lack of awareness that the eggs can be produced in Kenya, and a lack of processing equipment required to clean the harvested cysts. Morine Mukami, a research scientist at the Kenya Marine and Fisheries Research Institute (KMFRI), is studying Artemia production in salt ponds to highlight the benefits of Artemia produced in Kenya and encourage farmers to purchase more economical alternatives to imported feed.
Briefly describe your aquaculture career
I've worked in aquaculture since graduating with a BSc in Fisheries in 2005. During my career I've worked on aquaculture feeds and the production of freshwater seed including tilapia, catfish and ornamental fish. Today, I'm a research scientist at the mariculture department of the KMFRI in Mombasa. I specialise in Artemia pond culture in solar salt ponds in the Magarini area of the Kenyan salt belt.
What inspired you to start in aquaculture?
When I finished high school, I took a certificate course in banking and finance while waiting to enrol at university. In Kenya it's not unusual to wait almost two years until enrolment, so the course came in handy. Since I was good at mathematics at school, I really enjoyed it. During that period, I was invited to take a BSc in Fisheries at Moi University. The course was hardly known, not only in my village but also in Nairobi where I was studying banking and finance.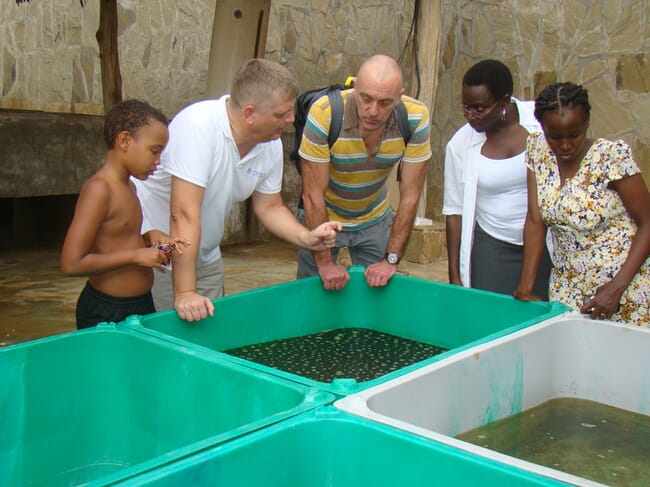 It wasn't popular and a lot of my classmates pulled out. I tried twice to change courses but couldn't. It was then that I felt I was destined to work in aquaculture. During my third year, I had a placement at a fish farm and that's when I became interested in my subject and felt I had finally found a direction in my career. I then took an MSc in Environmental Information Systems at Moi University and a PhD in Applied Biological Sciences at Ghent University in Belgium.
Describe a typical day in your current role
My day starts at 7.45am. I read my emails, reply and proceed to the laboratory if I have any experiments. If not, I write papers and read widely about Artemia. I'm in the middle of my PhD so I have a lot of experiments, analyses and writing to do. I also respond to proposal calls with colleagues and other interested parties, and have performance targets to complete in a financial year. This year my target is to produce an Artemia manual, train commercial salt farmers in better management practices while culturing Artemia in their farms and characterise Kenyan Artemia. In other words, compare it with Artemia produced in other regions.
For example, I measure the cyst and nauplii [early shrimp larvae] sizes at different life stages and analyse their DNA, fatty acids etc. I also attend work meetings and keep in touch with Artemia farmers by conducting training and visiting the salt ponds. My meetings involve setting performance targets for the aquaculture department, or procurement if we are purchasing equipment. I'm also a member of a committee that is planning to set up a museum at KMFRI. I represent the aquaculture department.
What's the most interesting, inspirational experience you've had working in aquaculture to date?
My work allows people to obtain paid employment, which changes their lives for the better. That inspires me a lot. Kenya's high unemployment rate has led to a lot of insecurity as a result of young people with nothing to do. Getting them to work in aquaculture stops them from becoming involved in crime. Women I work with have reached certain financial targets to buy cattle, land or pay their children's school fees. In short, whenever somebody's life gets better because of what I do, I'm inspired to work harder.
What's the most unusual experience you've had in aquaculture?
During a visit to Vietnam, I found that, compared to Kenya, aquaculture in small farms is very advanced. The farmers have very successful co-operatives.
Working in the laboratories of the Artemia Reference Centre in Belgium with sophisticated equipment was an experience of its own too. I remember when setting up an experiment I told the technician that if power went off I'd have to start all over again, and he said they don't experience blackouts. I found that very unusual. Blackouts are so common in Kenya, so to say that I was mesmerised is an understatement. I have never experienced such efficient services.
How important are sustainability concerns to you and how do you address them in your work?
Sustainability is key whenever I'm working on a project. If a project cannot sustain itself it will be a burden to those running it. Before I commit to something, I conduct a feasibility study and involve the community in planning from the outset so they can own the process. In this way I can assess and predict whether the project will be sustainable.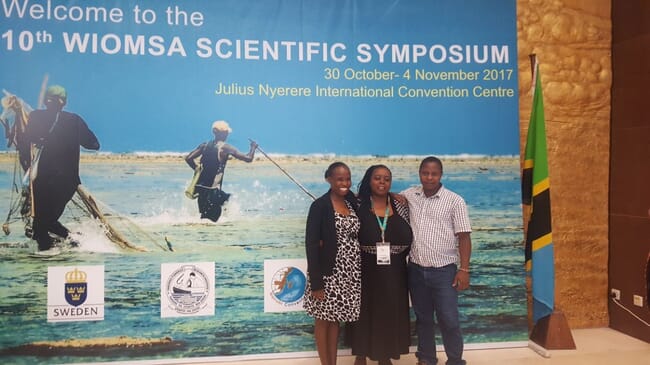 What new technical or product innovation do you think has the most potential to change aquaculture?
In my country and the coastal region where I work, Nile tilapia [Oreochromis niloticus] has recently been acclimatised to grow in marine waters, through an experimental study by Dr Mirera, a scientist in my department. So far the results have been very promising. If things remain as they are, there will be great potential to change the outlook of aquaculture along the coast of Kenya and possibly adapt it in other areas close to marine waters.
Are there any individuals or organisations in aquaculture who you've found particularly inspirational?
Dr Betty Nyonje, my previous boss and PhD supervisor, has been my mentor in the Artemia field and I'm amazed by her resilience when dealing with aquaculture issues. She's always confident that she will succeed, even when the road ahead seems unclear. My BSc lecturers, Professor Charles C Ngugi and Mr Enos Macwere, have also played a great role in my career. Prof Ngugi was one of my MSc supervisors. Both have now left academia and established very successful fish farms. They are always ready to assist whenever I'm stuck. Mr Mcwere was a huge inspiration, always telling us how proud he was to be referred to as a fish farmer, not just an academic.
Have you faced any particular challenges as a woman in aquaculture?
Definitely. When the time came to have a family, I realised how challenging it was being a woman in this field. On many occasions, I've had to take my nanny and babies with me during fieldwork. It's hard trying to balance family life and a job. Sometimes I've had to work late into the night. It takes an understanding husband to succeed with that! The aquaculture field here is still extremely male-dominated and women need to work extra hard, knowing that they shoulder more responsibilities, like family and child rearing, compared to men.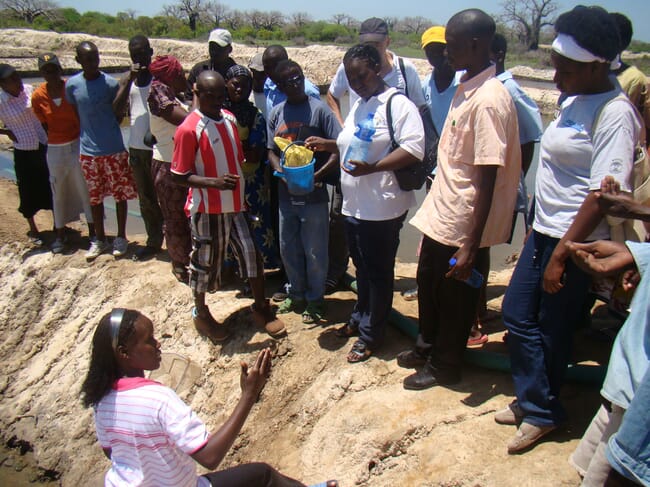 Some men in the salt farming community haven't wanted me to run projects in their area either, possibly because I'm female. It took one of my male colleagues to convince them that we were there for their own good. Today, however, we are great friends because they can see clearly how my work has improved their lives.
How are women addressing inequalities in aquaculture in your region, and have you seen the opportunities improve in recent years?
Not so much. In my region, very few women work in aquaculture. This is a huge disadvantage when it comes to addressing inequality issues in a very male-dominated field. There are also less women in aquaculture with leadership positions, where their voices can be heard while setting policies for aquaculture.
What advice would you give to women looking to start a career in the aquaculture sector?
Aquaculture is an interesting sector to work in, but it requires a lot of passion for what you do and plenty of perseverance since it has its own unique challenges which are different for different people at different places and times.
What would be your dream role in aquaculture and do you think it's realistic to achieve?
To flood the world market with Artemia produced in Kenya! Yes, I believe it's achievable if everyone involved works to make it successful.
What has been the aquaculture industry's greatest accomplishment in recent years?
An investment by the Kenyan government to increase aquaculture production through the Economic Stimulus Programme in 2012. It gave the economy, and aquaculture, a really huge boost. The emergence of integrated multi-trophic aquaculture and aquaponics are also significant as they make it possible to undertake aquaculture with minimal resources and better environmental management.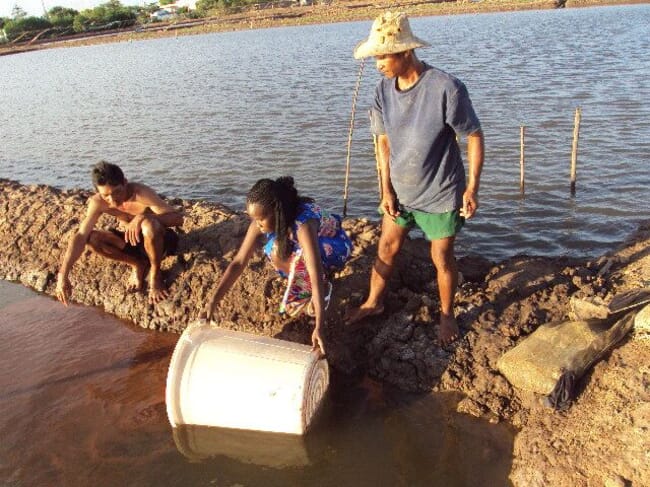 What outstanding challenge would you most like to solve?
Here, the commercial salt farmers in whose farms Artemia grows have very little interest in Artemia. If they were a bit more interested, Artemia production would be high. They have a lot of land to boost its production.
Why are these farmers not interested and what is the key to changing their minds?
They're not interested because salt production earns them a lot more than Artemia production. They want Artemia in their farms to clean their salt, but aren't ready to collect the cysts because it's a tedious process. Some have even asked us to do it for them for free. The farmers make billions from salt farming compared to the thousands they would make from Artemia. Training a few staff from the farms, creating a market for their Artemia cysts and branding the Artemia produced from those farms, with a mention of the farms in question, could make them more interested. Developing public-private partnerships with the above issues included could also be a starting point.