Three-Sixty Aquaculture has now started producing genetically male tilapia (GMT) fry year-round to the global market, from its 3,000 square foot state-of-the-art RAS facility, which is the first commercially operating tilapia hatchery in the UK, and only the second in Europe.
The Fish Site caught up with company directors, Lee and Kendra Tanner, to find out more.
What's the capacity of the new facility?
We are currently producing in the region of 1.3 million fry per year, with an expansion project planned for 2018 that will bring production levels to 15 million fry per year by August 2019.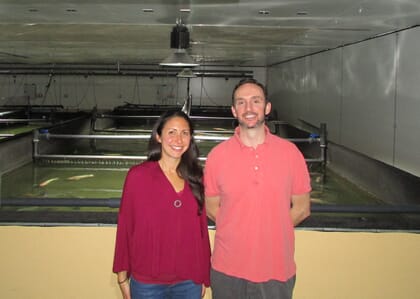 Why are GMT seen as being a more ethical alternative to hormonally-induced male tilapia?
Standard farming practice is to only stock one sex (males) to prevent uncontrolled population explosion and reduce their bottom line, since males grow up to 40 per cent faster than females and have a better feed conversion ratio (FCR).
There are currently three ways to ensure a farmer has a 100 percent male population:
A sex-reversal practice administering hormones – 17a-methyltestosterone (MT) – to young fingerlings. This is widely used globally, but is banned in Europe.
Hybridization of T. aurea males crossed with the female Nile tilapia that produce a slower growing all-male strain.
A 35-year breeding study conducted by Swansea University has produced the GMT strain. They are the result of a breeding selection programme, and are not genetically engineered. They were developed from a genetically unique form of tilapia called YY-Supermales, which have a YY genotype instead of the usual XY male genotype, meaning their offspring can only be male.
The combination of the EU regulations, the fact that there has been a shift away from MT-induced males on the global market, and our links with Swansea University made GMT the logical choice. And the establishment of a GMT hatchery plays a key role in improving the sustainability of the global tilapia farming industry, while providing an ethical alternative to hormonally sex-reversed fry typically available in the market.
Where do you intend to sell your stock?
South America and the Caribbean, including Trinidad and Tobago, emerging markets in Africa and the Middle East, as well as small numbers across Europe.
How easy it is to transport live tilapia?
Fry can be transported to almost anywhere that's within 2-3 hours of an international airport. 10,000 swim-up fry per box can travel for up to 36 hours, but 90 percent of shipments can take place well inside 24 hours. We've been shipping fish to South Africa, the Caribbean, Columbia, USA and throughout Europe for the past six months now, with 100 percent success.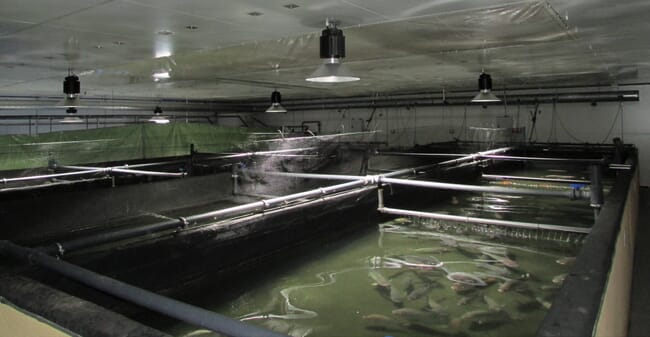 Why you think previous UK-based tilapia grow-out ventures have failed and what have you learned from these failures?
At the time Three-Sixty Aquaculture was first being planned there were three tilapia grow-out farms operating in the UK, whom we intend to supply. Unfortunately, these have now been shut down. It would appear to be a combination of things that caused this, including the inconsistent supply of high quality fry and the failure to improve practices and systems over time. These, in turn, can result in the outbreak of disease – as was the case with Europe's largest tilapia operation, in Belgium.
While we still firmly believe that there is a market in the UK for a 1000-tonne tilapia grow-out facility we chose to initially pursue the hatchery side of the business. This was mainly due to opportunities to work with the Centre for Sustainable Aquaculture Research (CSAR) at Swansea University and the pioneers of YY technology, Fishgen Ltd.
Is Wales an unusual choice of location for the facility, given the lack of tilapia grow-out farms in the vicinity?
From a market perspective, since fry are transportable up to 36 hours, we had always planned on domestic and international shipments to customers. We chose the location due to the proximity of Fisghen Ltd and Swansea University and the potential for research and commercial partnerships.
The system we've designed and developed allows us to produce fry year-round, regardless of the weather conditions (which can be quite variable here), as we have total control of all parameters and are fully insulated. We also utilise a heat recovery ventilation system, that runs at an efficiency of 82 percent. This not only keeps the facility at a constant 30°C, with humidity at 85 percent (reducing losses to evaporation) but simultaneously removes the CO2 being produced by the biofilters whilst introducing fresh air.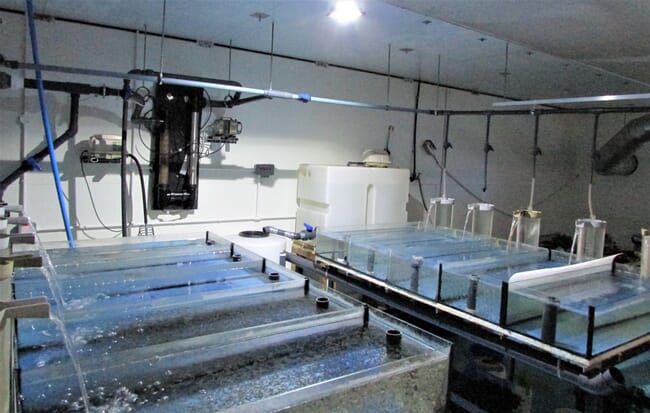 How many people do you employ?
The facility currently employs two full time and two part-time staff. This will increase to 6-8 full-time positions when the expansion is complete in early 2019. Phase 1 was completed in June of this year, the expansion will produce in the region of 15 million fry per annum, with an estimated construction cost £500k. This relative low cost per output is due to Lee being a designer cofounder, which has dramatically reduced the capital required for a project of this size. There's also an application in place with the EMFF for a grant of £180,000 and we are actively raising capital to match-fund.
What are the next stages of the project?
There are plans in the pipeline for research into more sustainable feeds – insect and algal-based – as well as continuing our selective breeding programme to further increase the growth rates and fillet yield of GMT.