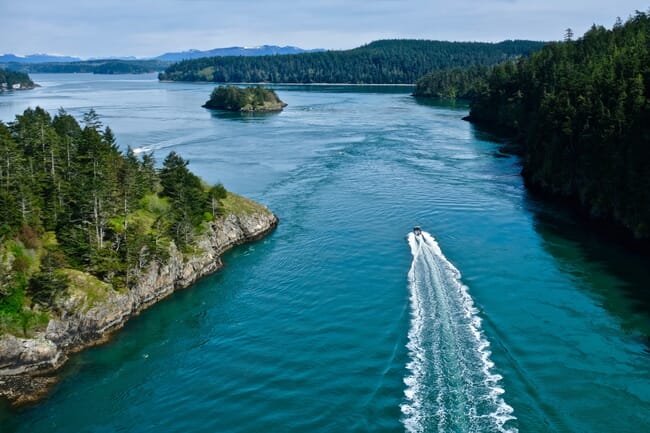 The ruling was made after the Jamestown S'Klallam Tribe and the Northwest Aquaculture Alliance's (NWAA) filed a complaint against the DNR,

According to NWAA, the decision essentially declares that the "ban" on commercial net pens that Public Lands Commissioner Hilary Franz touted in her press conference on 18 November 2022 has no legal effect in Washington.
NWAA has issued the following statement today: "Last Friday, October 20, we got confirmation from Thurston County Superior Court that fish farming in commercial net pens is not illegal in Washington, contrary to the inflammatory public statements made by the Commissioner of Public Lands during her November 18, 2022, press conference, where she announced that 'Washington's public aquatic lands will no longer be home to commercial finfish net pen aquaculture,'" said Jeanne McKnight, NWAA executive director.

"When NWAA intervened in the Jamestown S'Klallam complaint, we had hoped the Court would find that Commissioner Franz overstepped her authority in banning commercial net pens in state-owned aquatic lands. Instead, we got the next best thing: clarification that what looked to the entire aquaculture sector as a de-facto ban on commercial net pens in Washington is not a ban at all – just hyperbole on the part of a politically-motivated agency head who is now running to be the next Washington governor," McKnight said.
"While we are grateful for the clarification by the Court, the fact remains that the public statements by Commissioner Franz had a chilling effect on the entire aquaculture sector, caused by the climate of uncertainty from DNR's public condemnation of one of the world's most sustainable methods of food production."
In joining the Jamestown S'Klallam Tribe's lawsuit against DNR, NWAA sought to resolve the uncertainty in Washington regarding marine aquaculture, said McKnight.
"Now that we can confirm that marine fish farming is still legal in Washington state, we will continue to advocate for the development of responsible, sustainable aquaculture in the Pacific Region," she stated.
NWAA said it is grateful to the excellent representation by attorney Greg Hibbard of Northwest Resource Law PLLC, who worked alongside tribal attorney, Lauren Rasmussen, to "fight like hell for tribal rights to grow food by means of a robust aquaculture sector in this region."