During last week's Highland Business Awards, which celebrated the achievements of a range of businesses and individuals across northern Scotland, the Inverness firm won Outstanding Performing Business (25+ employees). The most recent accounts posted for the group revealed a near £7 million rise in turnover for 2017, and around a four-fold increase in pre-tax profits to £1.6 million. In April 2018, Gael Force successfully acquired a 75 percent majority share in Fusion Marine, adding to their breadth of product, geographical reach and workforce.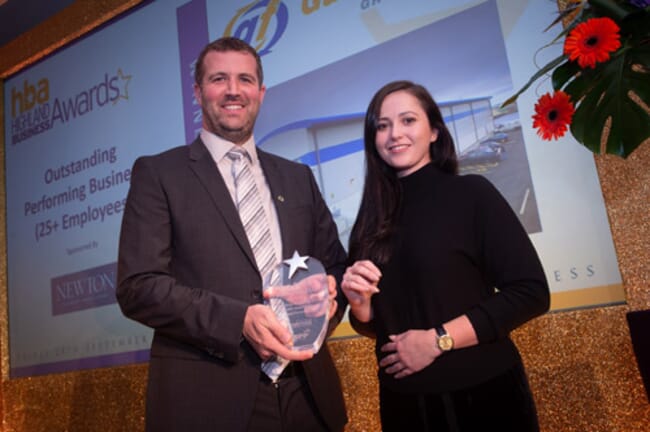 Production director Stephen Offord, who collected the award, commented after the ceremony: "To win this award for the second year running is a magnificent achievement and acknowledgment of the enormous progress our business has made in the past two years. Across our highly skilled teams we are aligned in our values and strategic objectives, and this will continue to drive us to deliver trusted product and services for our customers."
There was also success for owner and managing director, Stewart Graham, who was crowned Business Leader of the Year. His leadership in driving the Scottish Aquaculture Vision for Growth to 2030 strategy was acknowledged as a defining factor in winning the accolade in a strong field. His son and daughter, Craig and Rhiann, were on hand to collect the award on their father's behalf while he was in Canada promoting the business' plans for inward investment in the Newfoundland's aquaculture industry at Cold Harvest.
The award adds to his win at the Scottish Marine Aquaculture Awards earlier this year where he received the honour of Outstanding Contribution to Industry Award.
Commenting on his win, Graham said: "I am truly honoured to be awarded Highland Business Leader of the Year and very grateful for the recognition it brings. The backing I have received from our team at Gael Force to deliver on our business objectives, with support from the wider aquaculture industry has enabled me to drive Vision 2030 strategy and co-chair the Aquaculture Leadership Group alongside my day job as group managing director at Gael Force. Without that support it would have been challenging to commit wholeheartedly to those leadership roles."