Introduction
In 2011, UK vessels landed 600 thousand tonnes of sea fish (including shellfish) into the UK and abroad with a value of 828 million. This represents a 1 per cent fall in quantity but a 15 per cent increase in value compared with 2010.

This release provides a comprehensive overview of the weight and value of landings by UK vessels into the UK and abroad and by foreign vessels into the UK. The publication includes breakdowns of landings data according to:
Vessel nationality
Port and country of landing
Area of capture and fishing gear used
Vessel size and sectoral membership
Data are also provided on landings and quota uptake for all EU member states. All landings data are given in terms of live weight.

All tables presented here are available to download as spreadsheets from the MMO website. Supplementary tables showing more detail can also be found on the website.
Landings by all UK vessels and by foreign vessels into the UK
Sixty seven per cent of fish caught by the UK fleet were landed in the UK. In terms of value, 75 per cent of UK vessel landings were made in the UK. Chart 1 shows the landings into the UK and abroad by vessel nationality. Scottish vessels accounted for 60 per cent of the weight and the value of landings by UK vessels (see Table 1). English vessels accounted for 28 per cent of the quantity and 30 per cent of the value of the landings, while Welsh and Northern Irish vessels represented 3 and 8 per cent by quantity respectively.
Quantity and Value of Landings into the UK and Abroad by UK Vessels by Vessel Nationality: 2007 to 2011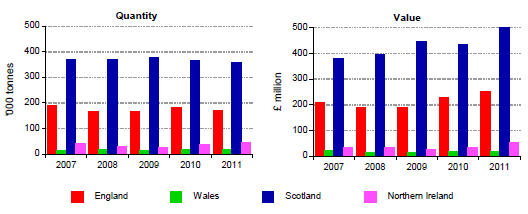 Landings by UK vessels into the UK fell by 2 per cent to 404 thousand tonnes in 2011. Demersal species represented 27 per cent of these landings in terms of quantity and 34 per cent in terms of value. Pelagic species accounted for 36 per cent of landings by quantity but only 21 per cent by value. Shellfish accounted for 37 per cent of landings by quantity and 45 per cent by value. This is the first time that shellfish has had the largest share of tonnage landed.

Chart 2 shows a breakdown of landings by species group into England, Wales, Scotland and Northern Ireland by UK vessels. The largest amount, 260 thousand tonnes, was landed into Scotland with a value of 406 million. Landings into England were 99 thousand tonnes with a value of 164 million.
Landings into UK Countries by UK Vessels: 2011 (000 Tonnes)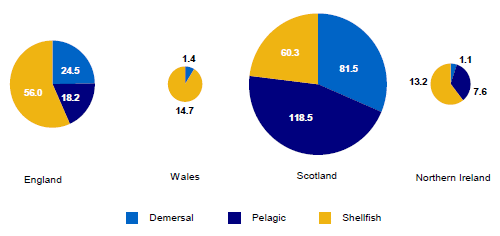 Breakdowns by species of landings into the UK by UK vessels, landings into the UK by foreign vessels and landings abroad by UK vessels are given in Tables 2 to 6. In 2011:
The UK fleet accounted for 86 per cent of all fish landed into the UK (see Tables 2 and 4). Only 39 per cent of blue whiting landed into the UK is caught by UK vessels. For all other species, the majority of UK landings are made by UK vessels.
Shellfish formed a majority of landings by the UK fleet into England, Wales and Northern Ireland. Pelagic fish had the highest share of landings into Scotland (see Tables 2a to 2d and Chart 2).
Landings into the UK by foreign vessels fell by 39 per cent to 67 thousand tonnes (see Table 3). This was a result of a large fall in blue whiting but landings of mackerel also fell. Blue whiting has a relatively low value and so the overall reduction in the value of foreign landings into the UK was only 3 per cent.
Nearly half of all landings of pelagic fish by UK vessels were landed abroad (see Tables 5 and 6). In contrast, only 4 per cent of shellfish landings by the UK fleet were made abroad.
November 2012