Called Innsikt, it is a simple, web-based platform that enables farmers to identify which lice treatment strategies have been the most successful – helping them reduce mortality, improve fish health, and save money on treatments – based on feedback from Salmon Group - an association which represents 43 small salmon producers across Norway - and others.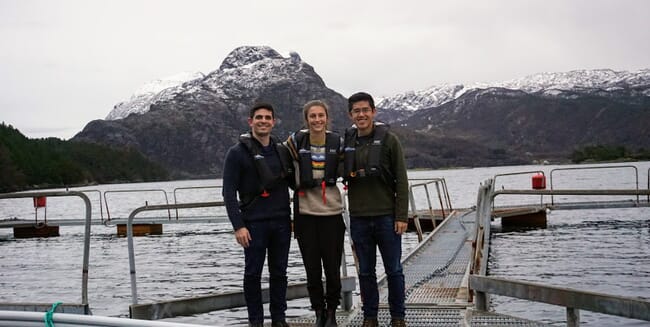 The costs associated with salmon lice are rising dramatically. PricewaterhouseCoopers (PWC) reports lice currently account for 17 percent of all production costs, an impact that has grown 233 percent since 2010. Trying new sea lice treatment strategies is both expensive and often risky.
"There's a lot of information out there with no tools to navigate it," says Manolin CEO, Tony Chen. "We're not here to tell the farmers what to do. They are extremely good at what they do, and we hope that our information can be another tool for them to utilise. In the face of unpredictability, whether it's the weather conditions or fish health, we believe one way to really measure if a treatment works is to compare with rest of the industry. For example, by using our treatment profiles, farmers can track if their use of preventative treatments, such as cleanerfish, had the same effect on their farms as others across Norway."
To build Innsikt, the Bergen-based firm looked at treatment data across the entire industry, isolated metrics, and developed an overall score that measures treatment strategy effectiveness since 2015.
As one farmer explained: "Putting a score on treatment successes is a bold move by this young, passionate tech team, but it's exactly what the industry needs right now. The platform has given me a great starting point to see how our company can improve. It's a necessary and valuable tool for the fight against sea lice and well worth the kroners."
Hårvard Tennebø, CFO of Blom Fiskeoppdrett, added: "We are using the data in Innsikt to lay the groundwork for how to change our treatment strategies in the future. With just a few clicks, I'm able to put together information that would have previously taken me, quite honestly, a lot of time."
Founded by two software engineers in Washington, DC, Manolin started as a company working with oyster farmers. In 2018, it became a member of the first Hatch cohort. Today, Manolin remains in Bergen, where the company empowers the aquaculture industry with advanced analytics to improve fish health on farms.