Sponsor message
Are you trying to break into aquaculture industry or already working in the field and looking to gain additional expertise for career development?
Sustainable aquaculture scholarship programme set to be extended
Five scholarships on the MSc in Sustainable Aquaculture at the University of Plymouth are now being offered for 2020-2021.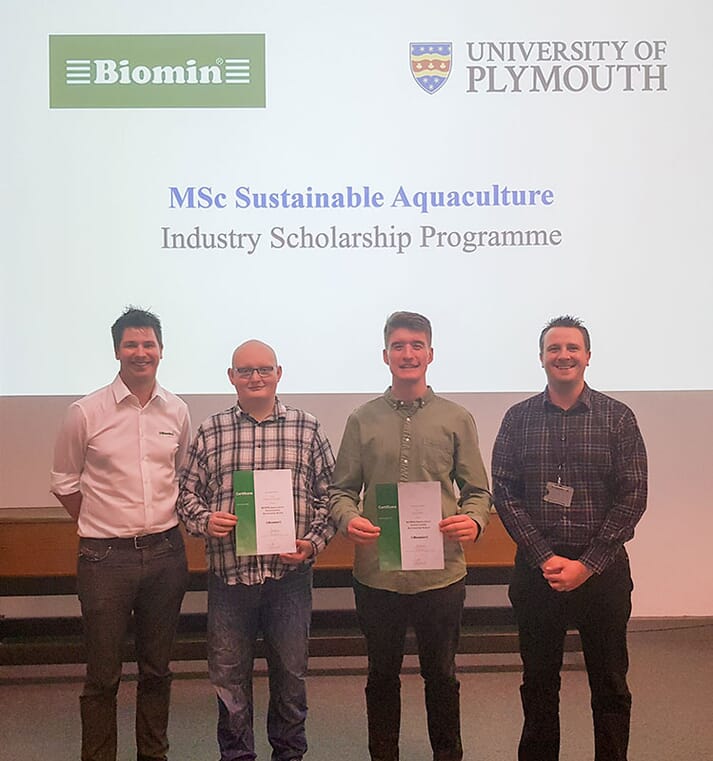 The scholarships give students access to expertise from leaders in industry and commerce from a vital subsector pioneering improvements in the sustainability and health benefits of aquafeeds, advancing both their technical and scientific knowledge.

In addition to the provision of scholarships, the industry partners provide access to resources and support for student research projects and contribute to the curriculum by offering guest lectures and placements.
The course is led by Dr Daniel Merrifield, associate professor of fish health and nutrition in the university's School of Biological and Marine Sciences.
He said: "Aquaculture is an exciting and ever-emerging field, and one that will become increasingly important globally over the coming decades. Our multidisciplinary approach gives students the chance to improve the health and welfare of farmed aquatic animals, at the same time as reducing environmental impacts and improving productivity. Support from leading companies such as Biomin, Lallemand and Leiber is a crucial element of that, and our students benefit greatly from our long-standing relationship with these companies."
The inaugural recipients were Paul Mosnier, JackSears-Stewart, Max Jouault, Tim Herring and James Mckay. And the scholarship programme is set to continue into the 2020/21 academic year, offering more students the chance to get hands-on experience in industry at the same time as progressing their own academic studies and research.
"Through this scholarship I have been gaining valuable experience in undertaking research collaborating with industry. This project has been my first experience in maintaining and studying fish in a laboratory environment, providing vital experience for a future career in aquaculture research. The direct linkage with collaborating organisations has provided an eye-opening experience to the extreme variety of career paths that University of Plymouth aquaculture alumni have taken in the aquaculture industry," said Jouault.
As well as benefitting the student scholars, the programme also helps the companies involved by giving them to chance to work alongside world-leading researchers at the University and inspiring future aquaculture scientists.
Dr Benedict Standen, product manager at Biomin, said: "Working closely with leading institutions on research projects and encouraging students to enter the field are a part of how we are able to maintain our competitive advantage when it comes to research and development. It's something I've experienced first-hand as a doctoral student and as a member of the Biomin team. We appreciate the valuable research co-operations that we have with leading academic and research institutions such as the University of Plymouth and congratulate the winners of the Biomin Aquaculture Sustainability Scholarship Award."
Dr Eric Leclercq, aquaculture R&D and tech support manager at Lallemand Animal Nutrition, said: "Fostering the development of young talents via industry-academia partnerships embodies the values and vision of Lallemand. The long-lasting collaboration between Lallemand and the University of Plymouth initially pioneered the understanding of fish gut microbiota and the development of commercial probiotics for aquaculture. Over the years, our different MSc, PhD and postdoctoral sponsorships have provided an essential breeding ground for scientific excellence, commercial innovations and accomplished specialists in the field of microbial-based solutions for preventive health management in aquaculture. Lallemand is delighted to continue its support and is looking forward to further successful projects."
Sponsor message
UMass Sustainable Aquaculture Online Courses
Aquaculture is an increasingly important source of safe, nutritious, and sustainable seafood for people worldwide. Globally, aquaculture production must double by 2030 to keep pace with demand. These increases in demand for aquaculture products, food security considerations, and job creation have generated an increased need for skilled workers.
Discover how you can be part of this rapidly expanding industry.
Dr Holger Kühlwein, global key account manager for aquaculture at Leiber GmbH, said: "For Leiber, sustainability is the business model for more than six decades. By-products from breweries, brewers' yeast and spent grains are refined into high-quality products for animal nutrition, food industry and biotechnology. This, combined with the expected growing importance of aquaculture, is the incentive for us to contribute to the education in, and the development of, a sustainable aquaculture industry. This MSc programme, backed by the extensive scientific experience of the programme leaders and the research group in the field of functional feed ingredients for aquaculture, offers great opportunities in that direction."