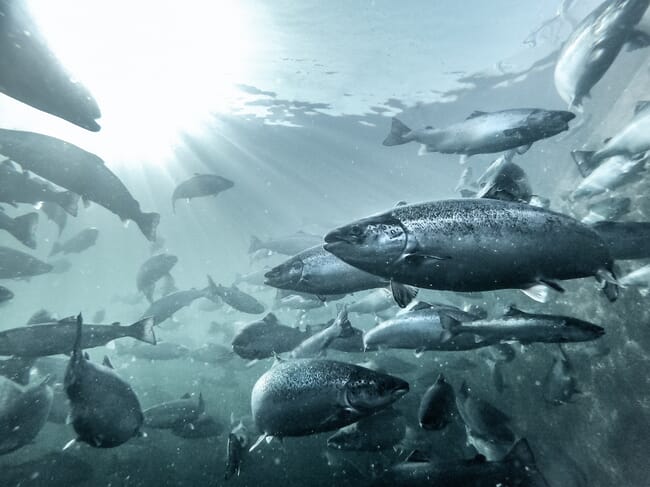 The study involved the release of 60 salmon from two aquaculture sites located in Fortune Bay, a small cove in Newfoundland. The trial took place during the autumn, as dispersal times for fish is slower than in the spring.
Thirty salmon, with an average weight of 2.17 kg, were fitted with acoustic tags before being released from each of the two sites. The movements of these fish were then monitored for 17 days.
Under the previously established premise that recapture should be initiated almost immediately, the study was designed to focus on three main questions:
How much time are salmon likely to spend in the small bay where they were released?
Do the salmon visit nearby bays with aquaculture sites?
Are the salmon swimming at depths where they might be effectively recaptured?
Their results indicate that fish remained in bay where they were released for a median period of two days. After this period, 76.7 percent travelled to adjacent small bays where other salmon farms were in production, but the researchers suggest that further studies are needed to establish if this is significant.
Only three of the fish were detected at the receivers deployed at the mouths of rivers. Two of these left the river mouths and were detected at the inner limit of the fjord. Only one fish was not detected at any other receiver, indicating that it likely swam up the river and remained in freshwater. However, the researchers note that: "In NL, there is clear evidence of introgression, suggesting that the apparent low proportion of escapees that enter rivers, as per the findings of Hamoutene et al., (2018) is likely compensated for by the number of fish escaping".
"Overall, our results confirm the quick response time required for any recapture effort to be successful. However, the feasibility of immediate action following escapes remains logistically challenging. Most large escape events are due to storms, which mean recapture efforts rarely start within this timeframe. Programs should also include the considerations related to habitats/areas where escapees can be efficiently caught," the researchers note.
"Our findings suggest that quickly targeting the direct site vicinity (within 2 days) as well as any adjacent coves (within 4 days) should be a priority in bays with similar configurations as Fortune Bay," they state.
"Ultimately, if sea recapture efforts can be initiated immediately, the size of the bay, the season of the escapement, as well as the site configurations should inform the approaches and guide discussions with managers and industry," they add.
Further information
The pre-proof of this study has recently been published in Aquaculture, under the title A tracking study of farmed Atlantic Salmon released from marine aquaculture sites located in the Fortune Bay area of Newfoundland and Labrador (Canada) to inform on sea recapture programs as a mitigation strategy.