State Of World Aquaculture 2006
By the Food and Agriculture Organisation - This document analyses the past trends that have led the aquaculture sector to its current status and describes its current status globally.

Abstract
Aquaculture is developing, expanding and intensifying in almost all regions of the world, except in sub-Saharan Africa. Global population demand for aquatic food products is increasing, the production from capture fisheries has levelled off, and most of the main fishing areas have reached their maximum potential. Sustaining fish supplies from capture fisheries will, therefore, not be able to meet the growing global demand for aquatic food.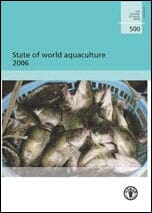 Aquaculture appears to have the potential to make a significant contribution to this increasing demand for aquatic food in most regions of the world; however, in order to achieve this, the sector (and aquafarmers) will face significant challenges. The key development trends indicate that the sector continues to intensify and diversify and is continuing to use new species and modifying its systems and practices. Markets, trade and consumption preferences strongly influence the growth of the sector, with clear demands for production of safe and quality products.

As a consequence, increasing emphasis is placed on enhanced enforcement of regulation and better governance of the sector. It is increasingly realized that this cannot be achieved without the participation of the producers in decision-making and regulation process, which has led to efforts to empower farmers and their associations and move towards increasing self-regulation. These factors are all contributing to improve management of the sector, typically through promotion of "better management" practices of producers.
Contents
1. INTRODUCTION

2. PRODUCTION: ENVIRONMENTS, SPECIES, QUANTITIES AND VALUES
Introduction
Production
Growth in production
Production by environments
Diversity of major species groups and species used in aquaculture
Value of production
Use of introduced species
The culture of ornamentals
Culture systems
References

3. MARKETS AND TRADE
Introduction
Markets, trade and rural development
Developing the local markets
Role of the market chain
Exports and their impact on the economy
Impact of exports on local fish prices
Potential negative impacts of trade
Impact of competition for common markets on aquaculture development
Food safety, import requirements and markets
Aquatic animal health, trade and transboundary issues
International trading agreements, laws and compliance
WTO/SPS Agreement, related issues on compliance and challenges for
small producers
Challenges for small-scale producers
Trade in non-food aquatic products
References

4. CONTRIBUTION TO FOOD SECURITY AND ACCESS TO FOOD
Introduction
Contribution to national food self-sufficiency
Relative contribution of fish compared to other sources of protein
Comparison of aquaculture with agriculture and meat production
Market prices of wild fish versus cultured fish species
Fish consumption trends
Comparative consumption of fish versus terrestrial meat
Rural poor and aquaculture; opportunities and challenges
Rural poor, aquatic production and international markets
References

5. RESOURCE USE AND THE ENVIRONMENT
Introduction
Effluents from aquaculture
Modification of coastal ecosystems and habitats
Water and land use in aquaculture
Feeding fish with fish and other feed issues
Contaminants and residues in aquaculture
Use of wild-caught broodstock, post-larvae and fry
Effects on biodiversity
Energy and resource use efficiency
Progress in environmental management of aquaculture
References

6. LEGAL, INSTITUTIONAL AND MANAGEMENT ASPECTS
Introduction
Trends and developments in sector management
National institutional support and legal and policy frameworks
Weaknesses in implementation
Participation of the civil society and the private sector in management
Privatizing research facilities
The pitfalls of privatization
Experience of farmer societies
Safeguarding small-scale producers and poor farmers
Better management practices
Self-regulation
Co-management
References

7. SOCIAL IMPACTS, EMPLOYMENT AND POVERTY REDUCTION
Introduction
How aquaculture is delivering social benefits
Fish for the poor at an affordable price
Wealth creation
Diversification of livelihoods
Employment and gender
Food security and better nutrition
Impact of aquaculture on rural communities
Social impacts arising from environmental change
Negative social impacts
Addressing the social impacts
Internalizing costs
Adoption of better management practices
Integrating aquaculture in rural development plans
Creating opportunities for participation of the poor
Stakeholders' involvement in governance
Well-defined rights
References

8. TRENDS AND ISSUES
Introduction
General trends in global aquaculture
Continuing intensification of aquaculture production
Continuing diversification of species use
Continuing diversification of production systems and practices
Increasing influence of markets, trade and consumers
Enhancing regulation and improving governance of the sector
Drive towards better management of the aquaculture sector
Specific trends in global aquaculture
Environment and resource use
Markets and trade
Social impacts, employment and poverty reduction
Institutions to support responsible development of aquaculture
Major regional aquaculture development trends
Asia and the Pacific.
Further Information
To continue reading this article, please click here (PDF)

January 2007