The site, announced this week, is outside Belfast – a coastal town with approximately 7000 residents. The area has abundant access to sea- and freshwater resources that provide a good match with land-based aquaculture requirements.
"Finding an ideal site in Maine has been a six-month project," says Erik Heim, CEO of Nordic Aquafarms.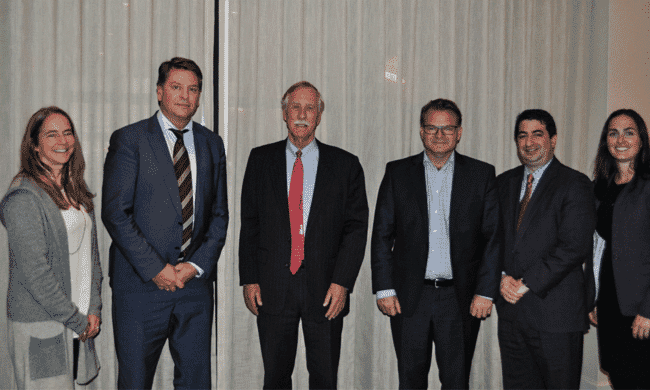 The plan is to build the farm in several phases. When it reaches full capacity of 33,000 tonnes it will equate to producing eight percent of the annual US consumption of salmon. The project will involve all-in total capital investments between $450 to $500 million by the time it is complete. The first phase, which aims to create sufficient capacity for 13,000 tonnes a year, will involve investments of up to $150 million. The facility will be an end-to-end operation, including hatcheries and fish processing.
Aquaculture is a growing force in Maine's economy, bringing new jobs and opportunities to our state's fishing industry," said US Senator Angus King. "Nordic Aquafarms´ facility will build on our state's rich fishing traditions and promote innovation and sustainability that can help Belfast and the surrounding community thrive. This is an investment in Maine people, Maine jobs, and the future of our economy. To the entire Nordic Aquafarm team: tusen takk og velkommen til Maine!".
Maine has been chosen for its pristine location, cold water conditions, its seafood profile and its proximity to major consumer markets in the North-eastern USA. As a positive contribution to Maine´s seafood industry, Nordic Aquafarms will be developing production with a low impact discharge of water free of chemicals and medications, renewable energy solutions and recycling of all waste resources.
"We look forward to becoming a responsible and contributing member of the Maine seafood industry", says Nordic Aquafarms CEO, Erik Heim.
Phased construction
Nordic Aquafarms will now proceed with final due diligence, planning and permitting for the facility. Phase 1 will be the largest land-based facility project ever raised in one construction phase and will house the largest aquaculture tanks in the world and new disruptive solutions, currently being designed by an experienced team in Norway. Construction start is planned in 2019.
"This is a large project which will place great demands on Nordic Aquafarms in the coming years. We are therefore stepping up investment in highly qualified people and international partnerships", says Heim.
The project is expected to create close to 60 new high-skill jobs in Maine in the first expansion stage, and many new commercial relations between the Norwegian and Maine business communities.