Silver pompano (Trachinotus blochii) is a high-value finfish, commonly mistaken to be sapsap (slipmouth fish) because of its silver colour and rounded body shape. As a salt water fish, it is commonly found in the Indo-Pacific Region – from the Red Sea and East Africa to the Marshall Island and Samoa, to northern and southern Japan and south of Australia.

Silver pompano is becoming more popular in the aquaculture world, particularly in mariculture or marine-based aquaculture because it is easily cultured, easily adapts in a cultured environment, and it readily accepts commercialised feeds.

The marketable size of pompano ranges from 250 grams (three to four pieces per kilo) up to one kilo (one to two pieces per kilo) depending on the length of culture. It is priced between P200-450 depending on its size. The fish's versatility in cooking and high nutritional value means it is of high demand to restaurants and consumers.

In general, investors are attracted to go into aquaculture because of the growing demand for fish, brought about by a growing health conscious population. According to BFAR's 2009 Fisheries Profile, fish production increased by 2.3 per cent from 2008 with aquaculture supplying almost 50 per cent of the total fish production of the country.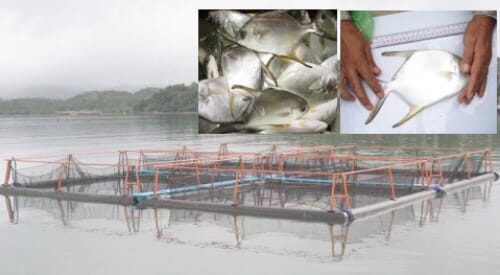 Cage Culture of Silver Pompano

The growing of pompano in cages is becoming popular also because mariculture is a priority of the government, particularly of the Bureau of Fisheries and Aquatic Resources (BFAR).

Land-based aquaculture is now being limited due to its negative impacts to the environment such as pollution, mangrove deforestation, and diseases among cultured fish. To lessen these impacts and also to provide alternative livelihood for fisherfolk, BFAR is promoting mariculture or the culture of fish in the open sea. This also attracts investors because the agency readily extends its support to those who venture in such a project.

BFAR in Region 4A has successfully cultured pompano in floating marine cages through a research project led by Mr Hannibal M. Chavez, Research Manager of the Regional Fisheries Research and Development Center, BFAR 4A.

The project was entitled "Effect of Stocking Density on Growth Performance, Survival and Production of Silver Pompano (Trachinotus blochii, Lacepede) in Marine Floating Cages".

Mr Chavez and his team conducted the research in 2007 to 2008 in Barangay Campo, Padre Burgos, Quezon. In the research, Mr Chavez placed various numbers of pompano fish in six fish cages installed in the sea to test the fish's growth performance against their density in each cage.

According to Mr Chavez, stocking density, or the number of fish per unit area, is an important factor to consider when creating a fish culture project. The density affects the feed intake of fish and consequently its growth, immunity, and maturation. A high density can result in food competition. Some will be able to eat enough and some will not be able to eat enough resulting in different sizes of fish during harvest, which is not desirable in aquaculture.

Fish also tend to be more susceptible to diseases when crowded, as diseases spread easily from one fish to another. Overstocking only results to poor growth and low fish quality. Further, overstocking also degrades the water quality, which, in turn, affects the health of the fish and the environment as a whole.

Based on his studies, the results from the three stocking densities did not vary significantly but proved that cage culture of pompano is a promising venture. The pompano stocked in cages with the lowest stocking density (25 fish per cubic meter) had the highest growth of 368.29 grams per fish after only four months, the highest survival at 100 per cent and the best (lowest) feed conversion ratio of 1.58 (which means it only took 1.58 kilogram of feeds to produce one kilo of fish, the lower the value the better). The fishes in the highest stocking density of 35 fish/m³ gave the lowest values for these parameters.

The lowest total production however, was from the 25 fish/m³ followed by the production from the 35 fish per cage and the highest at 1.05 tons from the fishes at 30 fish/m³. Although the results did not vary statistically, it proved that stocking density affect the performance of cultured fishes according to Mr Chavez.

Mr Chavez added that the results in growth, production, and survival also showed good economic returns considering that the pompano attained its marketable size over a short period of time. Taking the values mentioned above, the farmer can profit approximately P63,500.00 a year from the two cages if the pompano is sold at a conservative price of P280.00 per kilo. The profit will increase if two more cages are added to make a one module system.

Also, the promising production results will help sustain the increasing demand for fish particularly in Region 4A as reflected in the increased aquaculture production from 2004-2009 (318 to 415 metric tons).

The important things are, Mr Chavez said, proper feeding and net management are done regularly to ensure good growth and high survival of the stocks. It is recommended, too that juvenile size of pompano are stocked instead of fingerling size to easily achieve the fish's marketable size within a few months.

Overall, Mr Chavez recommends commercialising the technology of raising pompano in fish cages because this can serve as an alternative livelihood for fisherfolk and increase the fish production of region 4A.
November 2011