Trends in 2007
Total imports were 276 222 MT at a customs declared value of ¥ 248.45 billion (US$2.25 billion) against the corresponding figures of 301 078 MT and ¥ 290.87 billion (US$2.49 billion) a year ago. The sharp fall in raw frozen shrimp imports (-22 695 MT) was largely the cause of the overall drop. There was also negative growth in the imports of value added shrimp which showed positive trends during 1998-2006. This could be an indication of a downward or stagnating market trend for such products in the shrinking seafood market in Japan.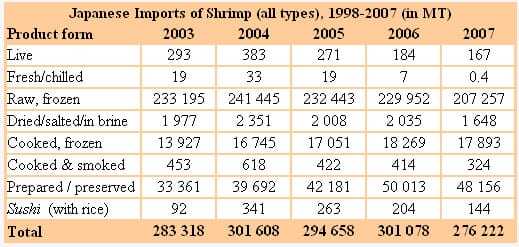 As shown in the shrimp import data, the previous growth in the market for value added shrimp ceased in 2007. China expanded its market share for processed and prepared shrimp in the Japanese market during the last few years. However, the recent quality scare over unauthorized chemical contamination in Chinese origin foods in general, may change this trend, at least for a while. This factor and the 'Japan–Thailand Free Trade Agreement' are expected to boost imports of value added shrimp from Thailand in 2008. Other countries with stringent quality assurance programmes would also be able to sell more value added products to Japan.

However, the falling market demand for raw shell-on shrimp is expected to continue, affecting exports of such products, particularly from south Asian sources.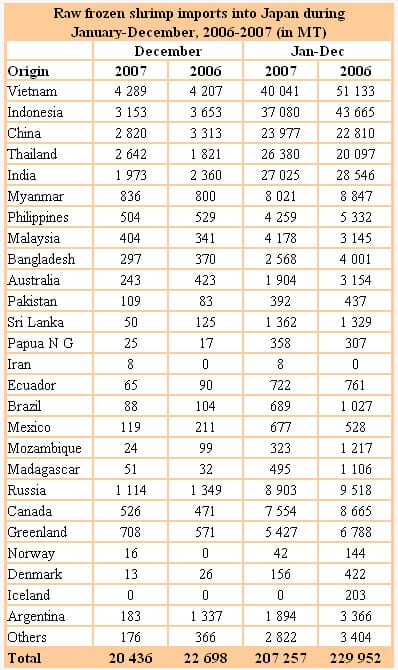 Imports of raw frozen shrimp in Japan were at a record low in 2007. Supplies under this product group declined from most of the sources except Thailand (+31%) and marginally balanced imports from China. Lower exports from Vietnam and Indonesia were somehow linked with the antibiotic scare in these two countries. Imports also fell from India, the Philippines, Myanmar and Bangladesh – the prominent suppliers of black tiger shrimp.

Coldwater shrimp imports which made nearly 12% of the total supplies in this category, fell by 17.6% compared to 2006 following declining imports from all sources. The strong Euro and EU markets were attractive to many coldwater shrimp producers compared to the Japanese market.

Supply:
Thailand: Affected by falling market prices, the Shrimp Farmers Association in Thailand has announced a 6% production cut this year which will result in a 30 000 MT reduction, particularly in vannamei farming; this species accounts for nearly 90% of the country's farmed shrimp harvest. It is noteworthy that Thailand is the second largest producer of vannamei shrimp in Asia after China.

India: In another development, authorities in India are in the process of allowing commercial farming of vannamei. It is reported that three farms in Vizag are allowed to establish aquaculture operations for vannamei in a pilot scheme.

China: The anticipated high consumption of shrimp and other high value seafood products during the Lunar New Year celebration in February failed to take place in China due to bad weather associated with the severe winter throughout the country. The situation will possibly leave more shrimp in stocks unlike other years.

Outlook:
Consumer demand for shrimp in Japan is yet to improve for the reasons stated above. Meanwhile the food poisoning incidents linked with imported food from China, has affected overall demand for seafood in the market. Consumer concern is expected to stay until full reports are available from the respective authorities. Imports of value added products from China meanwhile will be voluntarily limited.

Current inventories for black tiger are balanced with demand. However, importers may take note that black tiger shrimp harvests during the coming season will be lower than last year and a supply shortage is envisaged.
April 2008