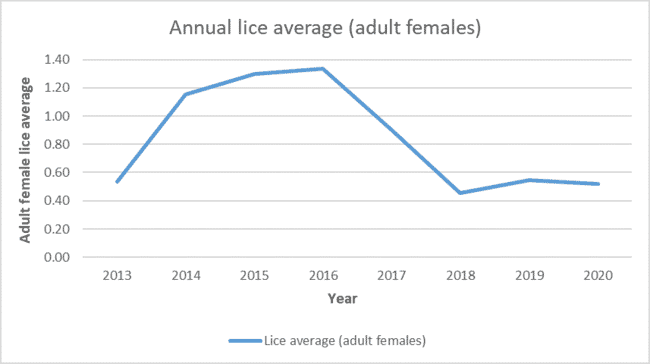 The averages were published by the Scottish Salmon Producers Organisation (SSPO) this week and were lower than 2019's average of 0.54. Since 2013 farms have been obliged to count adult female sea lice every week and report these by calendar month. Only 2018's figures, at 0.46 adult female lice per salmon, were lower.
Tavish Scott, chief executive of the SSPO, said: "Fish health and welfare will always be our members' top priority. The Scottish salmon sector continues to invest and innovate in the management of such challenges as sea lice. These figures – the second lowest in eight years – remain at consistently low levels thanks to the considerable efforts of farmers.
"Despite the issues posed by the coronavirus pandemic which necessitated changes to working and farming practices, Scotland's salmon farmers have ably demonstrated their ability to care for their fish with the upmost professionalism while ensuring consumers in the UK and beyond have had access to fresh, healthy food."

In 2020 the Scottish Salmon farming sector published their Sustainability Charter: A Better Future For Us All – setting out their ambition to be world-leading in the provision of healthy, tasty, nutritious food grown in the most responsible and sustainable way.