Researchers breed first hybrid Grouper
KOTA KINABALU, MALAYSIA - Researchers at Universiti Malaysia Sabah (UMS) have successfully cross-bred two species of grouper (kerapu) to come up with the world's first hybrid of its kind.
UMS Vice Chancellor Prof Datuk Dr Mohd Noh Dalimin said the hybrid grouper was produced by fertilising the eggs of the tiger grouper (Epinephelus fuscoguttatus) with the sperm of the giant grouper (Epinephelus lanceolatus) through the in-vitro fertilisation (IVF) technique.

"The hybrid of these two high value of species of fish represents the first such crossing in the world. It combines morphological features of the two parent species. The hybrids are healthy and growing well in sea cages and the finding will be good news for the aquaculture industry," he said.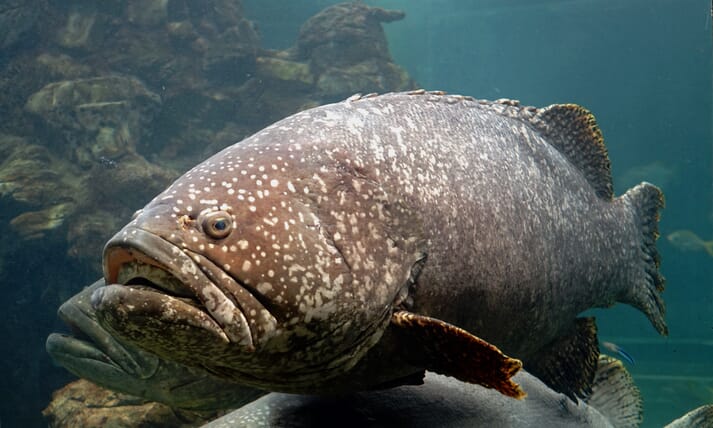 Mohd Noh said the finding was the outcome of several years of intensive collaboration among researchers of the Borneo Marine Research Institute of UMS, the Fisheries Development Authority of Malaysia (LKIM) and Kinki University of Japan, represented by Prof. Dr Shigeharu Senoo of UMS.

He told reporters the disease-resistant hybrid was ready for commercialisation. A number of parties in the aquaculture industry have shown keen interest and asked for supply.

Through the LKIM, the first consignment has already been shipped to the industry. There are about 2,000 hybrids for delivery. They will be delivered in two stages and the market value of the hybrid is RM15 each," he said.

Asked about the significance of the finding in view of the depletion of fishes in Sabah waters due to overfishing, fish bombing as well as cyanide use, Mohd Noh said the grouper population in Sabah is severely depleted due to these illegal fishing methods.

He said UMS had been proposing sea ranching, which is the scientific development of an environment that is industry-friendly, to offer a distinctive possibility of replenishing the depleted population of groupers.

Meanwhile, the Institute had also made another finding that is the first of its kind in the world. Mohd Noh said, using electron microscope, it was confirmed that a catfish has taste buds distributed on many parts of its body.

"With taste buds distributed in so many places, the catfish can taste food from numerous locations in its body and can consume food even in a pitch dark environment.

"This finding is not only of academic importance but also relevant to artificial feeding in a cultured system," he said.

The Institute's Dr Yukinori Mukai made the discovery on sensory organ distribution in the larvae of African catfish (Clarias gariepinus).

It is a finding that generated a great interest at the Annual Conference of Japanese Society of Fisheries Science in March of last year, said the Institute's Director Prof. Dr Saleem Mustafa.

At the press conference, Prof Mohd Noh also presented science reasearch grants received from the Ministry of Science, Technology and Innovation and the Ministry of Higher Education, amounting to RM6 million, to the university's lecturers to carry out research in various fields.