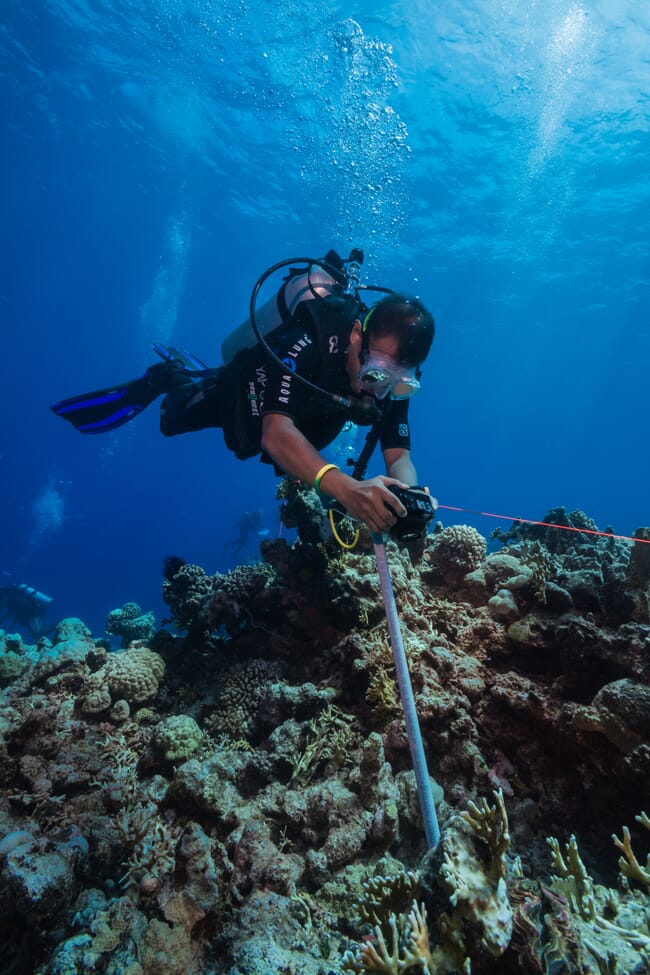 The Micronesia Reef Monitoring App presents vast amounts of data gathered in this western part of the Pacific in an intuitive and easily accessible way. With quick access to data and insightful data visualisations local conservationists and decision-makers can now better understand the needs of the coral reefs, assess their health, track progress and manage conservation efforts.
The solution also serves as an early alert system, shining a spotlight on areas where coral reefs might be in danger, benefiting corals, fisheries and communities that rely on those resources.
The app was developed by the University of Guam in cooperation with data analytics company Appsilon. It is part of a wider conservation initiative launched by Micronesian leaders, who aim to effectively manage at least 50 percent of their marine resources by 2030. They embarked on the mission to set up a widespread Reef Monitoring Network to keep a close eye on the health of their local coral reefs. To do that effectively and see if their conservation efforts are working, they needed two things – a standardised system for data collection and an analytical tool, which would provide quick and easy access to data.
That's how Micronesia Reef Monitoring App was created. It is a unified, safe, and accessible platform to hold the growing regional datasets, gathered by hundreds of people within the Micronesia Reef Monitoring Network. It provides impactful data visualisation, giving conservationists and decision-makers quick and easy access to valuable insight hidden in the vastness of information. From the number and types of fish which inhabit certain sites to changes over time and comparisons with other locations. It displays complex sets of data in an easy-to-understand way, paving the way for better climate action and regulation.
"The Micronesia Reef Monitoring App has created effective science-to-management feedback loops which are already benefiting corals, fisheries, and communities that rely on those resources. For example, it showed us an unexpected decline in sea cucumber abundance in Pohnpei Islands, Federated States of Micronesia," said Dr Peter Houk, University of Guam Marine Lab, in a press release.
"This decline was noted in Marine Protected Areas as well as reefs open for fishing. It was revealed that illegal harvesting was occurring, and the information was provided to local stakeholders and local media. The results were a recent court case where the youth of Pohnpei won the right to protect the sustainability of their resources and stop illegal harvesting. The new app allows us to view new data immediately after being collected while providing safe and reliable data storage for many stakeholders. This is having a positive impact on the resources and the communities that benefit from healthy and sustainable resources use," he added.