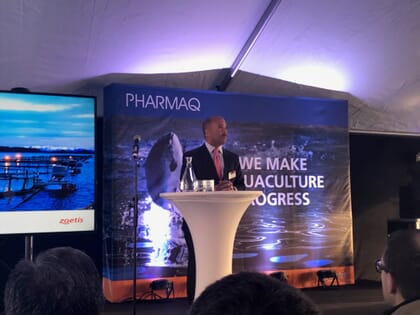 Over 100 guests were invited for the official opening of the facility on 4 December and The Fish Site were one of a handful kindly invited for a preview tour of the facility. Following the tour there were presentations from a number of esteemed guests including the Research Council of Norway, EAT Foundation and the Norwegian Food Safety Authority, who unanimously heralded the facility's potential.
The demand for seafood is expected to double within 2030. The declining capture of wild fish and the increasing human global demand for food is creating a gap in the supply of seafood, which commercial aquaculture is looking to fill. Healthcare spending is expected to increase as productivity of fish farming becomes more efficient to address the rising global demand for protein with fish health management tools being important to the development of the global aquaculture industry.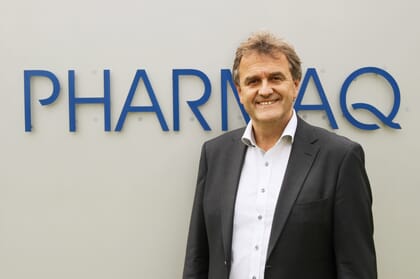 The 150 million NOK facility is not only a significant milestone for Pharmaq but also a milestone for the industry as solutions for disease prevention are one of the limiting factors for aquaculture to be able to meet the growing need for protein production globally. Bard Skelstad of SalMar said "Without the development of vaccines, the salmon industry could never have achieved its impressive rate of growth and through working with partners like Pharmaq they are now 100% antibiotic free."
The selection of Kløfta as the site for the facility is being heralded as a major coup for the region as it won favour over 50 potential sites because of its access to Pharmaq's R&D facility in Oslo, good logistics by road and air and a highly skilled local workforce. The Mayor of Ullensaker, Tom Staahle said about Pharmaq "You the kind of business that we love to have in the region. You are knowledge creators, innovators, and value creators and supporting an industry so important to Norway."
© Pharmaq

© Pharmaq

© Pharmaq

© Pharmaq
The project began in 2014 with the remit to build a facility with highest quality standards in pharmaceutical production and manufacture of sterile injection preparations. The plant itself is about 2000 meters squared including 400 meters squared of clean rooms and will employ 20-25 people. The facility includes advanced biotechnological sterilization technology and has flexibility to adapt to meet future production processes.
Simen Kristoffersen, the project manager for the creation of the facility, joked that the contractors commented that they had never worked in such a clean construction site and that hygiene was of the utmost importance from the outset.
He continued to emphasise that the success of the project was due to the high level of diligence in testing and documenting every process and piece of equipment during a 6-month period after construction allowing the Norwegian Medicines Agency to authorize production on 1 November.