As the French 2007 – 2008 oyster season comes to a close, producers report a satisfactory outcome with good sales during the peak December period. Efforts by the industry to increase the value of its output through market segmentation and certification initiatives appear to be bearing fruit as evidenced by the presence of certified products in French retail outlets. On the export front, higher volumes and unit values confirm the positive results for the current season.

Value addition initiatives in French market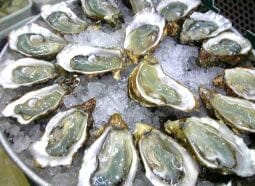 With annual consumption of over 125 000 tonnes, France is the number one market for oysters in Europe. Despite promotional efforts to spread sales more evenly throughout the year, demand remains highly seasonal. Annual sales, both retail and catering, are concentrated during the December – January period and particularly during the Christmas – New Year festivities.

The current 2007 – 2008 season is now winding down and initial indications point to broadly satisfactory demand levels with strong Christmas sales balancing somewhat disappointing New Year results. According to the industry association, the Comité National de la Conchyliculture (CNC), trends in the critical retail chain sector were mixed over the festive period. Sales of the popular medium grade oysters (around eighty grams) in this sector were down 3 to 5% on the previous season but demand for higher value oysters, including the higher meat content "speciales" and the traditional flat oysters (O. edulis), was up.

In recent years, the French industry has been active in adding value to its oyster production using a variety of marketing tools including market segmentation and certification. Oysters are now sold on a region of origin basis, an approach similar to segmentation in the wine industry. Initiatives in the certification area include the "Label Rouge" quality brand covering selected oysters produced in the Marennes region in the south west of France. Label Rouge certification in this case covers various features including meat quality and the natural greening process which is found in certain oyster ponds in Marennes.

An indication of the premium generated by this label can be seen from a simple price comparison during the latter half of the current season. A Label Rouge pack of two dozen number three grade 'Fine de Claires Vertes' (containing a natural green tinge) was retailing at €15/pack in one hypermarket chain in the Paris region. This price compares with €13.90 for a pack of three dozen oysters of the same size grade and from the same region in a competing chain.

Increasing import requirement
Strict planning regulations have restricted expansion of the domestic oyster industry. As a result, a number of French producers and traders look to sources outside of France for certain grades and qualities in short supply within the country. Annual imports are of the order of 3 500 to 4 000 tonnes with Ireland the dominant supplier accounting for around 60% of total volumes. The industry's import requirement has increased over time. Supplies from abroad were up 18% in 2006 and rose a further 16% last year. Ireland confirmed its leading supplier position during 2007 with a 16% increase.

Stronger export sales
Even if subsidiary in the context of total French production, export markets remain a significant source of revenue for many producers in the industry. The export trend has been positive in recent years, volumes jumping by 19% during 2007 after a 10% increase the previous year.

Total export volumes for 2007 came to 9 500 tonnes valued at almost €39 million. Italy is the top market for French exporters with annual volumes of over 5 000 tonnes. A demand exists in Italy for larger grade oysters, a trend which complements French domestic demand for the medium grades. The Italian oyster market has been relatively stable over the 2006 – 2007 period with total annual imports steady at around 7 400 tonnes.

Despite relatively unchanged volumes, the Italian share of total French exports fell last year to 53% from 65% in 2006. This decline was due to a more than doubling of exports to Spain, the Netherlands and the Russian Federation as well as to a strong increase in sales to Belgium. The Belgian increase confirmed its position as France's second export market, accounting for over 10% of total volumes. The strong increase to the Spanish market lifted Spain into third position overtaking Germany, exports to which increased by just 13%.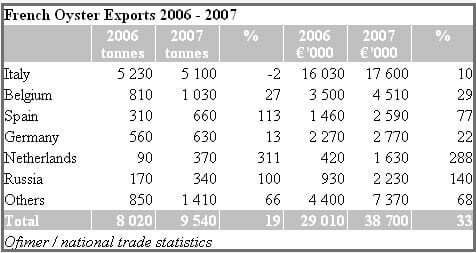 Unit value trends for French exports last year point to higher returns, in addition to higher volumes, for exporters. Average values for total exports increased by 12% to €4.06/kg and follows a 6% rise in 2006. Among the major markets for French oysters, Russia registered the highest unit values last year at €6.56/kg.
Promotional activities and exports to clear remaining stocks
Weak domestic demand in France during the earlier part of the season resulted in a carryover of stock into the latter half. Following good growth conditions, the stock composition at the beginning of 2008 included a relatively high percentage of larger grade but good quality oysters. Producers were hoping to move the remaining stocks during promotional activities organized around Saint Valentine's Day and the Easter period. At export level, first quarter trends were stable with volumes largely unchanged at 1 100 tonnes during the January – February period compared to the first two months of 2007.

May 2008