NOAA 10-Year Plan for Marine Aquaculture, October 2007
By the National Oceanic and Atmospheric Administration (NOAA).
Contents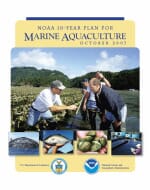 Introduction

Background

Setting the Stage for Marine Aquaculture Development

Program Goals and Strategies

Outcomes

Benefits

Budget and Staffing Requirements

Challenges

Appendix 1: Legislative and Policy Drivers
Introduction

In response to a request from the Marine Fisheries Advisory Committee (MAFAC), the National Oceanic and Atmospheric Administration's (NOAA) Aquaculture Program first drafted this 10-Year Plan, to frame the agency's vision and plans for development of marine aquaculture in the United States. This document was not mandated or intended to fill any legal requirement. It was drafted in response to a request from MAFAC to provide the agency with a broad framework for marine aquaculture* and goals for the program.

In July 2006, the initial draft of the plan was reviewed and endorsed by MAFAC. Based on MAFAC's comments, the plan was revised by NOAA and made available for further public comment in November 2006. In October 2007, the plan was adopted by NOAA as an agency-wide policy document intended to guide a broad, national initiative for marine aquaculture based on four distinct goals:
A comprehensive regulatory program for marine aquaculture.
Development of commercial marine aquaculture and replenishment of wild stocks
Public understanding of marine aquaculture.
Increased collaboration and cooperation with international partners.
The plan also provides an assessment of the challenges NOAA will face in its effort to reach these goals, such as the need for congressional and Executive Branch actions to provide additional legislative and budget support.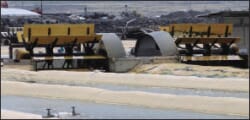 As noted by Dr. William Hogarth, NOAA's Assistant Administrator for Fisheries, the plan will continue to be a work in progress as the agency moves forward with a strong focus on enabling marine aquaculture to grow as a complement to fishing to increase domestic seafood production. At the same time, NOAA and the related federal agencies will continue to pursue research to better understand the environmental, social, and economic implications of aquaculture and to guide agency decisions.
Further Reading
November 2007