The main species produced in terms of volume are the blue mussel, rainbow trout, gilthead seabream and European seabass, although there are a number of other species being successfully cultured on a commercial basis.
Table 3 – Spain: Aquaculture production (tonnes)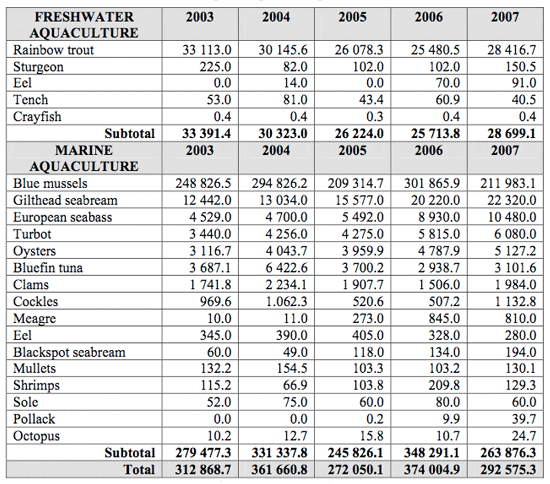 Source: MedAquaMarket national country report
Like most aquaculture producers in the Mediterranean, the first farms were for the culture of trout in freshwater as early as 1961. The main cultured species in Spain is the blue mussel with an annual production of over 250000 tonnes. Some of the earliest farms for the production of marine finfish in the Mediterranean started in Spain in 1973. Spain is now the third most important producer of European seabass and gilthead seabream in Europe with a combined annual production of 32800 tonnes in 2007. The development of the aquaculture industry when viewed as a whole shows no clear trend as some sectors have stagnated or declined while others have shown a stable and increasing trend.
Figure 11 – Spain: Aquaculture production evolution, 2003–2007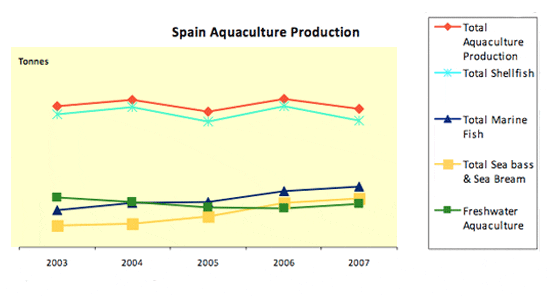 Source: MedAquaMarket national country report
Aquaculture blue mussel production has stagnated and freshwater aquaculture production has been declining steadily over the past few years.
Figure 12 – Spain: Mussels aquaculture production, 2003–2007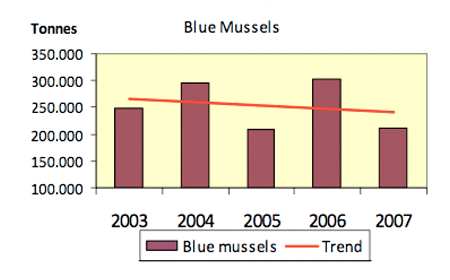 Source: MedAquaMarket national country report
Figure 13 – Spain: Freshwater aquaculture production, 2003–2007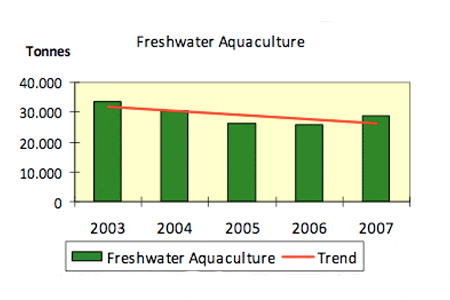 Source: MedAquaMarket national country report
Marine aquaculture on the other hand has shown a steady upwards trend, increasing by an average annual growth of 16 percent in the period from 2003 to 2007.
Figure 14 – Spain: Marine aquaculture production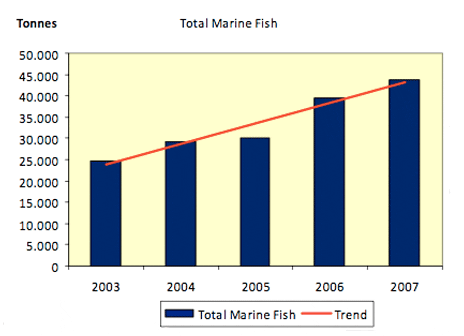 Source: MedAquaMarket national country report
Although there has been a trend towards consolidation in recent years, the industry in general is still dominated by small to medium-sized farms: there are 3029 companies in total with 5 710 farms, 119 of which are finfish farms and 325 are freshwater farms. The trend in marine fish farming shows a somewhat different picture with the following breakdown:
Table 4 – Spain: Size of enterprises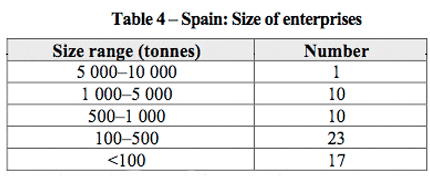 Source: MedAquaMarket national country report
Sixty-one companies were operating in 2007, divided almost equally between small, medium and large volume of production. Over the past few years there has been a trend of increase in the average enterprises production either through internal growth or through consolidation, leading to a relative increase in company/farm productivity.

Employment in the aquaculture sector in general totals 7447 full-time jobs, 2287 of which in the marine fish sector (a growth of 22.7 percent from 2006). Spain is also an important producer of marine fish juveniles with an annual production in 2007 of 105 million units. Most companies in Spain are vertically integrated with their own hatcheries although the structure of this industry is slightly different than in most Mediterranean countries. Due to the fact that most on-growing units are offshore (not allowing for grading and vaccination), most juveniles are stocked at an average size of 30 g, which is larger than in other producing countries, where the average size is around 2–5 g.

This has resulted in most hatcheries requiring significant pre on-growing facilities and therefore a higher level of investment and technology. This practice will, in theory, result in better growth rates and lower mortalities (as the juveniles can be graded and counted with a greater degree of accuracy at a bigger size), although offshore cage management also means that any losses during the on-growing phase of production are harder to measure with the same degree of accuracy. In 2007, there were 17 operating hatcheries in Spain and 16 pre-on growing facilities.
December 2010